Jalisco Philharmonic Orchestra
Invited conductor John Nelson from the United States is joined by the Jalisco State Choir. Featured are Verdi's "Four Sacred Pieces" (Ave Maria, Stabat Mater, Laudi alla Vergine Maria, Te Deum), Puccini's "Edgar" (Prelude to Act III), Giodano's "Fedora" (Intermezzo), Mascagni's "Rustic Chivalry" (Intermezzo Sinfonico) and Respighi's "Feste Romane."
Teatro Degollado, Friday, July 11, 8:30 p.m. and Sunday, July 13, 12:30 p.m. 110-200 pesos.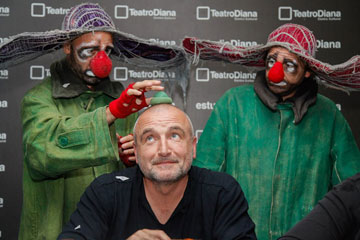 Slava's Snowshow
Stunning award-winning show put on by legendary Russian clown Slava Polunin is an indescribable blend of comedy, spectacle and poignantly fantastical images.
Teatro Diana, Friday, July 11, 6:30 & 10 p.m.; Saturday, July 12, 5 & 9 p.m.; Sunday, July 13, 6 p.m. 400-750 pesos.
UDG Ballet Folklorico
Summer season of famed Universidad de Guadalajara Ballet Folklorico troupe is on.
Teatro Degollado, Sunday, July 13, 10 a.m. Subsequently, every Sunday in July, plus August 17 ad 24, September 21 and 28 and October 5 and 12. 80-350 pesos.
Martes de Musica
Free classical performances by talented musicians are held each Tuesday at the Degollado Theater. No tickets are sold – just turn up. Early birds may get to sit in a semi-circle on the stage, in close proximity to the performers. This month's schedule: July 15: Works featuring the bassoon as the key instrument. July 22: The ArsNova Quartet plays music by Mozart. July 29: Hortus Musicus.
Teatro Degollado, every Tuesday in July, 8:30 p.m. Free.
Casa Museo Lopez Portillo
The city's furniture museum frequently offers free weekly classical recitals, usually on Tuesdays and often featuring up-and-coming pianists. July 15: pianist Javier Velazquez Grela; July 22: Jorge Alfonso González on piano; July 29: a recital by Jalisco Culture Department Art School piano students.
Casa Museo Lopez Portillo (Liceo 177, three blocks from Cathedral). Free.
Wednesday Dance
Free dance recitals by accomplished troupes take place each Wednesday. This month's schedule: July 9: Compañía Devorarte (6 p.m.); July 16: Compañía Versus Danza (6 p.m.); July 23: Danza Butoh; July 30: Danza Experimental.
Teatro Alarife Martin Casillas (Prolongacion Alcalde 1351, one block from La Normal traffic circle), every Wednesday in July, 8 p.m., unless stated above. Free.
Pasión por México
A music, song and dance show performed by former members of the UDG Ballet Folklorico troupe, who go under the name Grupo Folclórico de la Universidad de Guadalajara.
Teatro Degollado, Wednesday, July 16. 80-250 pesos.
Thursday recitals
The Guadalajara council chamber opens its doors to Thursday recitals and concerts. July 17: The Nima string quartet.
Palacio Municipal de Guadalajara (Hidalgo & Alcalde), Thursdays, 8:30 p.m. Free.
Jalisco Philharmonic Orchestra
JPO Musical Director Marco Parisotto returns for the final program of the summer season: the second homage to Richard Strauss. The orchestra plays waltzes from "The Knight of the Rose," Op. 59 and "Thus Spoke Zarathustra," Op. 30. Israeli-born cellist Matt Haimovitz is the invited guest for Schumann's "Cello Concerto in A minor," Op. 129.
Teatro Degollado, Friday, July 18, 8:30 p.m. and Sunday, July 20, 12:30 p.m. 110-200 pesos.
The Piano Guys
This U.S. musical group consists of Jon Schmidt, Steven Sharp Nelson, Paul Anderson and Al van der Beek. They gained popularity through YouTube, where they posted piano and cello renditions of popular songs and classical music.
Teatro Diana, Wednesday, July 30, 9 p.m. 280-850 pesos.
Circus arts
Cirque du Soleil brings its Michael Jackson: The Immortal World Tour to Guadalajara.
Arena VFG, August 28-31. Tickets available from Ticketmaster. See above for details.