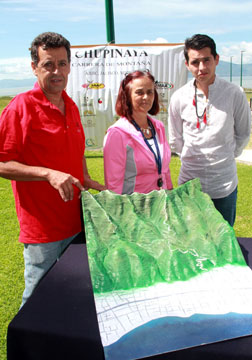 Running teams representing Canada and the United States will arrive in Ajijic next week to vie for honors in the 2014 North American Central American Caribbean (NACAC) Mountain Championship.
The contest set for Sunday, July 20 is wrapped into the framework of the 18th annual Carrera de Montaña La Chupinaya.
The rough and tumble competition involves scrambling over a 13.8-kilometer loop over cobblestone streets and a steep and rocky path into the mountain range overlooking Lake Chapala. The turn-around point at the summit lies at 2,400 meters above sea level.
The race kicks off in Ajijic's central plaza at 10 a.m. Competitors entered to run the affiliated 6.5-kilometer recreational circuit will take off from the starting line 15 minutes later.
The deadline to sign up for either race is Saturday, July 19. The registration fee is set at 300 pesos. For full details contact Ricardo Gonzalez or Isabel Pedroza at their glass and picture frame shop, Guadalupe Victoria 38, phone 766-1356 or cell 333- 476-6856.