Around 1,600 people gathered Tuesday evening for the official opening of metro-area Guadalajara's newest performing arts space, the Palacio de la Cultura y la Comunicación (Palcco).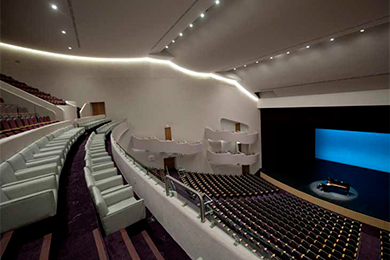 In the main Teatro Moncayo, acclaimed Mexican tenor Javier Camarena interpreted pieces by Tchaikovsky, Rossini, Bellini, Donizetti, Verdi and Bizet, accompanied by the Jalisco Philharmonic Orchestra (JPO). The biggest applause of the evening came when he sang the classics "Granada" and "Ay Jalisco no te rajes."
Dignitaries at the opening included former Mexican President Vicente Fox, and senior Jalisco government officials led by Culture Secretary Myriam Vachez.
A state-of-the-art facility in Guadalajara's northern suburbs, the Palace of Culture and Communication was financed by the Asociación de Radiodifusoras y Televisoras de Occidente (Radio and Television Association of Western Mexico) and state and federal governments. Construction took seven years to complete.
As well as the 1,963-seat Teatro Moncayo, the complex boasts the 400-seat Sala José Rolón, a 16,000-square-meter congress hall, an exhibition space, radio and television museum, music and dance school, digital center, Walk of Fame, 670 parking spaces and offices. The open-air Foro Sidral can accommodate 4,000 people seated.
Two regular season concerts by the JPO will be held in the Teatro Moncayo on Thursday, February 25 and Thursday, March 3 (see page 29).
The only complaint from concert-goers on Tuesday was the traffic snarl-up outside the complex. A spokesperson for Palcco later acknowledged the access issues and said an additional 800 parking spaces would be made available at the facing Trompo Magico Children's Museum for future events. Palcco is located at Avenida Central 375 in Zapopan.