'Good People'
Lakeside Little Theatre presents David Lindsay-Abaire's drama "Good People" January 15-24.
The play is directed by Lynn Phelan and features cast members L.B. Hamilton, Greg Clarke, Patricia Guy, Rosann Balbontin, Russell Mack, Allen McGill and Connie Davis. Evening shows are at 7:30 p.m. The first Saturday and both Sundays matinees are at 3 p.m.
Tickets are 200 pesos, available at This email address is being protected from spambots. You need JavaScript enabled to view it. and at the LLT box office on Wednesdays and Thursdays, from 10 a.m. to noon; and every day during the show, from 10 a.m. to noon, excluding Sunday, and one hour before curtain. Call 766-0954 for more information.
Photo exhibit bonus week
By popular demand, photographer Celeste Greco is extending her exhibit at Gecko Gallery and Art Studio, Ocampo 61, Ajijic, for an extra week. Stop in to view her striking portraits of Yelapa in the 1970s that capture native people and lifestyles in the era before the remote coastal village near Puerto Vallarta became a tourist hotspot. The show closes with a farewell party set for Sunday, February 7, noon to 3 p.m.
Horizons
Studio 18 Art Gallery hosts an exhibit of recent works by Guadalajara native Juan Carlos Oscos titled "Horizontes." The opening is on Friday, January 15, 4-6 p.m.
Studio 18 is located at Colon 18 in Ajijic. Call 766-3745 for more information.
Painting Guild exhibition
The Lake Chapala Painting Guild opens an exhibition themed "Tasty Colors" at The Creperie (just east of Maria Isabel Restaurant at the Ajijic pier) Friday, January 15, 4-6 p.m. All are invited to attend. The Creperie will offer two-for-one Margaritas at the opening.
Contemporary art
Casa Luna Café Galeria is hosting Taller Arte Contemporáneo, an exhibit of modern paintings and sculptures opening Saturday, January 16, 5 p.m., at Ocampo 22, Ajijic.
Participating artists are Eleazar Lázaro Prado, Juan Pio Martínez, J. Guadalupe Brizuela Alonzo, Jorge Baiz Quezada and Jorge Ulloa de la Paz.
CREM concert
Tr3bol, a musical group of students of the Centro Regional de Estudios Musicales (CREM) under the direction of Victor Garcia and the CREM Orchestra, will give a concert Saturday, January 16, 7:30 p.m. at the Auditorio de la Ribera. Also included are presentations of dance by MOV Rhythm Studio, flamenco by Leonor Zertuche, Ranchero music by Armando and more.
The ticket price of 250 pesos includes a glass of wine and finger food donated by restaurants La Mision, Roberto's, Jardin de Ninette and Armando's. Tickets available at those four restaurants, Chapalajara Realty (next to the Waffle House), Diane Pearl and at the door.
ArtXikXik art event
ArtXikXik, the gallery located on the former Billy Moon Collection estate in West Ajijic, will be highlighting master sculptors, ceramists, 3D artists and others not usually seen at Lakeside, with a gala reception on Saturday January 16, and continuing sales on Sunday January 17, 1-4 p.m.
The art of Larkin Chollar, Barush Esparza Ugalde, Rigoberto Navarro Robledo, Linda Sherman, Gethyn Soderman, Steve Weckel, Brad Mowers, Rene de la Pena and Carlos Alberto Paz will be part of the exhibit and sale.
The afternoon will consist of elegant, exclusive exhibitions creatively displayed throughout the property's expansive gardens. Music by Recuerdos de Mi Mexico, two bars and catered food will be provided.
Tickets pre-event cost 200 pesos, available at Diane Pearl in Ajijic, and 250 pesos at the door on the day of event.
Centro Cultural Ajijic
Centro Cultural Ajijic presents the works of lakeside artists Jesus Lopez Vega, with "Imagineria Fantastica," and C. De Paul Durham, with "Memorias Misticas," at an opening reception Saturday, January 16, 4-7 p.m. The show will remain up until January 30.
The reception includes live music, cocktails and botanas. Lopez Vega's children Rosario and Jesus Eduardo will also be showing new work at the reception.
Centro Cultural Ajijic is located on the village's main plaza (jardin).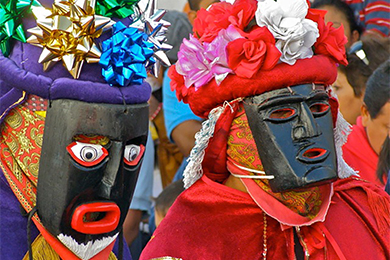 Ajijic Society of the Arts
The Ajijic Society of the Arts (ASA) puts on a Sunday in the Plaza Art Show Sunday, January 17, 10 a.m. to 2 p.m. at the Ajijic main plaza
Featured artists include Bobby Lancaster, Gwynne Lott, Mimi Gula, John McWilliams and Ardel Holden.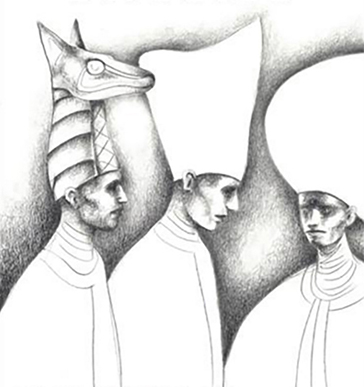 Jewish Film Festival
The Seventh Annual Ajijic Jewish Film Festival continues with "Gett: The Trial of Viviane Amsolam" (Israel, 2014) on Sunday, January 17; "Hunting Elephants" (Israel, 2013) on Sunday, January 24 and "Diplomacy" (France/Germany 2014) on Sunday, January 31.
All of the Sunday films begin at 1:30 p.m. at Cinemas del Lago at Plaza Bugambilias, located on the Carretera at Calle Revolucion. They are presented by the Lake Chapala Jewish Congregation.
Tickets at 50 pesos are available at the box office. A portion of the proceeds benefits selected lakeside charities, including Chapala Cruz Roja.
Sip and sketch
Unleash your inner artist and paint, drink and have fun in a special event with Rodrigo Zuioaga on Wednesday, January 20, 4:30-6:30 p.m. at Studio 18 at Colon 18 in Ajijic. The fee of 500 pesos includes all materials, one-half bottle of red or white wine per person and light munchies. This class is limited to eight students. Contact This email address is being protected from spambots. You need JavaScript enabled to view it. for information and reservations.
Galeria Sol Mexicano
On Friday, January 22, 3-6 p.m., Galeria Sol Mexicano hosts an exhibit opening featuring the work of Enrique Avila, a young artist from Guadalajara whose oils depict country life and scenery.
The show also includes work by photographer Karen Spencer, who will exhibit new images printed on aluminum, silk, canvas and paper, capturing colorful and poignant moments of life in Mexico.
There is also a special poster signing with Nancy Gray, who has created a visual tribute to Ajijic depicting some of its treasured sights and places. The posters can be rolled and tubed for travel, or framed to hang on walls.
Gray is contributing some of the sale proceeds to the Lake Chapala Society children's art program.
The opening reception will have wine, nibbles, music and tequila sampling. Galeria Sol Mexicano is located at Colon 13, Ajijic. For more information call (376)766-0734 or email This email address is being protected from spambots. You need JavaScript enabled to view it..">This email address is being protected from spambots. You need JavaScript enabled to view it..
Mac is back!
For those of you who missed Mac Morison's show "One More For the Road" in December, and for those who loved the show and want to hear more great music, Mac Morison and Judy Hendrick bring you a dinner/concert singing those heartfelt songs we all love and remember.
The performance is on Wednesday, January 20, at La Mision Restaurant, at Rio Bravo 7. A delicious three-course dinner (fresh sea bass or Thai kung pao chicken), including a bottle of red or white wine for two, starts at 6:30 p.m. The show begins at 7:30.
After the show partake in a decadent dessert table filled with unlimited tastes for the serious sugarholic. Reservations, tickets and table selection at La Mision or 376-108-0887.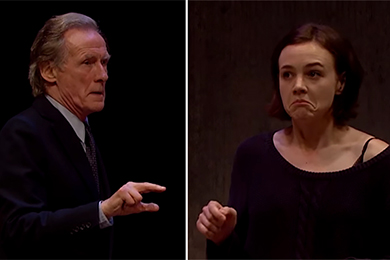 Acustico
Canadian singer Kim Kuzma will be returning to Ajijic on Saturday, January 23 to perform with her band, Acustico, at the Auditorio de la Ribera. Her shows combine high energy and contemporary songs in English integrated with Spanish favorites.
Kuzma played El Piano Rojo here two years ago to a full house and her fame and notoriety in Puerto Vallarta has continued to increase.
The band includes Eduardo Leon on guitar and vocals, Roberto Falcon on bass, Fernando Huerta Gonzalez on guitar and vocals, Bob Tansen on the flute and Jeronimo Guido on drums and percussion. Tickets are available at Diane Pearl or www.lakesidetickets.com.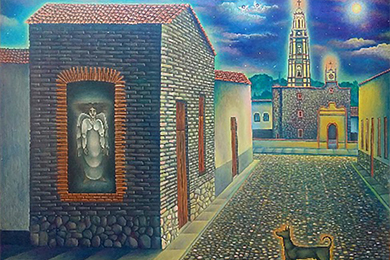 Galeria Di Paola
Galeria Di Paola holds a cocktail event to launch the collective art exhibition "Advocacy of Art" on Saturday, January 23, 3:30-7 p.m.
The eclectic group of Mexican artists whose multifaceted works will be on display are based in Fresnillo, Zacatecas.
Galeria Di Paola is located at Colon 11, Ajijic. See more on the upcoming exhibit at youtube.com/watch?v=kl_bv_6Wny4.
Distinguished artists
The Centro Cultural Antigua Presidencia in Chapala continues a new exhibit titled "Recognition of the Woman in Mexico." Works by 18 leading female artists from all over the nation, including local painters Cathy Chalvignac and Luz Preciado, are on display in the second floor Miguel Miramontes Carmona Gallery.
'Los Magicos'
The Efren Gonzalez Art Gallery is hosting two artists with help from the Museum of Mexican Art in Chicago. Esperanza Gama, a Tapatia who now lives in Chicago, is displaying some 20 works in papel amate (bark), while Juan Chawuk, an internationally renowned artist from Chiapas, provides 15 pieces. The gallery is located at Marcos Castellanos 7, Ajijic.
Singers wanted
​Los Cantantes del Lago is starting their ​Spring Concert chorister registration. They welcome new singers from the community. If you have always yearned to be in a choral group, this is your chance. To register or for more information go to http://loscantantesdellago.com and click on the "Come Sing With Us" tab. Then click one of the links at the bottom of the page, or email This email address is being protected from spambots. You need JavaScript enabled to view it..">This email address is being protected from spambots. You need JavaScript enabled to view it..