Like many countries around the globe, Mexico has a hidden population of illegal immigrants. But in contrast with the way the United States has perpetually postponed implementing a system to cope with millions of undocumented foreigners, the Mexican government has launched a temporary amnesty program that will allow many reverse wet-backs to come out of the shadows.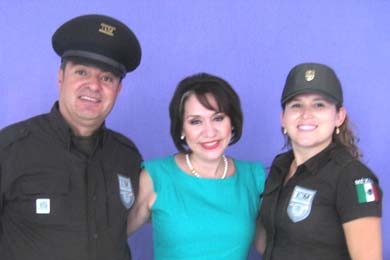 However, time is running out for folks who want to apply for the Program Temporal de Regularización Migratoria (PTRM) and take advantage of a unique opportunity to obtain a four-year visa for temporary residence, opening a pathway to permanent status.
Ricardo Vera Lira, chief of the Jalisco delegation of the Instituto Nacional de Migración (INM), visited lakeside last week to explain the ins and outs of the amnesty application procedure put into effect last January and due to end on December 18, just over four months hence. The bare bones details he outlined are as follows:
Who qualifies: PTRM is an option for foreigners without valid INM documents who entered Mexican territory prior to November 9, 2012 and, due to whatever circumstances, have remained in the country since then. The specified entry date coincides with the day when regulations linked to the newly enacted Ley Migratoria (Immigration Law) went into force. Foreigners who are not eligible include those who arrived after that date, those presently subject to deportation or assisted repatriation procedures, those who have provided false information or documentation in visa applications, or those awaiting decisions on other INM matters in process. Individuals under prosecution or convicted in serious criminal cases and those deemed to pose a threat to national security are likewise ruled out.
Benefits: Persons who meet the litmus test will benefit from the liberty to enjoy unencumbered transit around the country, the preservation of family unity, possibilities of obtaining work permits and qualification for temporary resident visas valid for four years, with rights for multiple exits and entries to the nation. Amnesty candidates are not subject to expulsion orders or fines for violating the legal time spans granted under their original tourist or resident visas.
Costs: A one-time charge for the reception and review of the amnesty application, set at 1,124 pesos, plus the 7,914-peso fee for the four-year temporary residency permit, for a total of 9,038 pesos. Under special circumstances, persons living on extremely limited means may be exempted from payment.
Process: Amnesty candidates should log on to www.inm.gob.mx/index.php/page/regularizacion_migratoria and go to the menu on the right side of the screen to follow the link to Formato de Solicitud de Trámite for filing the online application. At the top of the page under Tipo de Trámite select "Regularizar situación migratoria" from the list next to the question " ¿Qué desea hacer?" and "Program temporal" from the list next to the word "Especifique." Scroll down the page to register personal information in other boxes marked with an asterisk. Check that all data is accurate before clicking on guarder to save. They will also have to compile various other documents to support their cases. The list of requisite paperwork (requisitos) can be accessed from the menu at the above URL. The next step after gathering all relevant documentation is to schedule a personal interview with Lira through an appointment request sent by email to This email address is being protected from spambots. You need JavaScript enabled to view it..">This email address is being protected from spambots. You need JavaScript enabled to view it.. His office is located on the fourth floor of the Palacio Federal, Alcalde 500, in downtown Guadalajara.
"Jalisco's INM delegation is in the privileged position to hand down decisions in these procedures," Lira says. "Our government recognizes that foreign residents strengthen the Mexican economy and contribute to enhancing our culture and way of life. The intention of the regularization program is to help rather than punish people who have let their immigration permits lapse."
His recommendation to illegal immigrants who are still hesitant to turn themselves in to the INM is to contact Yolanda Martinez, head of the lakeside Chamber of Commerce, for advice and guidance. "Other communities would be lucky to have someone like her as an advocate for foreigners," Lira says.
Martínez is also available to assist expats who have to leave country on short notice due to emergency situations. Contact her at the Unisex Styling Salon at Plaza Bugambilias, telephone. 766-2260.
Guillermina Cortés Sanbria, chief INM officer for the Guadalajara and Puerto Vallarta airports, will address issues on the agency's entry and exit procedures in a follow-up article.