The visiting holiday revelers have packed it in and headed home. We had a great holiday season with tour buses lined up on the streets, stores running out of totopos and tomatoes, and the one tortilla factory in town opened from sunup to sundown trying to meet the demand for fresh tortillas. We won't see that many national tourists until Easter.
Our regular expatriate winter visitors are now settled into their La Manzanilla homes and the next two months will be a flurry of fundraising events, art openings, dance classes, painting seminars, and more. But as busy as it can get, you'll still find a few vacancies in the vacation rental market, you won't get aced out of a beachside seat at Pedro's Fish Tacos, and we can always squeeze in one more yoga mat at one of our many weekly yoga classes.
La Manzanilla Happenings
Beginner's Tango Workshop The workshop is three days, January 12, 13, and 14, from 11:00 am to 1:00 pm. During this time you will learn the basic fundamentals of Argentine tango. We'll get you dancing so that you can enjoy the upcoming milongas (formal dances) and practicas (informal dances). It is ideal if you can bring a partner. Classes are held under the palapa at Casa Luz. Call 315-351-7029 for additional details.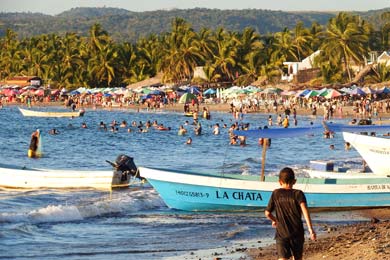 Elvis is in Town Elvis impersonator David Weber brings his show to Las Cabaas January, 12 at 8:00 pm. No cover but it's much appreciated if you have dinner or a couple of drinks before or during the lively show.
Galeria La Manzanilla meet the artist reception is Friday, January 16 from 4:00-7:00 pm and will feature the new works of Colima painter Eduardo Ovando. Catering by Restaurant Jesus, Mary, and Joseph. This is a free event.
Zumbathon Saturday, January 17th 6:00-7:30 pm. Come to the La Manzanilla Casino and dance to salsa, cumbia, reggaeton and more with special guest instructor from Puerto Vallarta, Efren Muñoz. Tickets are only 40 pesos and can be purchased in advance at Activos gym or at the event. All proceeds go to support Activos and its mission of providing low cost memberships to La Manzanilla's full-time residents, continue to run a weekly physical education class at the primary school, foster healthy exercise and eating habits through classes and seminars, and give its resident teachers and staff the opportunities for personal development though continued training.
Chi gong and Karate at Activos Gym begins the first week of January and runs through the end of March. Chi gong is Monday, Wednesday, and Friday from 9:00-10:00 am and Karate is Tuesday and Thursday 5:00-6:00 pm. Drop-in classes are 60 pesos. Activos is La Manzanilla's community gym and features a full schedule of classes as well as free and machine weights. See www.ActivosLaManzanilla.com for additional details.
Cooking Classes Join Eileen in her beautiful casa and kitchen and discover wonderful recipes for Thai, Indian, Middle Eastern, and Mexican dishes. She has been cooking professionally for more than 50 years and founded the catering firm Pease Porridge Hot and the Annapolis School of Cooking. Her years of experience in teaching and love of cooking make the classes fun as well as instructional. Two hour classes begin at 11:00 am and cost 250 pesos per person. You finish class by indulging in your creations. Eileen's classes feature a new menu every three weeks and classes are held two or three times a week. For additional information or to reserve your class see www.eileenslamanzanilla.com or call 315-351- 5134.
Salsa level 1 and 2 through the end of January every Tuesday evening. Beginner dancers meet at 5:00 pm and advanced dancers at 6:00 pm. Classes follow the LA Style of Salsa and are taught by Stephen Eiring at a beautiful beachside house just past the mangrove, and cost is 50 pesos. Call 315-351-5693 for additional details.
Mangrove birding offered by Tierralegre depart from the bridge at the mangrove twice weekly at 5:00 and return at 6:30pm. Learn about mangrove flora, fauna, and ecology. This is an amazing tour at dusk, when birds return to roost for the evening. Binoculars and a bird list are provided. 350 pesos per person. Custom dates for minimum group size of four. Call 315- 351-5305 or email This email address is being protected from spambots. You need JavaScript enabled to view it. for specific dates and registration.
Whale watching tours also by Tierralegre, the three hour whale watching tours are offered twice weekly and depart from the beach at 8:30 am. Binoculars, life jacket, water, and snack are provided and the boat has a hydrophone so you can listen to the whales singing. Dolphins, sea turtles, and sea birds can also be seen on the tour. 650 pesos per person. Custom dates for minimum group size of five. Call 315- 351-5305 or email This email address is being protected from spambots. You need JavaScript enabled to view it. for specific dates and registration.
Sunday morning spirituals group at Casa Luz begins at 9:15 am with chanting, followed by 9:30 meditation, and then from 10:15 – 11:45, a discussion of the book A Year to Live, by Stephen Levine ensues. All are welcome to come into the group at any time during the season. Contact This email address is being protected from spambots. You need JavaScript enabled to view it. for additional details.
Tennis anyone? Did you know La Manzanilla has a red clay tennis court? It's operated by the restaurant La Quinta Valentina and is open every day except Wednesday. It's 75 pesos per person for about 2 hours of play. You need to stop in and make a reservation the night before and they will water the court for you. It's recommended to play early, there isn't much shade. The courts are located behind La Quinta Valentina, which is a large palapa restaurant located on the beach next to the mangrove.
Beach Bocci Don't miss out on our spirited Bocci scene with a huge troupe of British Columbians who take no prisoners but welcome all skill levels for laughs, camaraderie, and tips. Come and partake or simply be a spectator of this sport that has roots in the Roman Empire. Don't let Spanish be the only new language you encounter in La Manzanilla. Listen closely and familiarize yourself with some of the sport's lingo. For example, the smaller ball is referred to as the "jack" but is also called a "boccino" or "pallino" depending on where one has immigrated from. The play area is usually referred to as a court or pitch but here in La Manzanilla is on the beach with either soft or hard sand depending on the tide. The term "Baci" describes when a bocce ball has come to rest touching the pallino. Then it is said to "kiss" the pallino. Kiss, in Italian is Baci, in Spanish is Beso, you get the idea. During a match, you might even witness a "Volo" which is a high arching throw of a bocce ball in the air beyond the center line of the court of play which is frowned upon because of safety considerations and the likelihood of accidental spilling of a margarita or tequila shot. It is not hard to find the lively Bocci crowd nearly every afternoon until late March on the beach in front of La Quinta Valentina.