Market reborn
If you miss your favorite Wednesday market vendors who were previously at the Forever Spring market on Lazaro Cardenas in Bucerias, here's some good news: "They can be found in the new market called Roots," says organizer Alison Normanton. There were some issues which just couldn't be resolved in order to keep the Forever Spring market operating at its old location.
Although ROOTS is further away from the main tourist areas, it is easily reached. Normanton points out that there is a pedestrian bridge over the highway at the street used to access that area of Bucerias. "It's a 50-peso taxi ride there from anywhere in Bucerias."
Roots Farmer's Market runs from 10 a.m. to 1 p.m. at the Conrad Community Center, located on Calle 16 de Septiembre near Matamoros.
A puppy love wedding
Just over a year ago, a local animal health and welfare group was formed when its organizer, a 2 ½-year resident of La Cruz, who had moved there from California, brought together a special blend of people to help her realize her goal of reducing the stray animal population, as well as improving the health of pets, in her town.
"I want to raise 5,000 US dollars to spay/neuter 300 dogs and cats in La Cruz. How do we do it?" Dani Summers asked. First, some naysaying began among group members.
"They said maybe $1,000 USD could be raised at a fundraising event, maybe 100 people will show up," says Summers.
"It doesn't matter, we have to try" she responded, and the details for a comedy-themed fund-raiser began to form. One member of the group said, "Let's call ourselves Funny Bones"
That became the name for the team of individuals which gathers once a year to raise money for free spay/neuter clinics in La Cruz and surrounding areas by keeping their audience in stitches.
The naysayers were proven wrong at its first fundraiser in December, 2013. Enough money was raised to sterilize 300 animals at the 2 3-day spay/neuter clinics in La Cruz; one run by Pets For Life, the second run by PeaceAnimals.org. Families lined up with their pets each morning to take advantage of the free service.
Funny Bones plans to continue its mission of fundraising for spay/neuter of dogs and cats in the La Cruz area and perhaps beyond. Summers says she hopes that Funny Bones will grow big enough to cover a larger geographic area.
Spay/neuter is the answer, she says, as she points out that for just 225 pesos (about $15 US), the cost to the clinic of operating on one animal, prevents hundreds of future animals from having another liter.
Funny Bones' fundraiser this year is named "A Puppy Love Wedding." It will be "celebrated" at Las Palapas Grill in La Cruz on February 3, from 6 to 9 p.m. Tickets cost 150 pesos in advance or 200 pesos at the door. Tickets are available at Las Palapas Grill (the old Tres Palapas), PetsandVets and Gecko Rojo in La Cruz. You can also email This email address is being protected from spambots. You need JavaScript enabled to view it. or facebook Funny Bones "A Puppy Love Wedding," for more information.
Enjoy the dog wedding (between two rescue dogs from La Cruz), reception, appetizers, live music, live auction, raffle, prizes and an amazing silent auction.
"Our goal this year is to raise enough funds to spay/neuter 500 animals. That amounts to 8,000 prevented births in the first year alone," Summers says. "Maybe next year's goal will be 1,000 animals spay/neutered," she added.
Senior living center
Bucerias Tercera Edad A.C. and eSun Energy are co-sponsoring a "Fun Day" fundraiser on Tuesday, February 10, to benefit the construction of a seniors assisted living center in Bucerias.
There will be a casual dinner, raffles, games, 50/50 raffle, live music and dancing from 4 to 10 p.m.
Tickets cost 150 pesos and will be available at the La Cruz Sunday Market and the Roots Wednesday market at the Conrad Center (formerly the Bucerias Bilingual Community Center) on 16 de Septiembre at Matamoros in Bucerias.
For more information and to buy tickets, call Marilyn, 322-100-7544, 329-298-6441, email This email address is being protected from spambots. You need JavaScript enabled to view it. or Sherry, This email address is being protected from spambots. You need JavaScript enabled to view it.
Orphange bake off
The popular annual Rhythm & Ribs fundraiser for the Manos de Amor orphanage in Bucerias has been set for February 21. While all of the event details are still being put together, one focus right now is on the home-style bakery tables which have featured an assortment of delicious baked goods. Donations of baking supplies or a monetary donation to purchase ingredients would really be appreciated, organizers say.
For a complete list and more information on how to help with this project, contact Diane, 322-117-4387 or email This email address is being protected from spambots. You need JavaScript enabled to view it..">This email address is being protected from spambots. You need JavaScript enabled to view it..
Yacht Club style show
The Vallarta Yacht Club's 4th annual Style Show and Luncheon at the yacht club in Nuevo Vallarta will take place on February 4, starting at noon. Doors open at 11:30. a.m.
The style show features the fashions of local designers, modeled by members and friends of the yacht club. All of the featured designer fashions will be for sale, along with glass jewelry by Kathy Kenny (kathkenn.etsy.com) and Ibis hats and purses.
Tickets cost 250 pesos and must be purchased by February 1. For additional information, contact Rudy at the Vallarta Yacht Club 297-2222 or send an email to This email address is being protected from spambots. You need JavaScript enabled to view it..">This email address is being protected from spambots. You need JavaScript enabled to view it..
Community center service
A memorial service for Judi Conrad, who passed away in New Mexico late last year was held January 16 at the Bucerias Bilingual Community Center (BBCC). She was a part-time Bucerias resident who founded the BBCC. The center will continue to serve the community in some fashion, possibly as a community library, farmer's market and educational center. The new name of the center will be The Conrad Center. Conrad will be remembered for her effort to bring expats and Mexicans of the Banderas Bay North shore together with educational, commercial and recreational programs.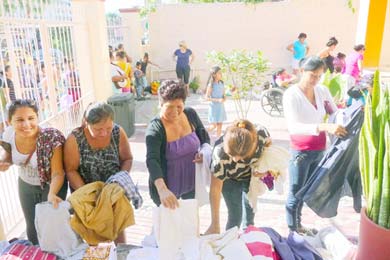 Baby it's cold outside
Even though it doesn't seem like it, cool weather affects residents in the northshore because houses have no heating, no insulation and at times gaps in construction timing means no glass in window spaces yet.
Seeing a need for warm clothing and blankets for poor families, the Beta Sigma Phi (BSP) service sorority began a yearly program called "Operation Warmth."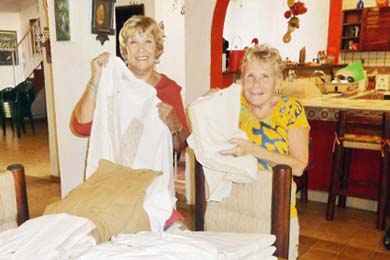 Judy DellAira, past BSP president, explained, "7 years ago, the members of Beta Sigma Phi began the program.
"For the 1st two years, we collected blankets and warm clothes from our members and the community and drove the back streets of Bucerias and La Cruz, handing out the things.
"We literally stopped on a street corner and gave out donations, sometimes knocking on doors of houses without windows and doors, giving those families more than one blanket."
"In following years, we gave warm clothing and blankets to senior citizens in need through local Tercera Edad clubs.
"These last 3 years we have also have distributed clothing for families in need. "
BSP service chairwoman MaryAnn Hodge added, "We made distributions at three locations this year and served about 150 persons."
Operation Warmth is funded by the sorority's annual Wine and Cheese fundraiser, which is held in November.
Hodge said, "Thank you everyone who attends the BSP fundraisers which allow us to help the Bucerias and La Cruz residents-in-need. We couldn't do it without you."