Chacala Festival
Chacala is a relaxing fishing village situated in the heart of the Riviera Nayarit, about 25 miles north of Bucerias/northshore. Each March, the Puerto de Chacala Music and Art Festival brings together musicians and other artists for a three-day, three-night celebration, complete with sing-alongs and dancing in the street, as well as concerts, exhibits and authentic Mexican food and spirits. This year's festival is set for Friday, March 11 through March 13.
The idea for the festival blossomed four years ago at a Friday night roof-top reception. A group of attendees began to break out in song, regaling the crowd spontaneously with music from Broadway musicals. The group began to realize that Chacala might just be the perfect place to celebrate music and other arts. Since then, the Chacala Festival has continued to grow and this year's event promises to be the best yet
All of this year's events are free of charge and will be held in the Palmgrove/El Palmar unless otherwise indicated.
Friday, March 11
- International Night
6 p.m.: Janalyn Rose
7 p.m.: Ojo de Agua
8 p.m.: Luna Rumba
10 p.m.: DJ B3HAR
Saturday, March 12
- Mexican Night
6 p.m.: Kindermusik
6:30 p.m.: Chacoro
7 p.m.: Mariachi Infantil
8 p.m.: Grupo de Danza Infantil Nayar
9 p.m.: Mariachi Tradicional Cora
10 p.m.: Musical Sereno Purpura
Sunday, March 13
- Kids' Day
10 a.m.: Payaso "Calcetín"
11 a.m.: Percussion Workshop Kids
Noon: Patito Feo
1 p.m.: Cuenta Cuentos
6 p.m.: Winston Coronel (in the town plaza)
For more information, visit the Chacala Festival de Musica page on Facebook. New artists are being added every day, so be sure to check the schedule at ChacalaMusicFestival.com.
Hot-air balloons
The first Hot Air Balloon Festival in the northshore area of Riviera Nayarit is set to take place Friday, March 18 to Sunday, March 20.
The area for takeoffs is located on Avenida Mexico in Nuevo Vallarta, on the field between El Tigre and the Universidad Tecnológica Bahia.
There will be three different categories of flights: tethered flights, free flights and flights aboard a blimp.
The tethered flight will rise approximately 13 meters into the air while remaining attached by ropes to the ground. The cost is 300 pesos and the flight is available all three days.
In the free flight category, attendees will be able to travel over Riviera Nayarit and Puerto Vallarta in a hot-air balloon, as well as a zeppelin airship, commonly known as a blimp. These flights will cost 2,300 pesos each and are limited in number. Hot-air balloon rides are scheduled on Saturday and Sunday at 7 a.m. Capacity is 70 passengers on each day. Blimp flights last 20 minutes and will be on Saturday only from 10 a.m. to noon and 2 to 4 p.m.
Along with walking the grounds to enjoy a display of antique cars, there will also be a drone flying display. And, of course, there will be food and entertainment.
The cost for general admission to the festival grounds is 50 pesos. Balloon rides offered by professional teams will be offered for an additional cost.
Tickets are available at http://web.superboletos.com.
The organizers hope the event will measure up to the yearly International Balloon Festival in Leon, one of the best in its class.
For more information, see La Feria del Globo Aerostático on Facebook.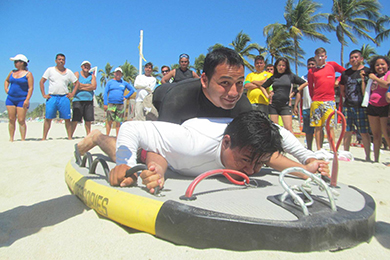 Semana Santa
About a dozen northshore hotels recently made sure they are better prepared for any emergency that might befall the swarms of vacationers expected to arrive in the area during the Semana Santa holiday period, March 21 to April 3.
Fifty-one employees from hotels located between Punta de Mita and Nuevo Vallarta recently participated in a four-day lifeguard training program put on by Proteccion Civil Nayarit.
The employees are either in positions of security or activities, jobs that require them to be outdoors and interacting with hotel customers.
The group started out in the classroom, learning and practicing the latest techniques to administer CPR (Cardio Pulmonary Resuscitation) and emergency breathing. They then divided into "teams" of 17, working in three shifts, to practice water rescue scenarios in daylight and nighttime conditions.
This pre-holiday training is the first of two phases. The second session is planned for after the holiday period and will result in the employees attaining the status of certified lifeguard in Mexico.
Beaches and pools are expected to be at full capacity during Semana Santa, when water accidents are more likely to occur.
New addition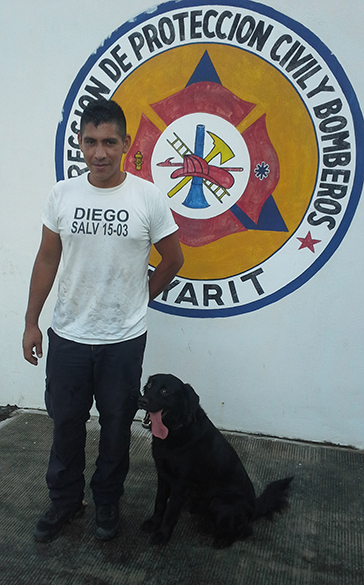 Fire chief Sergio Carrillo with Rufo, the newest addition to the firefighting/rescue team at the Nuevo Vallarta station. Rufo is a search/rescue dog.
Until Next Season …
It's time to start saying "adios" for the season in the northshore, so how about one last party before sailing off?
Amigos de La Cruz is doing just that with their Sail Away Party on Tuesday, March 22. The fun starts at 6 p.m. at Oso's Oyster Bar in the La Cruz Marina.
The cost is 350 pesos and includes dinner and music for dancing provided by Trenzas Negras and guests.
A live auction includes some great offerings, such as golf twosomes at the Punta Mita Club, a romantic two-night stay at the Villa Amor in La Cruz, sailing trips and a lot more, say organizers.
Sail Away party tickets are available at Oso's, the Amigos de La Cruz table at the La Cruz Sunday Market and from board members David, This email address is being protected from spambots. You need JavaScript enabled to view it., and Patricia, This email address is being protected from spambots. You need JavaScript enabled to view it..">This email address is being protected from spambots. You need JavaScript enabled to view it..
Let's Dish
Jacqueline Meyer, the most powerful agent in Hollywood, is back and ready to spill all the juicy gossip of Tinsel Town. Get ready for an evening of "dish" as the Bucerias Theater Guild presents "Memoirs of a Hollywood Gossip Queen!"
The play is scheduled Tuesday, March 16. Tickets are 300 pesos and include an appetizer sampler plate. Doors open at 6:30 p.m., curtain up at 7:30 p.m.
The play, posthumously directed by David Lloyd Austin and starring Christy Ann Beguesse, takes place in the intimate setting of agent Jacqueline Meyer's living room as she prepares for a dinner party with the likes of Burt Reynolds, Barbra Streisand, Richard Dreyfus and other stars.
Tickets can be purchased at A Broken Art located in the Bucerias Art Walk Plaza, Lazaro Cardenas 62. Proceeds to benefit the John Ozzello Food Bank and Humanitarian Aid.
For more information, email This email address is being protected from spambots. You need JavaScript enabled to view it..">This email address is being protected from spambots. You need JavaScript enabled to view it..