Golf tournament
On Tuesday, August 7, golfers from the Chula Vista club organized the first annual David Ladd Memorial Golf Tournament in honor of their friend and golfing buddy, David Ladd, who passed away suddenly on Sunday, August 4  (see obituary on page 4).  They invited golfers from the Chapala Country Club to join them. 
Eighteen of Ladd's friends boarded a bus and traveled to the Santa Sofia Golf Course, just west of Guadalajara. Ladd had traveled to the same golf course on numerous other occasions.  After a great round was concluded, they "raised a glass" to their friend as they sat on the beautiful terrace overlooking the course. 
As was the tradition, on the way back the group stopped to eat at Los Gavalanes Restaurant, where the winners were announced: first place Jon Winchester, second place Kathy Fallon and third place Stuart Brown.  
"David's spirit was with all of us on that beautiful day," they said.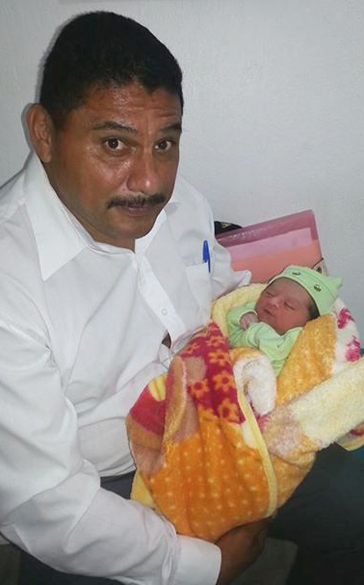 Horseback riding therapy
The Centro de Equitacion Terapeutica is an equinotherapy  program that started recently at a ranch on the Libramiento near Chapala.  In the program, trained therapists use horses to help handicapped children have a better future.
During the sessions, children do controlled exercises while riding horses.  Each horse requires a leader and two side walkers to support the child.
Children from Chapala and Ajijic are attended to on Saturdays. The Family Development Agency (DIF) provides transportation for children from towns further afield.
As well as enjoying the riding, the children receive attention that otherwise some of them never get. 
Many of the children are them from economically challenged families that cannot afford to transport them, much less pay for the therapy. 
The program has a waiting list of ten children, aged from 3 to 10, with diverse conditions. Organizers are looking for people to help support the program, either as side walkers or financially, or both.  The monthly fee per child is 500 pesos.
The institution is in the process of being able to give tax deductible receipts as an A.C. (non-profit).
Anyone willing to help can obtain more information by calling Dr. Martha Nussgen Anaya. Telephone: 376-766-2549. Email: This email address is being protected from spambots. You need JavaScript enabled to view it..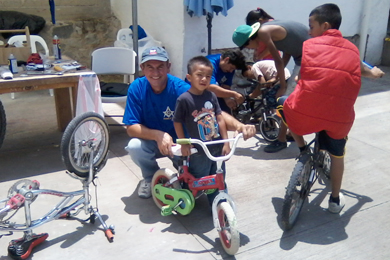 LCS Singles
An open meeting of the LCS Singles will be held on Wednesday, August 21, 4 p.m. at Mel's Diner at the back of the hotel on the Ajijic Plaza.
Group organizers urge supporters to attend and commit to helping out with ongoing needs and upcoming events.  Importantly, they say, someone with good computer skills is required to manage the group's website.
LCS Singles has planned some exciting future events, including a Halloween party, a possible trip around the lake and a Christmas party.  But to ensure the group continues, more volunteers are needed, organizers say.
"Be there, bring a friend, and a willingness to be involved," they say.
A social/happy hour will follow this meeting at 5 p.m.  
Shrimp boil 
Don't miss some down-home fun and great grub at the American Legion Post Seven "Jimmy Buffet Parrot Head Shrimp Boil," set for Thursday,  August 22, 5 p.m.  The all-you-can-eat menu includes sides of corn-on-the-cob, coleslaw and garlic bread to complement the shrimp entree, along with ice cream for dessert. Get in on 50/50 and liquor baskets raffles, a Jimmy Buffet trivia quiz and great prices for margarita cocktails. Tickets going for 170 pesos a head are on sale at Legion headquarters in central Chapala, Morelos 112 at the corner of Guerrero, phone  765-2259.
Genealogy
The Genealogy Forum will hold its next meeting on Monday, August 26, 2 p.m. in the Lake Chapala Society (LCS) Sala.  
The Forum is open to everyone interested in tracing their family history.  This month the presentation will be on finding living relatives.
Although genealogy is at its heart the study of long-deceased ancestors, connecting with living relatives has become almost as important to many family historians. Some seek living kin in an effort to track down family photos; others do it to find family history playmates, plan reunions or identify DNA project participants. Whatever the motivation, one of the most addicting aspects of genealogy is the thrill of finding distant cousins, or in some cases, parents, children or siblings. But this "reverse genealogy" (working from the past to the present) has its own special challenges and requires the researcher to be part genealogist and part private investigator. This presentation covers proven techniques for tracing 20th and 21st century friends and relatives from the past to the present.
Bus trips
The Lake Chapala Society (LCS) bus trip will head to Plaza Galerias on Tuesday, September 3,   This covered Guadalajara mall boasts many fine stores, including Liverpool, Sears, Best Buy, Zara, the Home Store, Suburbia, Walmart, Sams, Mega and Costco. 
There are several excellent restaurants, such as Outback, Applebee's and Chili's, plus a food court which has a yummy Krispy Kreme.  The price of the trip is 200 pesos.  The bus leaves at 9:30 a.m. and returns from the Costco area at 4 p.m.
The craft centers of Tonala and Tlaquepaque are the destinations for the trip planned for Tuesday, September 24. The Guadalajara suburb of Tonala is the first stop, and then it's on to Tlaquepaque, where a female mariachi group performs at 3 p.m. Cost: 200 pesos. This trip also leaves at 9:30 a.m. and the return is at 4 p.m.
Immigration Q&A
Ricardo Vera Lira, head man at the Guadalajara office of the Instituto Nacional de Migracion (INM), will give a conference on Mexico's immigration law, related regulations and procedures, to be held Thursday, August 22, 7 p.m., at Instituto Terranova, located at Rio Lerma 19, just east of Villa Nova. Lakeside expats are welcome to attend and get answers to pertinent questions on INM matters.
Jewish High Holidays
The Jewish High Holidays are coming early this year and unaffiliated Lakeside Jews will have a place to go for High Holiday services. Chavurah Chapala will be offering a series of abbreviated services for Rosh Hashanah (the Jewish New Year) and Yom Kippur (the day of Atonement).
The word "Chavurah" is derived from "Chaver," or friend, in Hebrew. Chavurah Chapala is a community of Lakeside Jews who get together for a variety of activities, including learning, services, camaraderie, and fun. The group attempts to create a welcoming environment that is inclusive and egalitarian — with no dues, no officers and no politics. Chavurah Chapala is independent and not affiliated with any Jewish movement or synagogue. So far their lay leaders have put together services from both Reform and Reconstructionist prayer books, though they are open to contributions from the whole Jewish spectrum. They encourage everyone's active participation, to plan events and to lead them. 
Events are held monthly, usually in private homes. Over the past year they have had a Chanukah party, Tu B'Shevat seder, Passover Seder, Israeli Independence Day celebration, a number of Friday night services and a Saturday service.
The current schedule for Chavurah Chapala includes Rosh Hashanah and Tashlich services on September 5, an Erev Yom Kippur dinner followed by a Kol Nidre service September 13 and Yom Kippur and Neilah/Havdalah services followed by a break-the-fast dinner on September 14. A single modest donation will be requested to cover attendance at all these services. Non-members are welcome and no one will be turned away for lack of funds. There ill be an extra charge if the group decides to go to a restaurant for one of the dinners. Contact  This email address is being protected from spambots. You need JavaScript enabled to view it. for more information.
Spanish language classes
The Lake Chapala Society has announced the start of its next term of Spanish language classes. Classes begin on Monday, September 9 and cover seven weeks of study ending on October 26.
The LCS Spanish program uses the Warren Hardy Spanish language course which is designed for the adult student. Several levels of learning are available as student progress in the program.
Registration for these upcoming classes is currently under way at the LCS office weekdays on Tuesdays and Fridays from 10 a.m. to 2 p.m. Sign-up for classes will also be held the week of September 2-6, from 11 a.m. to 1 p.m. at the LCS campus located under on the blue umbrella patio.
Introduction to Spanish
Introduction to Spanish is a casual class offered for the beginner that covers the Spanish alphabet, simple vocabulary and phrases to use about town for shopping, and other useful information on our area and the Mexican culture.
Classes are held each month starting the first Tuesday of the month and going for three weeks. September classes start on September 3, and are held at the LCS campus from noon until 1:30 p.m. Learning materials are provided to the student and the tuition is 150 pesos.
Sign up is currently available at the LCS office (16 de Septiembre 16-A, Ajijic) from 10 a.m. to 2 p.m. Monday through Saturday. Call (376) 766-1140 for more information.
Tape-a-bike
Last weekend the Axixic #31 Masonic Lodge was out in force continuing their successful "Tape-a-Bike, Save-a-Life" program. 
In Tepehua, the hilltop barrio of Chapala, Lodge members repaired flat tires, aired up tires and put reflective tape on 55 children's bicycles. One bike came in with a flat tire and on further investigation they found seven patches on the inner tube with tape holding them on. Needless to say that was a challenge to repair, but with due diligence, members removed the old patches and tape and the tire was repaired and a happychild rode away.
Fundraiser
A Masonic fundraiser will be held at the Eventos Center (Hidalgo 78) on Saturday, August 17, from noon to 8 p.m., to support Axixic #31 Masonic Lodge's community affairs program. The venue is west of Dr Antonio Pinto's Optometry Office and Zona Gym. Look for the signs. 
On the menu will be chicken mole with bread, a tamale and a beverage of choice.  There will be a cash bar and music.
Tickets may be purchased from Diane Pearl Coleciones, Mia's Boutique, Dr Tony Pinto's office or from any Lodge member. The cost per ticket is 200 pesos. 
The Masons not only provide reflective tape for kids' bicycles but also professional flashlights for the Chapala Police Department, uniforms and soccer balls for numerous teams at lakeside, as well as community assistance wherever and whenever needed.
Freethinkers
Members of the Lakeside Freethinkers, who reject belief in the supernatural and rely on science and reason to guide their lives, will hold their regular third-Wednesday-of-the-month meeting on Wednesday, August 21.  A member will speak about his 25-year experience in a religious cult, Herbert W. Armstrong's authoritarian World Wide Church of God, which held that all other Christian churches were Satanic counterfeits and required members to make large financial contributions that supported posh lifestyles for church leaders.  For time and place, e-mail Ken Crosby at This email address is being protected from spambots. You need JavaScript enabled to view it. by Monday, August 19.
Spiritual Living
Andrea Buenzli will present "Happiness," with a social hour to follow, at the Center for Spiritual Living on Friday, August 16, (5-6 p.m.).
The Wednesday class (10:30 a.m. to noon) continues with "Nonviolent Communication" and the Thursday discussion (10:30 a.m. to noon) will feature a new book, "Untethered Love."  The discussion is preceded by an optional meditation from 10 a.m. to 10:20 a.m.  
You can have some "serious fun" at the Sacred Cinema on Sunday, August 18, 4 p.m. when the film "Michael" with John Travolta will be screened.  Popcorn is provided.  Bring your own drink. 
Feel free to attend any or all activities. For further information contact This email address is being protected from spambots. You need JavaScript enabled to view it. or call 766-0920. The center is located at Nicolas Bravo 17, Ajijic.
Presbyterians
"Feeding the Puppies." This somewhat enigmatic phrase is the title of Pastor Ross Arnold's sermon on Sunday, August 18.  Just what does he have in mind?  As related in Mark 7:24-30, when Jesus arrived near Tyre, He was sorely in need of rest.  However, stories of miracles followed Him, and it was impossible to keep His presence a secret.  A Syrophoenician woman entered the house where He rested, and implored Him to heal her daughter, who was possessed by an impure spirit.  Jesus said,"First, let the children eat all they want, for it is not right to take the children's food and toss it to the dogs."  The woman replied, "Lord, even the dogs under the table eat the children's crumbs."  Touched by her humility and the faith reflected in her words, Jesus said, "For such an answer, you may go, the demon has left your daughter."  And, indeed, the child was healed.
Sunday worship begins at 10 a.m. followed by a time of refreshments and fellowship.  All are welcome!  You'll find Lakeside Presbyterian Church in Riberas, on the mountain side of the Carretera, just west of S&S Auto and Bubba's Restaurant.   
Interdenominational
The Interdenominational Congregation which had been meeting at the Little Chapel by the Lake will meet this week at Shangri La.
The service will start at 11:15 a.m. and Rev. Gene Raymer will speak on the topic "God Is Not There."  A fellowship luncheon will follow at a local restaurant.
Christ Church Anglican
Christ Church Anglican Fellowship will mark the Thirteenth Sunday after Pentecost on August 18 by celebrating the Holy Eucharist Rite II at 9:30 a.m. in the Little Chapel by the Lake (Carretera 10, Chula Vista). Deacon Rob Wells's sermon topic is "You Hypocrites!" based on Luke 12:49-56. This is "Bring a Friend to Church Sunday" for Christ Church.  
Deacon Wells is leading a Bible Study on Tuesdays at 10 a.m. in the Fellowship Hall of the Little Chapel by the Lake.  Each session lasts about an hour.  The subject of this week's session is chapters 4 & 5 of Matthew.  Deacon Robb is using The Jerusalem Bible as his principal study text and commentary.  It is not necessary to have attended any session in order to take part.
St. Andrew's
Over the past several years, the phrase "family values" has become a hot potato, one that people of similar faith but differing political perspectives have used to beat one another over the head.  But seldom if ever are Jesus's own views brought into the conversation.  That will change this Sunday at St. Andrew's Anglican as we hear the uncomfortable assurance that when Jesus enters the picture, family life may in fact be turned upside down.  The sermon – "Jesus on Family Values" – may give you a perspective that changes a lot of those heated liberal/conservative quarrels. 
The family of faith at St. Andrew's gathers every Sunday morning – at 9:45 a.m. for Sunday School, at 10 a.m. for worship. After worship, all enjoy each other's company and welcome those who may be new or visiting.  The church is located at Calle San Lucas 19, just a block south of the Carretera in Riberas del Pilar.