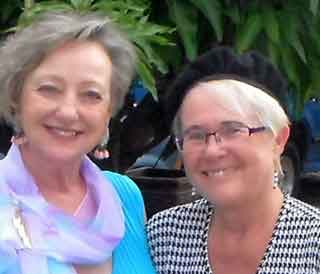 French food was the theme of the April meeting when the Culinary Arts Society (CASA) of Ajijic met at Min Wah Restaurant.
The competition categories were French main dishes and French desserts. While judges Adrien Alagille, Peter Pan Brinkeby, Peter Pan Bakery, Piotr Henri Dhainaut Murueta, the manager of Pierrot du Lac; and Adrien Alagille, tasted the dishes and determined the winners, the meeting's program was held.
Speakers Patrice and Sophie Bonnoph, owners of the French Bakery in Ajijic discussed French bread and other baked goods.
Winners of the main dish category were: first place – Monica Molloy, veal stew with potato puree; second -- Marina Benz, gigot de pre-sale roti; and third -- Gail Early, enchaud perigourdine.
Dessert winners included: first place -- Mary Ann Waite, lemon and fresh raspberry dacquoise; second -- Catherine Suter, chocolate meringue cake; third -- Ginger Perkins, tarte au citron avec framboises.
People's choice awards went to Monica Molloy's first prize winning veal stew and to Leslie Yanki's French pastry cream éclairs. Winners for best presentation were Sally Myers for her steak tartare and Catherine Suter's chocolate cake.
The next meeting/competition for CASA will be Monday, May 19, 4 p.m. at Min Wah Restaurant in Ajijic. For more information on CASA email This email address is being protected from spambots. You need JavaScript enabled to view it. or call CASA President Annie Green, (376) 766-5243, or visit the CASA website: www.ajijiccasa.org.