The principal flautist in the Jalisco Philharmonic Orchestra, Belarus-born Antonio Dubatovka, returns to Ajijic Saturday, March 5, to join well known pianist Timothy Welch in a performance of Russian music for flute and piano.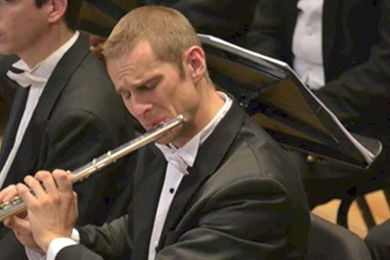 "The music Antonio has chosen is stunning," says Welch, who is also choral director of Los Cantantes del Lago and the Coro de Zapopan.
"Over 600 people at Lakeside heard Antonio play at the Christmas Los Cantantes concert and loved him, even people who say they don't like flute. Besides being a phenomenal flautist, he has the rare gift of knowing how to perform."
Welch points out that for this concert Dubatovka has chosen is the "crème de la crème of the repertoire of a professional flautist" and that the two musicians proposed the same scores for a concert at Mexico City's revered Palacio de Bellas Artes and will perform it there later in March.
"Because we submitted this repertoire, we got accepted," Welch says. "The reason was that, even though these four Russian pieces are better known in the United States, Canada and Europe than here in Latin America, they all require an excellent pianist and flautist. I've never practiced more and I've played hundreds of concerts. I usually don't get so excited about a concert, but this music is exhilarating. It is either wild or utterly romantic."
Welch adds that he doesn't think Ajijic audiences will want to miss the event. "We're doing it at St. Andrew's, which has the best piano at Lakeside. And St. Andrew's acoustics are just right for this — not too live. We'd be swallowed up in the auditorium."
The concert will consist of Otar Taktakishvili's Sonata for Flute and Piano in C Major, Vladimir Tsybin's Tarantella, Yuri Doljikov's Romance "Nostalgie" and, after an intermission, Prokofiev's lyrical and tender Sonata in D Major for Flute and Piano, Opus 94.
Russian Music for Flute and Piano, Saturday, March 5, 7 p.m., St. Andrew's Anglican Church, San Lucas 19, Riberas del Pilar in Ajijic. Tickets 200 pesos from Mia's Boutique, Diane Pearl Colecciones, Tim Welch, Jayme Littlejohn or This email address is being protected from spambots. You need JavaScript enabled to view it..">This email address is being protected from spambots. You need JavaScript enabled to view it.. St. Andrew's will open at 6 p.m. for a pre-concert bar.