As the Northern Lights Festival de Febrero entered its final week, a sellout audience at the opulent Moon Estate basked in the glow of two New York musicians, violinist Benjamin Bowman and cellist Joel Noyes, in a concert that seemed to epitomize the series, now 14 years old.
"The quality has been gradually increasing every year," said Ajijic resident Donald Aitken, who attended the concert. "Last year I thought it couldn't possibly get any better, and then this year comes along. It's getting better known, so better-known musicians are coming down."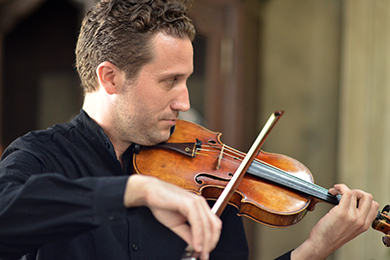 Aitken continued: "These two guys are a good example – one is concertmaster with the American Ballet Theatre orchestra in New York and the other is Assistant Principal Cello of the Metropolitan Opera Orchestra. It was an astounding performance. And of course Kodály [the final piece in the program] is a tour de force."
The Kodály, which Bowman described as "truly Hungarian music" that was a thrill to play, particularly with his friend Noyes, received a standing ovation, while the first two pieces of the concert, works by Bohislav Martinů and Giovanni Battista Cirri, were also well received and seemed to give both musicians ample opportunity to shine.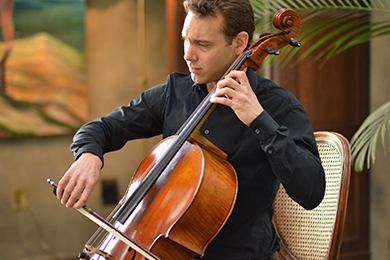 "They played the same program a few days ago in Guadalajara," Aitken said, "and told me it was a little different each time, since they could signal each other with their eyes and improvise a bit."
The salon in the beautiful Moon Estate, currently the home of Claudette Champagne, offered pleasing acoustics for the duet performance.
The festival is about more than impressive concerts in intimate venues, especially in 2016 after receiving support from the Jalisco Secretariat of Culture and branching out to include performances in two Guadalajara facilities, including the huge new PALCCO (Palacio de la Cultura y la Comunicación) complex on the northern fringe of the city.
About four Mexican music students were invited this year to take master classes and play in concerts, including cellists Samuel Rua, from Puerto Vallarta, and Gaby Garzón, from Guadalajara, as well as viola player Luis Barrios, from Guadalajara.
About 24 musicians in all were invited to perform in the festival this year and to be billeted in Ajijic homes, many of them from Canada and the United States. The majority are classical musicians, but there are also jazz musicians as well as a director and four soloists.
Christopher Wilshere is theartistic director of the festival and has been appointed director of music education at PALCCO.