5D Art in the Garden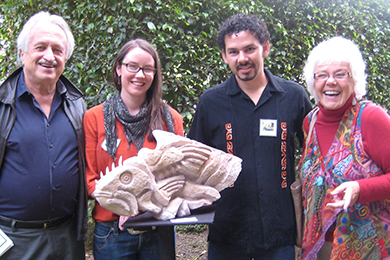 Howard Feldstein and Joan Ward (at far left and far right) were among the happy shoppers attending last Saturday's 5D Art in the Garden opening reception. They kidded around with sculptor Rigoberto Navarro and his wife Corina Lunita (center) after purchasing the piece titled Fish in Evolution, calling it a "mobile" sculpture that changes too slowly to be perceived by the human eye.
Galeria Sol Mexicano
Galeria Sol Mexicano hosts an opening reception for an exhibit of works by Guadalajara artist Enrique Avila and photographer Karen Spenser on Friday, January 22, from 3-6 p.m.
There will also be poster signing with Nancy Gray, who has painted a tribute to Ajijic depicting some of its treasured sights and places. Gray is contributing some of the sale proceeds to the Lake Chapala Society (LCS) children's art program. Wine, nibbles, music and tequila sampling will be offered.
Galeria Sol Mexicano is located at Colon 13, Ajijic.
Galeria Di Paola
Galeria Di Paola holds a cocktail inauguration for the collective exhibit "Advocacy of Art," Saturday, January 23, from 3:30 to 7 p.m. The eclectic group of nine Mexican artists, whose multifaceted works are on display, are based in Fresnillo, Zacatecas.
Galeria Di Paola is located at Colon 11, Ajijic.
'Good People'
Lakeside Little Theatre continues presentations of "Good People," through January 24. Evening shows are at 7:30 p.m. Sunday's matinee is at 3 p.m. Tickets are 200 pesos, available at This email address is being protected from spambots. You need JavaScript enabled to view it. and at the LLT box office every day during the show, from 10 a.m. to noon, excluding Sunday, and one hour before curtain. Call 766-0954 for more information.
Donation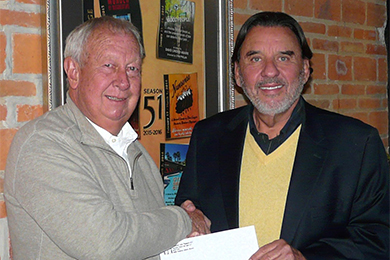 Lakeside Little Theatre continues its practice of sharing a portion of each of its stage play's proceeds with a different local charity. At the opening night of "Good People," LLT President Peter Luciano presents a donation to Tom Music of Operation Compassion Ministries, which provides weekly groceries to help feed many needy families in San Antonio. Music can be reached at 376-766-5956, or at This email address is being protected from spambots. You need JavaScript enabled to view it..">This email address is being protected from spambots. You need JavaScript enabled to view it..
Jewish Film Fest
The Seventh Annual Ajijic Jewish Film Festival continues with "Hunting Elephants" (Israel, 2013) on Sunday, January 24 and "Diplomacy" (France/Germany 2014) on Sunday, January 31.
All of the films, presented by the Lake Chapala Jewish Congregation, begin at 1:30 p.m. at Cinemas del Lago at Plaza Bugambilias. Tickets at 50 pesos are available at the box office. A portion of the proceeds benefits selected lakeside charities, including Chapala Cruz Roja.
Naked Stage
The Naked Stage Readers Theater presents "Italian American Reconciliation" by John Patrick Shanley, directed by Pierre Blackburn, Friday, Saturday and Sunday, January 29, 30, and 31 at Rio Bravo 10, Ajijic. The bar opens at 3 p.m. and the show starts at 4 p.m. Tickets are 80 pesos. Reservations at This email address is being protected from spambots. You need JavaScript enabled to view it. will be honored until 3:50 p.m. and then given to those waiting.
Buses to the Symphony
Viva la Musica will be running buses to each of ten concerts in the Jalisco Philharmonic Orchestra Spring Season at the Teatro Degollado. Bus tickets are 350 pesos (450 for non-members), available at the LCS, Thursday and Friday, 10 a.m. to noon, or by phoning Ingrid Goodridge at 766-2194. The trips prior to Easter are:
Friday January 29: "Transcendental Arts." Sibelius, Bach. Bus departs at 4 p.m. with a stop at a fine restaurant in Guadalajara.
Sunday February 7: "Mystic Sounds." Mozart, Bruckner. Bus departs at 4 p.m. (concert starts 6 p.m.).
Friday, February 19: "Cervantes' Spain." De Falla, Rodrigo, Richard Strauss. Bus departs at 4 p.m. with a stop at a fine restaurant in Guadalajara.
Sunday February 28: "Mahler Celeste." Beethoven, Mahler. Bus departs at 4 p.m. (concert starts 6 p.m.).
Sunday March 6: "Schumann & Schubert – Great Melodic Craftsmen." Schumann; Schubert. Bus departs at 4 p.m. (concert starts 6 p.m.).
Thursday March 10: "Haydn Plus – Cello Extravaganza." Haydn, Paganini, Faure, Saint-Saens, Tchaikovsky. Bus departs at 4 p.m. with a stop at a fine restaurant in Guadalajara.
Sunday March 20: "Shostakovich 19 – Stalin Code." Paganini, Shostakovich. Bus departs at 4 p.m. (concert starts 6 p.m.).
For more details on these concerts see page 29.
Email This email address is being protected from spambots. You need JavaScript enabled to view it. for more information about Viva events.
Artists meet
The Ajijic Society of the Arts (ASA) holds its monthly meeting at La Bodega Restaurant, Monday, February 1. The business meeting begins at 10 a.m. prior to a discussion on the upcoming Open Studio Art Walk (see below) and March judged show, which begins March 12 and runs through March 25. A reception is planned from 5-7 p.m. on March 12.
Open Studios Tour
ASA's fifth annual Open Studios Tour will be held on Saturday and Sunday, February 6 and 7, from 10 a.m. to 4 p.m.
This year's tour features more than 20 locations where artists can be seen at work, along with displays of their art. Generally, the Open Studios Tour takes place in the artist's work space, whether that is a yard, a garage, in the artist's home, or in a place where he/she works outside the home. However, some artists will be hosted by another artist, and there will also be some locations that will include a number of artists.
ASA donates half of the proceeds from tour ticket sales to the LCS Children's Art Program.
ASA has been supporting the program for many years to help ensure that Ajijic continues to be a thriving art community. In addition, many ASA members lead or take part in the program's activities throughout the year, including the annual Summer Art Camp held each July. For the first time, the Lake Chapala Society will be a participating location on the Open Studio Tour, and will host five ASA artists on its grounds (16 de Septiembre 16A). Some children from the LCS art program will also be exhibiting.
Tickets for the tour cost 50 pesos each, and can be purchased at the LCS ticket sales area now through Friday, February 5, from 10 a.m. to noon. They can also be purchased during the Open Studios Tour, at any of the participating studios or locations. A single ticket gives you entry to every location, and includes a shuttle bus to help you get to the venues in San Antonio and Riberas del Pilar.
Folk Dance
Five-times state champion Ballet Folklorico Ixtlahuacan will present a program of traditional Mexican folk dances Sunday, February 7, noon at the Auditorio de la Ribera. The show will include live music and mariachi. Tickets are 150 pesos in advance at Superlake and 200 pesos at the door.
Oil Workshop
Efren Gonzalez holds an oil painting workshop February 16-19, from 9:30 a.m. to 3:30 p.m. Each participant will finish one painting each day. All materials are included in the $US300 cost. Call 331-703-3942 (cell) or email This email address is being protected from spambots. You need JavaScript enabled to view it. for more information.