Doo-Wop
That's Entertainment presents "Forever Plaid," a musical review by a quartet singing songs from the 1950s, including "Heart and Soul," "Love is a Many Splendored Thing," Chain Gang" and many more. Relive the jukebox years with performers Elvis Martinez, Alfonso Lopez, Roberto Duran and Jose Maria Caudillo. Bob Bruneau accompanies on piano.
The concert is Saturday, February 6, 7 p.m. at the Auditorio de La Ribera. Tickets are available at LakesideTickets.com, Jose Melendrez, Diane Pearl and Kiss My Glass.
GALA opening gala
Galeria al Aire Libre Axixic (GALA) opens Saturday, February 6, 4 p.m., featuring photographs of Zapotec girls wearing headpieces made from their freshly harvested organic produce by Oaxacan artist Marcela Taboada. Following the inauguration, Lorena Harp will give a talk about school gardens projects that relates to an initiative under consideration for Ajijic's junior high Secondaria.
GALA is the concept of local photographer Xill Fessenden who will curate four exhibitions for the 2016 season. Future shows showcase reproductions of original art, poems or conceptual pieces printed on special photographic material that withstands sun and rain. Each exhibit will be displayed over four months to be viewed by all the public and visitors in the lakeside area.
For detailed information, contact her at This email address is being protected from spambots. You need JavaScript enabled to view it.This email address is being protected from spambots. You need JavaScript enabled to view it..">.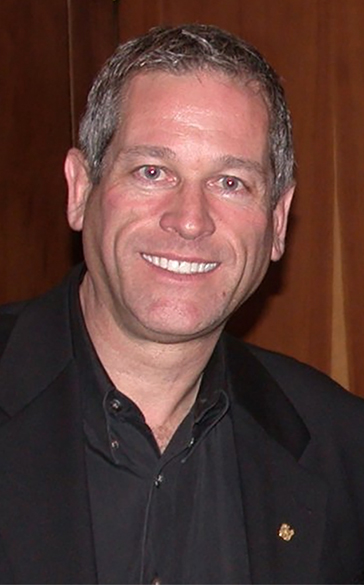 Open Studios Tour
ASA's fifth annual Open Studios Tour will be held on Saturday and Sunday, February 6 and 7, from 10 a.m. to 4 p.m.
This year's tour features more than 20 locations where artists can be seen at work, along with displays of their art. Generally, the Open Studios Tour takes place in the artist's work space, whether that is a yard, a garage, in the artist's home, or in a place where he/she works outside the home. Don't miss the children's art display at the Lake Chapala Society.
Tickets are 50 pesos and can be purchased during the Tour at any of the participating studios or locations. A single ticket gives you entry to every location, and includes a shuttle bus to help you get to the venues in San Antonio and Riberas del Pilar.
Mariano Soto
Studio 18 Art Gallery will host an exhibition of works by artist Mariano Soto, opening Saturday, February 6, from 1:30 to 5 p.m. Soto specializes in oriental painting.
Art Gallery Studio 18 is located at Colon 18, Ajijic. Call (376) 766-3745 or visit 18artgallery.blogspot.com.
Showstoppers 12
Los Cantantes del Lago's biannual fundraiser concert takes place Sunday, February 7, 4 p.m. at St. Andrew's Anglican Church. Presentations by soloists, duets, and small groups of members of Los Cantantes will be accompanied by Timothy G. Ruff Welch on piano, plus a guitarist and banjo player. Emcee is the inimitable Ken Yakiwchuk. Tickets, at 200 pesos, are available at Mia's Boutique, Diane Pearl, from any Cantantes member or loscantantesdellago.com.
CORRECTION: Last week's photograph of Esteban Oetling Ramirez at Showstoppers 11 incorrectly said that this week's show is at the Auditorio. It is at St. Andrew's Anglican Church.
Folk Dance
Ballet Folklorico Ixtlahuacan will present a program of traditional Mexican folk dances Sunday, February 7, noon at the Auditorio de la Ribera. The show will include live music and mariachi. Tickets are 150 pesos in advance at Superlake and 200 pesos at the door.
Dancing
The Rafael Terriquez Big Band (including three expats: Mike Leisenbach on baritone sax, Steve Caver on alto sax and Karen Procter on vocals) will play standards and dance tunes at the Beer Garden Terrace in Chapala Monday, February 8, 9 to 11 p.m. A combo from the band will continue playing cumbias and Latin rhythms until 2 a.m. The event is sponsored by the Club Deportivo Redes, a group of veteran soccer players celebrating the club's 56th anniversary. Tickets are available for 200 pesos by calling Luis Ramos, 765-2480. Individual tickets are available and seating will be at tables of six or eight. You may bring your own liquor and snacks and purchase soft drinks from the Beer Garden.
Rock n'Roll
The Tall Boys will play a dinner and dance fundraiser for Have Hammer... Will Travel A. C. at La Huerta Eventos, Wednesday, February 10, 6-10 p.m. Tickets, 350 pesos are available at Diane Pearl, the LCS ticket booth and the Have Hammers workshop in Riberas. Call 766-4830 for more information.
Clarinet Concert
Viva la Musica presents an outstanding clarinet concert featuring Charles Nath on clarinet, and Marita Zimmer on piano, Thursday, February 11, 7 p.m. at the Auditorio de la Ribera in La Floresta.
The program includes Robert Schumann's "Fantasy Pieces," which follow the moods of the composer from somber to upbeat to outrageous joy, English composer Gerard Finzi's "Bagatelles," and ends with one of the great masterpieces of the clarinet repertoire – Johannes Brahms' Clarinet Sonata No. 2 in E major.
Nath trained in the United States and played for many years with the Jalisco Philharmonic Orchestra, while Zimmer trained in Germany. Both are now professors at the Music School of the University of Guadalajara.
Tickets at 200 pesos are available from Diane Pearl, the Lake Chapala Society, Thursday from 10 a.m. to noon, and at the auditorium.
Motown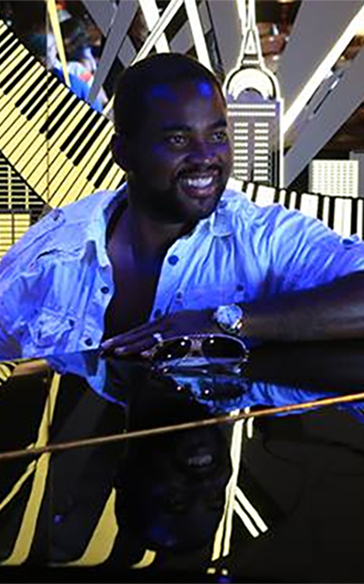 Dwight Blake performs "Memories of Motown," with hits from Marvin Gaye, the Temptations, Ray Charles, Smokie Robinson, the Four Tops and other soul favorites on Friday, February 12, 7 p.m. at the Auditorio de la Ribera.
Special guest Ingrid Ivaldi also will be heard at this That's Entertainment concert. Tickets are available at LakesideTickets.com, Jose Melendrez, Diane Pearl and Kiss My Glass.
Ajijic Guitar Fest
Three days of music and art will be wrapped into the Festival de la Guitarra, scheduled for Friday, February 12 through Sunday, February 14, 10 a.m. to 7 p.m., at the Ajijic Plaza. Organized with the aim of promoting one of the world's most popular instruments, the program includes continuous live musical performances, an exhibition of paintings, sculptures, decorated guitars and crafts showcasing the talents of various local artists, and art workshops for children.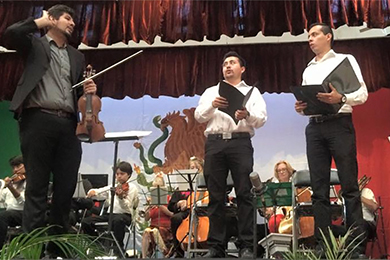 Opera at LLT
Lakeside Little Theatre presents the Royal Opera House's HD screening of Mozart's "Le Nozze di Figaro" ("The Marriage of Figaro") Saturday, February 13, 7:30 p.m. and Sunday, February 14, 3 p.m. The Marriage of Figaro is regarded as a cornerstone of the standard operatic repertoire, and it appears among the top ten at the Operabase list of the most performed operas worldwide.
Reserved seat tickets for each performance are 200 pesos. Seats can be reserved at the time of purchase and tickets picked up at the LLT box office on a first-come, first-served basis, Wednesdays and Thursdays from 10 a.m. to noon or every day during the run of any show (except Sunday), 10 a.m. to noon and one hour before curtain. For more information call 376-766-0954 or email This email address is being protected from spambots. You need JavaScript enabled to view it..">This email address is being protected from spambots. You need JavaScript enabled to view it..
Painting Guild
Well-known Ajijic art teacher Javier Ramos will select the paintings to be exhibited by members of the Lake Chapala Painting Guild for its juried ¨Love is in The Air¨ show at the Ajijic Cultural Center on Saturday, February 13. All are invited to the opening reception from 4 to 6 p.m.
Lake Chapala Painting Guild members participating will be Jeannie Winton, Anita Lee, Sonia Mocnik, Gwynne Lott, Nancy Gray, Marian Decker, Cynthia DuBois, Lois Schroff, Winnie Hunt and Geraldine Classen.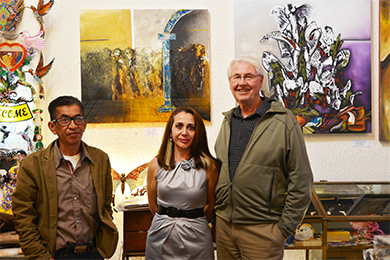 Bravo!
Bravo! Theatre presents an Actor's Showcase: scenes from plays by Harold Pinter, Norm Foster, David Mamet, Carol Burnett and more. Two performances are scheduled: Wednesday, February 17, 4 p.m. and Thursday, February 18, 7:30 p.m. Email This email address is being protected from spambots. You need JavaScript enabled to view it. to reserve. Admission is "pay what you can." Bravo Theare is located at Rio Bravo 10B in west Ajijic.
Jazz trio
The Centro Cultural Gonzalez Gallo (old train station) in Chapala hosts an evening of jazz, featuring the Conception Jazz Trio Thursday, February 18, 7 p.m.
Conception Jazz Trio musicians Eric Hernandez (drums), Mauricio Gonzalez (bass) and Ivan Hernandez (piano), have been playing together for a little over a year. They interpret traditional jazz standards and also play original music.
The public is invited to bring liquid refreshment and snacks to share. Cooperation is 50 pesos.
Dasvidaniya
A concert of Russian Music performed on flute and piano by Antonio Dubatovka and Timothy G. Ruff Welch will be held at St. Andrew's Anglican church, Saturday, March 5, 7 p.m., in advance of its "by invitation performance" at the Bellas Artes in Mexico City.
Dubatovka was seen by Lakeside audiences during the holiday concert given by Los Cantantes del Lago. He is principal flautist of the Jalisco Philharmonic Orchestra. Timothy G. Ruff Welch is a Lakeside favorite and director of Los Cantantes del Lago.
Dubatovka and Welch have been invited to perform at the Bellas Artes, an great honor in Mexico's music world.
Tickets are 200 pesos and are available at Diane Pearl and Mia's Boutique or by emailing This email address is being protected from spambots. You need JavaScript enabled to view it..">This email address is being protected from spambots. You need JavaScript enabled to view it.. Limited seating is available.
Buses to the Symphony
Viva la Musica will be running buses to all of the concerts in the Jalisco Philharmonic Orchestra Spring Season at the Teatro Degollado. Bus tickets are 350 pesos (450 for non-members), available at the Lake Chapala Society, Thursday and Friday, 10 a.m. to noon, or by calling Ingrid Goodridge at 766-2194.
The trips prior to Easter are on Sunday February 7; Friday, February 19; Sunday February 28; Sunday March 6; Thursday March 10 and Sunday March 20.
Email This email address is being protected from spambots. You need JavaScript enabled to view it. for more information about these trips.