Opera at LLT
Lakeside Little Theatre presents the Royal Opera House's HD screening of Mozart's "Le Nozze di Figaro" ("The Marriage of Figaro") Saturday, February 13, 7:30 p.m. and Sunday, February 14, 3 p.m. Tickets are 200 pesos.
For more information, call 376-766-0954 or email This email address is being protected from spambots. You need JavaScript enabled to view it..">This email address is being protected from spambots. You need JavaScript enabled to view it..
Painting Guild
Well-known Ajijic art teacher Javier Ramos will select the paintings to be exhibited by members of the Lake Chapala Painting Guild for its juried ¨Love is in The Air¨ show at the Ajijic Cultural Center on Saturday, February 13. All are invited to the opening reception from 4 to 6 p.m.
Ajijic Guitar Festival
Three days of music and art will be wrapped into the Festival de las Guitarras, scheduled for Friday, February 12 through Sunday, February 14, 10 a.m. to 7 p.m., at the Ajijic Plaza.
Continuous live musical performances, an exhibition of paintings, sculptures, decorated guitars and crafts showcasing the talents of various local artists, and art workshops for children are on the bill.
Actor's showcase
Bravo! Theatre presents an "Actor's Showcase: scenes from plays by Harold Pinter, Norm Foster, Noel Coward and more" featuring Rosann Balbontin, Pepper Drebes, Diane Jones, Dennis McCary, Judy McKinnon, Norb Michel and Pam Pettus.
Two performances are scheduled: Wednesday, February 17, 4 p.m. and Thursday, February 18, 7:30 p.m. Email This email address is being protected from spambots. You need JavaScript enabled to view it. to reserve. Admission is "pay what you can." Bravo Theatre is located at Rio Bravo 10B in west Ajijic.
Jazz trio
The Centro Cultural Gonzalez Gallo (old train station) in Chapala hosts an evening of jazz featuring the Conception Jazz Trio on Thursday, February 18, 7 p.m. The public is invited to bring liquid refreshment and snacks to share. Cooperation is 50 pesos.
Plein Air Painting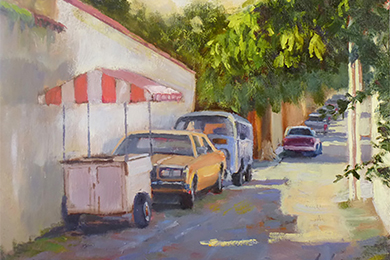 Don't miss the reception for a group of artists known as the "Plein Air Painters of Jalisco" at Sol Mexicano, Friday, February, 19, 4 to 7 p.m.
"Plein air" comes from the French phrase for "open air" and refers to the fact that the painters produce their work predominantly outdoors, as opposed to in the studio. This will be the group's second year of exhibiting at Sol Mexicano, and while the participants may change, the premise remains the same. Viewers will see how this genre really isn't about painting objects in the landscape, but about how a moment of fleeting light makes them glow and come alive.
The exhibition will remain in place until March 14.
'Nunsense'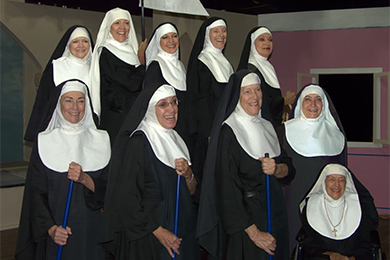 The next production of Lakeside Little Theatre
(LLT) will be "Nunsense," running Friday, February 19 through Tuesday, March 1.
"Nunsense" is a fun-filled show staged by the survivors at the Little Sisters of Hoboken Nunnery, 52 of the sisterhood having succumbed to botulism after eating vichyssoise. The remaining "Little Hobos" parade their talents at a variety show staged to raise funds so that the last four of the dearly departed can be buried.
The original production opened in New York in 1985, running for 3,672 performances and becoming the second-longest-running Off-Broadway show in history. The show pulses with merriment and an unabashed desire to make you laugh, proving conclusively that nun rhymes with fun.
Barbara Clippinger directs and choreographs with assistance from Heather Hunter. Judy Hendrick is the musical director and Win McIntosh the stage manager.
Tickets are available at the LLT box office Wednesday and Thursday from 10 a.m. to noon and the same hours every day of the show (except Sunday) and one hour before curtain. Or via email (This email address is being protected from spambots. You need JavaScript enabled to view it.) or message at (376-766-0954).
Art auction
An auction featuring fine art work by well known artists will be held Friday, February 19, 3-6 p.m. in the garden of the Hotel La Nueva Posada. This fundraiser, hosted by the Easter Passion Play actors, is critical to the on-going viability of the Pasion de Cristo, a long standing tradition in Ajijic. This year will mark its 36th year of production.
Efren Gonzalez will be on the gavel. A meal of traditional Mexican fare is served by the actors. Entertainment includes the children from Balet Xikantzy performing the Danza de los viejitos (Dance of the old men), as well as music by a string trio led by Emanuel Medeles.
Tickets at 200 pesos can be purchased at La Nueva Posada, Diane Pearl or Dario Marquez Studio. For more information and group seating, call 766-2013 or email This email address is being protected from spambots. You need JavaScript enabled to view it..">This email address is being protected from spambots. You need JavaScript enabled to view it..
Northern Lights
The Northern Lights Festival de Febrero is presenting a variety of classical and jazz concerts by renowned international musicians from February 20 to March 5. See advertisements on pages 4, 8, 13, 17, 21 and 29 or visit their website at www.festivaldefebrero.com.
Theater moves
The Naked Stage readers' theater has moved to a new location at Hidalgo (Carretera) 261 in Riberas del Pilar on the mountain side across from the Catholic Church and in front of the Baptist Church.
Their next production, "A Body of Water" by Lee Blessing, will be presented Friday, February 26 through Sunday, February 28. Directed by Lynn Phelan and starring Debra Bowers, Ken Yakiwchuk, Tina Leonard, the play focuses on a man and a woman who wake up one day with matching cases of amnesia.
Box office opens 3:15 p.m.; show starts 4 p.m.
For more information see The Naked Stage, Riberas del Pilar on Facebook, or email This email address is being protected from spambots. You need JavaScript enabled to view it..">This email address is being protected from spambots. You need JavaScript enabled to view it.. For reservations email This email address is being protected from spambots. You need JavaScript enabled to view it..">This email address is being protected from spambots. You need JavaScript enabled to view it..
Russian Music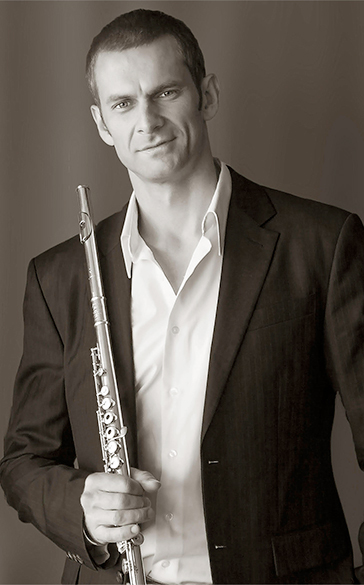 A concert of Russian music performed on flute and piano by Antonio Dubatovka and Timothy G. Ruff Welch will be held at St. Andrew's Anglican church, Saturday, March 5, 7 p.m.
This presentation is in advance of the duo's upcoming "by invitation" performance at the Bellas Artes in Mexico City.
Dubatovka was seen by Lakeside audiences during the holiday concert given by Los Cantantes del Lago. He is principal flautist of the Jalisco Philharmonic Orchestra. Welch is a Lakeside favorite and director of Los Cantantes.
Dubatovka and Welch have been invited to perform at the Bellas Artes, a great honor in Mexico's music world.
Tickets are 200 pesos and available at Diane Pearl and Mia's Boutique or by emailing This email address is being protected from spambots. You need JavaScript enabled to view it..">This email address is being protected from spambots. You need JavaScript enabled to view it.. Limited seating is available.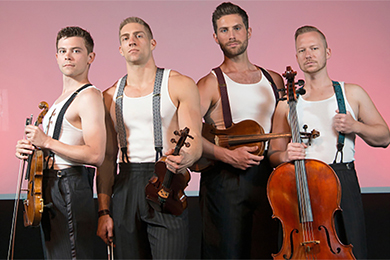 Bravo! Theatre
A much awaited reprise of last year's hit "I, Claudia" will be presented Tuesday, March 8 through Friday, March 11 at Bravo! Theatre. This is a one-woman show about a girl on the cusp of teen-hood and her charming "take" on life and her ever changing world.
Using masks, Jayme Littlejohn plays four different characters who shape Claudia's world. Directed by Lynn Phelan, the play is smart, funny, charming and will wrap its arms around you.
Evening performances are March 8, 10 and 11, 7:30 p.m., with a matinee on March 9, 4 p.m. Tickets at 200 pesos are available at Diane Pearl, Mia's Boutique or by emailing This email address is being protected from spambots. You need JavaScript enabled to view it..">This email address is being protected from spambots. You need JavaScript enabled to view it..
This year Gossips Restaurant is offering a "dinner with show." A prix fixe three-course (with choices) meal for 175 pesos. Reservations are required at 766-0217.
Next up at Bravo is "Visiting Mr. Green," running March 31, April 1, 2, 3 and April 7-10. It is directed by Jayme Littlejohn and stars Roger Larson and Ken Yakiwchuk.