Tax receipts
Música Para Crecer A.C. is now in a position to arrange tax receipts for donations in U.S. dollars.
The San Juan Cosala children's orchestra and choir was created by Música Para Crecer to provide access to cultural activities for young people from marginalized and low-income families.
Participation in the orchestra and choir not only offers musical training for the children, but also encourages individual social responsibility, team play and good citizenship.
For more information about receiving a tax receipt, contact Coco Wonchee at (333) 200-5663 or Gustavo Medeles at (333) 128-3400.
Plein Air Painting
Don't miss the reception for a group of artists known as the "Plein Air Painters of Jalisco" at Sol Mexicano, Friday, February, 19, 4-7 p.m.
"Plein air" comes from the French phrase for "open air" and refers to the fact that the painters produce their work predominantly outdoors, as opposed to in the studio. This will be the group's second year of exhibiting at Sol Mexicano, and while the participants may change, the premise remains the same. Viewers will see how this genre really isn't about painting objects in the landscape, but about how a moment of fleeting light makes them glow and come alive.
The exhibition will remain in place until March 14.
'Nunsense'
The next production of Lakeside Little Theatre (LLT) will be "Nunsense," running Friday, February 19 through Tuesday, March 1.
"Nunsense" is a fun-filled show staged by the survivors at the Little Sisters of Hoboken Nunnery, 52 of the sisterhood having succumbed to botulism after eating vichyssoise. The remaining "Little Hobos" parade their talents at a variety show staged to raise funds so that the last four of the dearly departed can be buried.
The original production opened in New York in 1985, running for 3,672 performances and becoming the second-longest-running Off-Broadway show in history. The show pulses with merriment and an unabashed desire to make you laugh, proving conclusively that nun rhymes with fun.
Barbara Clippinger directs and choreographs with assistance from Heather Hunter. Judy Hendrick is the musical director and Win McIntosh the stage manager.
Tickets are available at the LLT box office Wednesday and Thursday from 10 a.m. to noon and the same hours every day of the show (except Sunday) and one hour before curtain. Or via email at This email address is being protected from spambots. You need JavaScript enabled to view it., or message at 376-766-0954.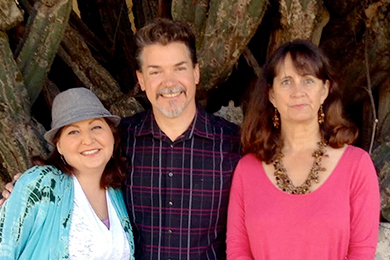 Art auction
An auction featuring fine art work by well-known artists will be held Friday, February 19, 3-6 p.m. in the garden of the Hotel La Nueva Posada. This fundraiser, hosted by the Easter Passion Play actors, is critical to the ongoing viability of the Pasion de Cristo, a long standing tradition in Ajijic. This year will mark its 36th year of production.
Efren Gonzalez will be on the gavel. A meal of traditional Mexican fare is served by the actors. Entertainment includes the children from Balet Xikantzy performing the Danza de los viejitos (Dance of the old men), as well as music by a string trio led by Emanuel Medeles.
Tickets at 200 pesos can be purchased at La Nueva Posada, Diane Pearl or Dario Marquez Studio. For more information and group seating, call 766-2013 or email This email address is being protected from spambots. You need JavaScript enabled to view it..">This email address is being protected from spambots. You need JavaScript enabled to view it..
Northern Lights
The Northern Lights Festival de Febrero is presenting a variety of classical and jazz concerts by renowned international musicians from February 20 to March 5. See advertisements on pages 10, 17, 19, 25, 27 and 33 or visit their website at www.festivaldefebrero.com.
That's Entertainment!
Former Red Piano owner Mark Rome presents four more over-the-top shows at the Auditorio de La Ribera.
Saturday, February 20: Well Strung, an all-male string singing quartet put thier own spin on music from Mozart, Vivaldi and Bach, to Adele and Lady Gaga at their "Summer Lovin'" concert.
March 5: Kevin Levesque in "Miss Conception Goes to the Movies" sings her heart out on famous flick tunes from yesteryear.
March 12: California Dreamin' presents famous hits from the Mamas and the Papas.
March 19: Paul Aleman and Renee Armand cover the best of John Denver in "Rocky Mountain High."
All shows begin at 7 p.m. and tickets are available at Diane Pearl, Jose Melendrez, Kiss my Glass and LakesideTickets.com.
Plaza art show
Ajijic Society of the Arts presents a show on the Ajijic plaza Sunday, February 21, 10 a.m. to 2 p.m. Featured artists include Bobby Lancaster, Gwynne Lott, John McWilliams, Stephany Andrews, Benjamine, Kim Eagles and Ana Romo.
Contemporary art
Now showing at Galeria di Paola are works by Perla Perez, Rogelio Aguilar Solis, Ivan Medrano and Edgar Ulises Suacedo. The gallery is at Colon 11, Ajijic.
Playreading
The Naked Stage Reader's Theatre presents "A Body of Water" by Lee Blessing, Friday, February 26 through Sunday, February 28. Directed by Lynn Phelan and starring Debra Bowers, Ken Yakiwchuk, Tina Leonard, the play focuses on a man and a woman who wake up one day with matching cases of amnesia.
The box office opens 3:15 p.m.; the show starts 4 p.m.
Also, the group is looking for five men and two women to audition for "Broadway Bound" by Neil Simon. The auditions are Monday, March 7, 11 a.m.
The Naked Stage has moved to a new location at Hidalgo 261 in Riberas del Pilar on the mountain side of the Carretera across from the Catholic Church and in front of the Baptist Church.
For more information, see The Naked Stage, Riberas del Pilar on Facebook, or email This email address is being protected from spambots. You need JavaScript enabled to view it..">This email address is being protected from spambots. You need JavaScript enabled to view it.. For reservations, email This email address is being protected from spambots. You need JavaScript enabled to view it..">This email address is being protected from spambots. You need JavaScript enabled to view it..
Bravo! Theatre
A much awaited reprise of last year's hit "I, Claudia" will be presented Tuesday, March 8 through Friday, March 11 at Bravo! Theatre. This is a one-woman show about a girl on the cusp of teen-hood and her charming "take" on life and her ever changing world.
Using masks, Jayme Littlejohn plays four characters who shape Claudia's world. Directed by Lynn Phelan, the play is smart, funny, charming and will wrap its arms around you.
Evening performances are March 8, 10 and 11, 7:30 p.m., with a matinee on March 9, 4 p.m. Tickets at 200 pesos are available at Diane Pearl, Mia's Boutique or by emailing This email address is being protected from spambots. You need JavaScript enabled to view it..">This email address is being protected from spambots. You need JavaScript enabled to view it..
This year, Gossips Restaurant is offering a "dinner with show" for 175 pesos. Reservations are required at 766-0217.
Next up at Bravo is "Visiting Mr. Green," running March 31, April 1, 2, 3 and April 7-10. It is directed by Jayme Littlejohn and stars Roger Larson and Ken Yakiwchuk.