Northern Lights
Last chance to enjoy fantastic musicians at the Northern Lights Festival de Febrero at the Broken Hearts and Madmen featuring the Gyphon Trio with vocalist Patricia O'Callaghan. The concert is Friday, March 4, 7:30 p.m. at the Auditorio de la Ribera. Tickets are available at the front desk of La Nueva Posada.
Opera at LLT
Lakeside Little Theatre (LLT), in affiliation with London's National Theatre and the Royal Opera House/Royal Ballet, screens an HD version of Kenneth MacMillan's "Romeo and Juliet," Saturday, March 5, 7:30 p.m. and Sunday, March 6, 3 p.m. MacMillan's poignant setting of Sergey Prokofiev's classic score draws out the emotional and psychological intensity of this most famous love story. The run time is about three hours.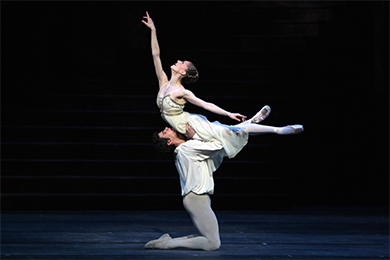 Reserved seat tickets for each performance are 200 pesos. Seats can be reserved at the time of purchase and tickets picked up at the LLT box office on a first-come, first-served basis, Wednesdays and Thursdays from 10 a.m. to noon or every day during the run of any show (except Sunday), 10 a.m. to noon and one hour before curtain. For more information, call 376-766-0954 or email This email address is being protected from spambots. You need JavaScript enabled to view it..">This email address is being protected from spambots. You need JavaScript enabled to view it..
Patrons are invited to socialize at LLT's Angel Terrace Bar starting one hour before show time and during intermission.
Crafts show in Chapala
Around 200 exhibitors will set up shop at the Chapala waterfront for the Artesanias Regionales sales expo scheduled for Saturday, March 5 and Sunday, March 6. The itinerant fair will showcase handicrafts, culinary specialties and other goods displayed by families who operate cottage industries in 18 municipalities throughout the lakeshore region. The exhibition runs from noon on Saturday until after dark, Sunday from 9 a.m. to 5 p.m., with continuous live entertainment both days.
That's Entertainment!
Former Red Piano owner Mark Rome presents more over-the-top shows the next three Saturdays at the Auditorio de la Ribera.
March 5: Kevin Levesque in "Miss Conception Goes to the Movies" sings her heart out on famous flick tunes from yesteryear.
March 12: California Dreamin' presents famous hits from the Mamas and the Papas.
March 19: Paul Aleman and Renee Armand cover the best of John Denver in "Rocky Mountain High."
All shows begin at 7 p.m. and tickets are available at Diane Pearl, Jose Melendrez, Kiss my Glass and LakesideTickets.com.
Atequiza dance troupe
The Ballet Folklorico Atequiza appears Sunday, March 6, Noon at the Auditorio de la Ribera, La Floresta. The group will perform regional dances from various parts of Mexico, set to a backdrop of live music. Tickets are available at Yoly's Unisex Salon, Plaza Bugambilias, and the auditorium box office, selling for 100 and 130 pesos according to seat selection.
Auditions
The Naked Stage holds auditions for five men and two women for "Broadway Bound" by Neil Simon. The auditions are Monday, March 7, 11 a.m. Phyllis Silverman directs. Production dates are April 1, 2 and 3. Contact: This email address is being protected from spambots. You need JavaScript enabled to view it. for more information and sides.
Bravo! production canceled
The performance of I, Claudia at The Bravo! Theatre scheduled for March 8-11 has been cancelled. Tickets will be refunded at point of purchase or by emailing Jayme at This email address is being protected from spambots. You need JavaScript enabled to view it..">This email address is being protected from spambots. You need JavaScript enabled to view it.. No new dates have been scheduled at this time.
Train Station piano recitals
A series of piano recitals is planned for Thursdays at the Centro Cultural Gonzalez Gallo (former train station) in Chapala over the next two months. All performances are at 7 p.m.
March 10: Nicolae Ionescu will take you on a history of musical eras, starting with baroque through the modern period. He will cover music from composers now immortalized for their genius.
March 17: Alejandro Trejo will play Franz Schubert's Sonata No.8 D.958. This piece from the romantic period (1828) includes four contrasting movements and is considered one of his most difficult compositions. Trejo will also present the Children's Suite by Domingo Lobato. Lobato was a composer, organist and music director of the Universidad de Guadalajara, known for his work in a number of musical styles and was an orchestra director in a number of cities.
Concerts in April will be published in this column in the March 26 edition.
LCS Arts
The Lake Chapala Society (LCS) Arts and Crafts Festival is still looking for participating artists. Contact Maria Huerta at the Wilkes Education Center at 766-2940 to register for this event. The festival will be held on the LCS grounds on Saturday March 11 and Sunday, March 12 from 10 a.m. to 3 p.m. Free admission. This festival features local artists who got their start as part of the LCS Neil James Children's Art Program. as well as some of the young artists who are currently in the program. Locally made tamales, pozole and deserts will be on sale.
Judged art show
The Ajijic Society of the Arts Annual Judged Show will open Saturday, March 12, 5-7 p.m. at the Ajijic Cultural Center. Drop in and congratulate the winners. Refreshments will be served.
Last call
The award-winning Ballet Folclórico Ixtlahuacán de los Membrillos is scheduled for its last show of the season at the Auditorio de la Ribera on Sunday, March 13, noon.
Founded in 1987, the talented company composed of 12 couples is renowned for staging traditional folk dances based on research of the styles and customs of yesteryear. Outstanding costumes and live musical accompaniment enhance the spectacle.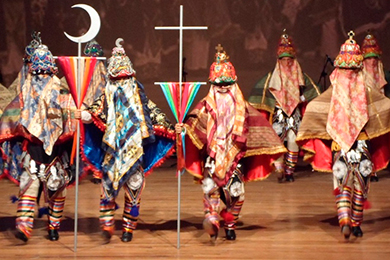 The group's extensive repertoire features seven numbers representing different regions of Jalisco, Michoacan and the Yucatán Pennisula that merited gold medal and honorable mention awards at the annual Rafael Zamarripa competition held in conjunction with Guadalajara's Fiestas de Octubre.
Tickets, priced at 200 pesos for the center section and 150 for side seats, are on sale at SuperLake and the auditorium box office.
Message to Cuba
Crossing Borders is the title of the spring concert for Los Cantantes del Lago, with performances set for Tuesday, March 15, 7 p.m. and Wednesday, March 16, 4 p.m. at the Auditiorio de la Ribera. This concert will contain pieces of music with director Timothy G. Ruff Welch's personal message to Cuba when the Cantantes takes a portion of this concert there later this Spring. Tickets are 250 pesos and are available at Diane Pearl, Mia's Boutique, from any Cantantes member or from www.loscantantesdellago.com.
Jazz Concert
Viva la Musica presents the Fractal Jazz Quartet in concert at the Auditorio de la Ribera on Thursday, March 17, 7 p.m. Along with some original compositions, the quartet will play familiar pieces by jazz greats, including John Coltrane, Chick Corea and Wayne Shorter.
The quartet of highly trained and seasoned jazz musicians is led by pianist and composer Jorge Verdin, who began his classical piano studies at the age of nine in Guadalajara, and continued to study music in Madrid where he obtained his Master's degree in 2009. Verdin has performed classical, jazz and contemporary music in concerts and festivals, presenting his compositions in Guadalajara, Madrid and Boston. He has also written scores for films and TV series. The drummer/percussionist, Angel Madrigal, is also a composer with a degree in Modern Music. Jesus Eleazar, who plays sax, and bassist Gilberto Rios, will have their compositions performed by the quartet in this concert.
Tickets for this concert are 200 pesos and can be purchased at the Auditorium, Diane Pearl and the LCS box office Thursdays and Fridays from 10 a.m. to noon, or at the door before the concert. All seating is open.
Bus trips to JPO
Viva la Musica is offering bus trips to all the Jalisco Philharmonic Orchestra spring concerts at the Teatro Degollado in Guadalajara. Tickets are 350 pesos, (450 for non-members), available at the LCS box office Thursdays and Fridays 10 a.m.- noon. Buses depart from the Carretera, just east of Farmacia Guadalajara in Ajijic.
Sunday, March 6: "Schumann & Schubert – Great Melodic Craftsmen" – Schumann Piano Concerto with piano soloist Claire Huangci; Schubert Symphony No.9; conductor Marco Parisotto. Bus departs at 10.30 a.m.; concert starts 12:30 p.m.
Thursday, March 10: "Haydn Plus – Cello Extravaganza" – Haydn, Paganini, Faure, Saint-Saens, Tchaikovsky; conductor Seikyo Kim. Bus departs at 4 p.m. with a stop at a fine restaurant. Concert starts at 8:30 p.m.
Sunday, March 20: "Shostakovich 19 – Stalin Code" – Paganini, Violin Concerto No.1, with violin soloist Ivan Perez; Shostakovich Symphony No. 10; conductor Marco Parisotto. Bus departs at 10:30 a.m.; concert starts 12:30 p.m.
Donation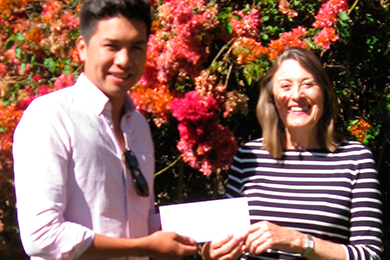 Viva la Musica president Rosemary Keeling this week presented a semiannual donation of 10,000 pesos to Emmanuel Medeles, Director of CREM – Ajijic Music School. This non-profit school has been operating for 25 years in Ajijic, now with nine university-trained faculty teaching 60 students. Viva la Musica presents classical concerts and runs buses to the symphony in Guadalajara, and annually donates more than 80,000 pesos in scholarships and grants to promising music students and schools.
Northern Lights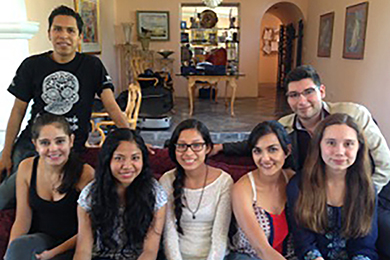 Listening in and learning from the two dozen or so top-notch musicians practicing for a Northern Lights Festival de Febrero concert at the home of Roseann, Tony and Chris Wilshere last week were promising students of violin from around Mexico (L-R) Samuel Rua, Natalia Solis, Blanca Luis, Astrid Romero, Gabriela Garzon, Isis Gonzalez and viola student Luis Carlos Rincon Barrios.