Arroyo el Carbón is a fascinating slot canyon in the Primavera Forest, located ten kilometers west of Guadalajara, near La Venta del Astillero.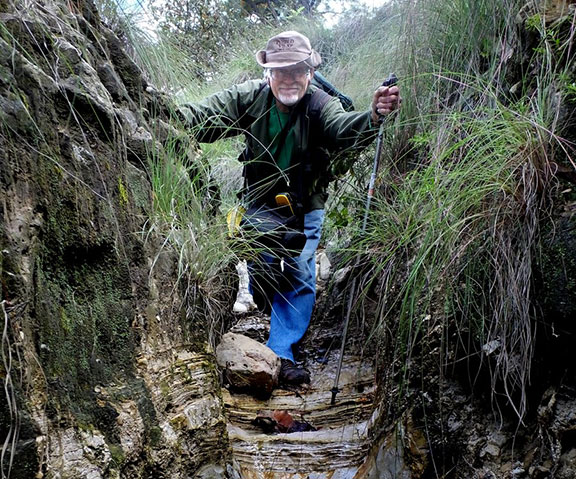 I bumped into the canyon entrance quite by accident several years ago while wandering along El Río Seco, a (usually) dry riverbed which marks the northeast limit of the supposedly "protected" Bosque la Primavera.
In many places, El Carbón's walls are lush, covered with moss, ferns and wildflowers, including the beautiful Pine-pink Orchid, which we found blooming there in November. About 300 meters from the entrance, thick horizontal bands appear on the walls, jutting out like shelves. These continue for such a distance that I first called this place Pantry Gulch. A kilometer from the entrance there's a natural spring and from there the canyon grows extremely narrow, with walls as high as 40 meters. I understand it goes on for several kilometers like this, but I haven't ever reached the end of it myself.
One day I got it into my head that a hike to this slot canyon would be even more interesting if it were part of a loop including the beautiful oak and pine forest up above and the towering walls of the Río Seco, on which the extraordinary geological history of the Primavera Caldera is so clearly written that anyone can understand it.
So I began looking for a side entrance to the slot canyon and a month ago, I found it: a narrow path intersecting the canyon 550 meters from the entrance. Finally, I ended up with a circular route only three kilometers long, easy enough for kids to do.
Please login or subscribe to view the complete article.