When Sean Penn gets involved in "foreign affairs" one should expect weird stuff to happen.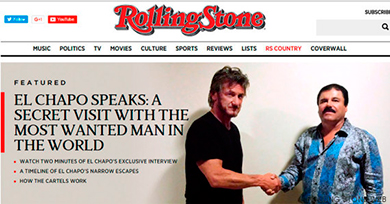 The Oscar-winning actor and humanitarian has a history of mixing it with unsavory – in the U.S. government's eyes – individuals on the world stage (Fidel Castro, Hugo Chavez, etc.).
But even his admirers would have been surprised at the revelation that last October Penn ventured deep into the Sierra Nevada to meet with fugitive drug kingpin Joaquin "El Chapo" Guzman. Details of the meeting and Guzman's videotaped answers to written questions submitted by Penn appeared in a long, rambling article written by the actor and published – probably in haste judging by the lack of editing – by Rolling Stone magazine a day after the Sinaloa Cartel leader's dramatic capture on January 8 (see story page one).
Penn's travels into the interior of Mexico may have unwittingly led to the narcotraficante's downfall. Unofficially, Mexican law enforcement officials have indicated that the movements of Penn, and his facilitator, Mexican actress Kate del Castillo, were being followed and helped them track Guzman to his mountain hideouts, and assist in zeroing in on their target last week at a safe house in Los Mochis, Sinaloa.
While one can imagine why someone with Penn's trajectory might wish to pay court to a man regarded by some as a Robin Hood-like social leveler (though by the majority as a villain of the most nefarious kind), it seems unfathomable that Guzman – supposedly a humble ranchero at heart – would choose to put his freedom at risk by hanging out with a self-absorbed American celebrity.
Please login or subscribe to view the complete article.