Vianna Stibal, who developed a technique after witnessing her own healing from a nine-inch tumor, is speaking at Guadalajara's Teatro Galerias on Saturday, January 30, 5 p.m.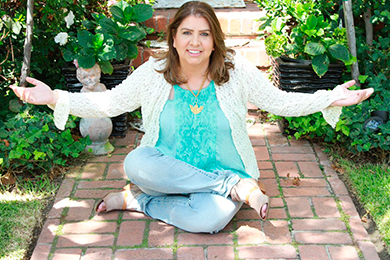 Stibal describes her meditative technique, called Theta healing, as "a way to tap into clear answers, find limiting beliefs and change them instantly. No reading affirmations, no voodoo who-do, just a simple realization and decision to change beliefs and then witnessing the Creator instantly change them."
Organizers say the technique can help anyone, no matter their religion, age, gender or profession. The first part of the conference will focus on finding what your ancestors believed; Stibal says this knowledge can help with health issues. The second part focuses on controlling intuition.
"There are few events of this magnitude in Guadalajara in English," said Tasha Michel, the local organizer of Stibal's talk. Michel helped bring Deepak Chopra to Guadalajara last year and is offering a 30-percent discount to readers of the Guadalajara Reporter who call (33) 1589-6232 to buy their tickets. Tickets (without discount) are also available through Ticketmaster or at the Galerias theater box office. The undiscounted cost is 300 to 530 pesos.
The conference is entitled "Transform your Reality — From your DNA to your Life Purpose."
Information about conference: www.mundoth.com. Information about Stibal, www.thetahealing.com/about-vianna-stibal-founder.html. Teatro Galerias, Avenida Lapizlazuli 3445, Colonia Victoria, near Plaza del Sol, Zapopan, (33) 3631-0708, teatrogalerias.net. Ticketmaster, ticketmaster.com.mx. MundoTH (English spoken), office (33)1589-6232, cel: 333-107-8611 or 331- 013-8273.