Anyone driving by the Villa Infantil Orphanage these days may hear strains of the song "Doe a deer, a female deer, Ray a drop of golden sun," as the children practice for this year's luncheon fundraiser at Las Caballerizas in the Raquet Club.
Along with the kids, Judy Hendrick and Mac Morison will be featured in "The Sound of Music … Climb Every Mountain" set for Saturday, March 19.
A gourmet luncheon will be served during a fashion show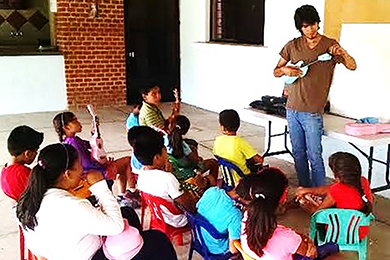 presented by Cugini's Boutique. The cost is 300 pesos per person. A silent auction will be open before and during the luncheon. A cash bar will be available.
All those attending are asked to bring a non-perishable food item as a donation to Villa Infantil.
Tickets are available at Cuigini's Boutique, Yoly's and Mia's. Tables of ten can be reserved by emailing Beth Cathcart at This email address is being protected from spambots. You need JavaScript enabled to view it..">This email address is being protected from spambots. You need JavaScript enabled to view it..