The Chapala Sunrise Rotary Club is kicking off a week of events to celebrate women March 6-12.
A women's amateur golf tournament and awards dinner, women's health screenings, a fashion show luncheon, the Lakeside Women of the Year Awards, an escaramuza competition and much more are slated.
An opening reception and art show presented in conjunction with the Lake Chapala Painting Guild at the Ajijic Cultural Center begins Sunday, March 6, 5 p.m. and continues all week.
The 2016 Chapala International Women's Day Golf Tournament takes place at the Chapala Country Club Tuesday, March 8, beginning 9:30 a.m.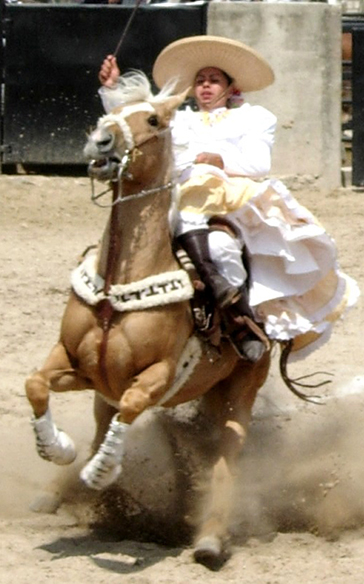 Golfers can win up to 5,000 pesos in special contests during the tournament that include the longest drive and closest to the pin. The event is open to amateur women golf players at all levels. Sign-in begins at 8 a.m. Cost is 1,200 pesos (1,000 for Club members) and includes breakfast, box lunch, cart, gift bag and the awards dinner with a silent auction and live music. Registration forms are available at the Country Club. For the reception/awards dinner only, tickets are 350 pesos.
The Women's Health Fair and Fashion Show luncheon will be held at Hotel Montecarlo in Chapala Wednesday, March 9, from 10 a.m. to 4 p.m.
A women's health van will be on location all day offering free skin and breast cancer checks, diabetes and dental screenings and flu shots. The health and rights seminar runs from 10 a.m. to 1 p.m. The luncheon starts 2 p.m. with fashions by Jalisco designer Alma Gutierrez. Exhibits and free samples by local health and beauty suppliers will be available. Luncheon tickets are 350 pesos.
Six awards will be presented to distinguished Lakeside women, Friday, March 11, 4:30 p.m. at the Central Cultural Antigua Presidencia in Chapala. The categories are Medical/Health Care, Education, Arts & Culture, Business, Volunteer/Community Service & Lakeside Woman of the Year. There is no cost to attend this event.
An escaramuza presentation and competition will be held Saturday, March 12, 4 p.m. at the Ajijic Charro Ring in Lower La Floresta, Ajijic. Four teams will compete in women's horseback riding and dressage. Entertainment includes banda music and appearances by singer Lupita Jimenez and The Ballet Folklorico Ixtlahuacan de los Membrillos. Tickets are just 20 pesos. Food & drink vendors will be on site.
Tickets for all paid events are available now from John Gonzales at 333-171-7457, (This email address is being protected from spambots. You need JavaScript enabled to view it.), Sandra Loridans at 331-357-4192 (This email address is being protected from spambots. You need JavaScript enabled to view it.) and Rod Hensley at 333-901-3673 (This email address is being protected from spambots. You need JavaScript enabled to view it.).