Open Circle
Understanding the Death with Dignity Movement is the theme at the next meeting of Open Circle, Monday, February 1.
Loretta Downs returns to Lakeside to share new information and personal insights about the social revolution to improve care and choices at the end of life, including advance care planning, VSED (voluntarily stopping eating and drinking), legalized physician-aid-in-dying, euthanasia, and dementia decisions. She will make you laugh and cry and you will never look at dying quite the same again.
Downs holds a Masters degree in gerontology, is past-president of the Chicago End-of-Life Care Coalition, is a certified End-of-Life Care Practitioner, Certified Senior Advisor and she raises Monarch butterflies in the summer.
Open Circle takes place within the Lake Chapala Society (LCS) complex, located at the corner of 16 de Septiembre and Ramon Corona in Ajijic. Arrive at 10 a.m. for complimentary finger foods, beverages and social time. The program begins promptly at 10:30 a.m. and concludes at 11:30 a.m.
LCS Singles Mixer
The LCS Singles will be mixing it up at Just Chillin' Monday, February 1, from 4 to 6:30 p.m. They are taking over the restaurant, while hosts Renee, Juan Carlos and Paulina are providing the band Tropic Heart at no cover charge and no minimum. Organizers only ask that Singles and their friends be generous with their orders. To reserve, email This email address is being protected from spambots. You need JavaScript enabled to view it..">This email address is being protected from spambots. You need JavaScript enabled to view it..
Red Cross
The Chapala Cruz Roja is sponsoring an Emergency Medical Information Kit seminar, Tuesday, February 2, 2 p.m. at the Lakeside Presbyterian Church. Contact tmkassierlive.com or call 766-4337 for more information.
LCS seminar
LCS members are invited to attend the Tuesday, February 2 learning seminar from noon to 1:15 p.m. featuring neuroscientist David Eagleman's Ted Talk titled, "Can we create new senses for humans?" Fred Harland is the moderator.
As humans, we can perceive less than a ten-trillionth of all light waves. "Our experience of reality," says Eagleman, "is constrained by our biology." He wants to change that. His research into our brain processes has led him to create new interfaces — such as a sensory vest — to take in previously unseen information about the world around us.
Neill James lecture
Sandy Britton presents "Raising our Cultural IQ" as part of the Neil James lecture series, Tuesday, February 2, 2 p.m. in the LCS Sala.
Cultural intelligence is defined as "a measure of a person's capacity to function effectively in a culture that is not their own," she says. The group will examine how a more complete understanding of cultural values can raise our "cultural intelligence quotient", help us expand our mental horizons, enjoy our travels more, and thrive in the multicultural environment at Lakeside.
Britton's background is in software development and animal training. She combines her interest in cultural sociology and public speaking in this presentation.
Spanish at LCS
The next round of Introduction to Spanish language classes for LCS members begins Tuesday, February 2 and runs for three weeks from noon to 1:30 p.m. This is a casual class offered for the beginner that covers the Spanish alphabet, simple vocabulary and phrases to use about town for shopping, and other useful information about the area and Mexican culture.
A tuition cost of 175 pesos includes learning materials. Sign up is available at the LCS office during regular office hours, Monday through Saturday or at www.lakechapalasociety.com.
Buddhists
The Heart of Awareness Community meets on Wednesday, February 3. Noble Silence begins at 4 p.m., followed by a formal meditation, dharma teachings and discussion at 4:30 p.m. This week, Sharon Salzberg will present Part 1 of a four-part video program titled "Mindfulness and Concentration."
The 3 p.m. Dharma Movie Matinee on Monday, February 1 is "The Devotion of Matthieu."
Starting Saturday, February 6, from 2 to 4 p.m., Heart of Awareness will be the venue for a three-part Loretta Downs workshop series: "Making Friends with Death, the contemporary end-of-life experience." The sangha is at Guadalupe Victoria 101, suites A-B in Ajijic.
The Heart of Awareness is a non-sectarian community grounded in the teachings of the Buddha as preserved in the Theravada/Vipassana tradition. For more information, visit heartofawareness.org, or call Janet Reichert at (376) 766-6069.
Zen detoxification
A free talk entitled "All You Wanted To Know About Detox But Were Afraid To Ask" is being hosted by the Montecarlo Hotel in Chapala Wednesday, February 3, 5 p.m. The talk is presented by Albert Schmaedick, M.A., an expert in teaching detoxification programs in the United States and Thailand.
In today's world we are all subjected to toxins in our water, air and the food we eat as well as toxic stress. Detoxification is a program designed to cleanse the digestive system and revitalize the immune system which dramatically enhances one's health.
The Montecarlo Hotel is also offering free mindfulness meditation sessions taught by Schmaedick (also known as Daishin, a Zen Monk) on Mondays, Wednesdays and Fridays at 9:30 a.m. in their huge garden.
Daishin has over 25 years of teaching experience in this ancient method of relaxing the mind and body. It is a powerful technique for training the mind to end negative thinking and enhance one's life experience. With this silent one-hour vacation from the stress of life you will be ready to face any challenges that arise during the day. Bring a pillow or blanket to sit on.
Anyone who would like to assist in translating to Spanish would be most appreciated. For questions about either of these offerings, call Schmaedick at 331-746-0524.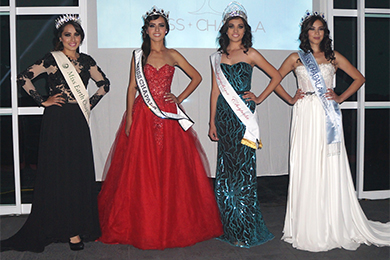 British Society
The next meeting of the Lake Chapala British Society is Saturday, February 6, 1 p.m. at Manix Restaurant, Ocampo 57 in Ajijic.
Guest speaker is Laura Elena Fernandez Davalos, mother of renowned dancers Isaac Hernandez, currently lead principal at the English National Ballet, and Esteban, member of the corps of California's prestigious San Francisco Ballet. She will talk about encouraging young dancers and her ties to social work in the community.
Menu choices are brisket, fish in mushroom sauce or vegetarian lasagna, served with minestrone soup and crepes. Contact Alicia McNiff at 765-4786 if you plan to attend. Visitors are always welcome. Manix has parking available on an adjacent lot.
Fur Ball
Lucky Dog and Friends of the Animals are putting on their first annual Fur Ball Tuesday, February 9, 5-10 p.m. at La Cima de Copal in San Juan Cosala.
The black-tie-optional event will include dinner, live music and a silent auction. Tickets cost 600 pesos per person. For more information, call 331-300-7144 (cell).
LCS Zoo trip
The popular Lake Chapala Society bus trip to the Guadalajara Zoo is scheduled for Wednesday, February 10, 9 a.m. The bus will leave from the Sculpture at La Floresta. The cost is 370 pesos for members and 430 pesos for non-members. This ticket includes transportation, show and train ride. You will have to pay separately for the cable car. This unique and very large zoo includes many attractions: Monkeyland, Aquarium, Rain Forrest, Villa Australia, and the newest exhibit, Reino de los Pinguinos, featuring 12 cute penguins. There is food available, but many people bring a bag lunch. Buy tickets early at the LCS office and join in the fun.
Valentine's Day
The Lake Chapala Society is hosting a special Valentine's Party on Sunday, February 14. They will have a bus available to take you to see the Caballo Pasion Ecuestre in Guadalajara for unique presentations by this famous equestrian group. The VIP package (1,000 pesos, 22 spaces available) includes a seated dinner with one glass of Champagne, traditional garrafa ice cream dessert, beverages, cash bar, private tour of the stables, one photo with a horse, one red rose, and VIP seating for the horse show with white stallions, gymnasts and ballerina.
Another package (750 pesos, 45 spaces available) includes a traditional Mexican taquiza along with a buffet, beverages, cash bar and the horse show. The bus will leave at 11 a.m. and return at 5 p.m. from the sculpture in La Floresta. Give your Valentine a unique and romantic experience.
Spay Ghetti dinner
The 3rd annual Spay Ghetti No-Balls Dinner will be held at the Raquet Club Friday, February 19, 5-8 pm. The proceeds from this event will go to 2016 spay and neutering activities in the San Juan Cosala and Jocotepec areas. As part of this year's program, a three-day clinic in partnership with Operation Amor is planned for November. At the last clinic held in April 2015, 170 animals were sterilized (128 dogs and 42 cats).
In addition to this large clinic, smaller, one-day clinics will also be offered in the villages around Jocotepec. There is no charge for the spay and neutering operation, and free food and medicines are also provided to the owners of the animals, as needed.
The donation of 250 pesos per person for the dinner covers all-you-can eat-spay-ghetti (Bolognaise or vegetarian sauce), Caesar salad, garlic bread, dessert and a glass of wine. Gluten-free noodles will also be available. There will be music and a cash bar.
Tickets can be purchased in Ajijic at Diana Pearl's, Memo's Veterinarian Clinic, or by contacting Dee Mistrik, 387-761-0041 or This email address is being protected from spambots. You need JavaScript enabled to view it..">This email address is being protected from spambots. You need JavaScript enabled to view it..