Open Circle
For more than a decade, popular local poet James Tipton has been entertaining Open Circle audiences with his presentations of poetry and prose about love.
Appropriately, once again on Valentine's Day – Sunday, February 14 – he will be the featured speaker, talking about his favorite topic: "What is this thing called love?"
James Tipton has published more than 1,000 poems, stories, articles and reviews in dozens of magazines and national anthologies. In addition, his work has been translated into at least eight languages. Perhaps he is best known to Lakeside readers for his monthly column in El Ojo del Lago, "Hearts at Work."
Open Circle takes place within the Lake Chapala Society (LCS) complex, located at the corner of 16 de Septiembre and Ramon Corona in Ajijic. Arrive at 10 a.m. for complimentary finger foods, beverages and social time. The program begins promptly at 10:30 a.m. and concludes at 11:30 a.m.
For more information see www.opencircleajijic.org.
LCS learning seminar
LCS members are invited to attend the Tuesday, February 16 learning seminar from noon to 1:15 p.m. featuring a Ted Talk by Fr. Greg Boyle, a Los Angeles, California street priest. His talk is "Homeboy Industries: Compassion and Kinship." Gary Thompson is the moderator.
Fr. Boyle started Homeboy Industries in Los Angeles, using local former gang members, whose lives he hopes to turn around. He says, "Jobs are probably about 80 percent of what these folks need to redirect their lives. The other 20 percent is a mixture of therapeutic and support services. So, in addition to paying men and women to receive job training, we also require that they spend part of their working day here working on themselves." Fr. Boyle has created a therapeutic community for transformation to take place.
Lakeside Freethinkers
At the Wednesday, February 17 meeting of the Lakeside Freethinkers, topics of interest proposed by the members in attendance will be discussed. Also on the agenda will be the upcoming change of leadership of their organization. The terms of the chair and vice-chair expire at the end of next month and new officers will be needed. Volunteers and nominations for these positions will be discussed.
The Lakeside Freethinkers meet at the La Nueva Posada restaurant on the third Wednesday of each month at 4 p.m. Dinner and additional discussion usually follow the meeting. The Lakeside Freethinkers define a "freethinker" as a person who identifies himself or herself as an atheist, agnostic, secular humanist, or skeptic. They believe that individuals should not accept ideas proposed as truth without recourse to knowledge and reason. They reject belief in the supernatural and rely on science and reason to guide their lives.
If you would like to attend, or obtain additional information, email This email address is being protected from spambots. You need JavaScript enabled to view it..">This email address is being protected from spambots. You need JavaScript enabled to view it..
CPR Class at LCS
The Lake Chapala Society (LCS) and Chapala Cruz Roja are partnering to sponsor a "Bystander CPR Training" class Wednesday, February 17, 10 a.m. to noon in the LCS Sala. The course will be based on the 2010/2015 American Heart Association guidelines. The training will include what to do in case of an adult or child cardiac emergency, and each class participant will be given the opportunity to practice the CPR and airway obstruction skills they learned about during the class.
There is a limit of 25 participants, and those who have signed up in the LCS office will be guaranteed a spot. The class is free and open to the public. Donations to the Cruz Roja will be greatly appreciated.
Pet Food Drive
A cat and dog food drive will be held Thursday, February 18, 10:30 a.m. to 1:30 p.m. at the Lakeside Friends of the Animals Shelter pet food store. If you are unable to come to the drive on this particular Thursday, you can make a pet food donation anytime to your favorite animal shelter. At the time of purchase inform the store clerk that the cat/dog food is being donated to your favorite animal rescue organization, and the store will hold your donated purchase for pickup.
After you have made your purchase, contact your designated rescue group to inform them that your paid food donation purchase is waiting for them to pick it up.
LCS Bus Trips
The Lake Chapala Society is headed to Guadalajara's Plaza Galerias on Thursday, February 18. The mall includes major retailers, a casino and restaurants, as well as the adjoining Costco, Sam's, Mega and Super Walmart stores.
Meet at the sculpture in La Floresta. The bus departs promptly at 9:30 a.m.
Wednesday, February 24, the LCS bus heads to the upscale Andares Mall. The bus departs promptly at 10 a.m. from the sculpture in La Floresta.
Tickets for either trip are 300 pesos for members and 350 pesos for non-members.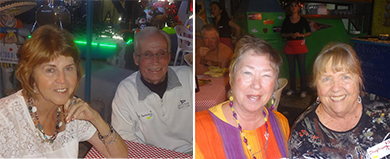 Spay Ghetti dinner
The third annual Spay Ghetti No-Balls Dinner will be held at the Raquet Club Friday, February 19, 5-8 pm. The proceeds will go to 2016 spay and neutering activities in the San Juan Cosala and Jocotepec areas. As part of this year's program, a three-day clinic in partnership with Operation Amor is planned for November and smaller, one-day clinics will also be offered in some villages around Jocotepec. There is no charge for the operations, and free food and medicines are provided to the owners of the animals, as needed.
The donation of 250 pesos per person for the dinner covers all-you-can eat-spay-ghetti (Bolognaise or vegetarian sauce), Caesar salad, garlic bread, dessert and a glass of wine. Gluten-free noodles will also be available. There will be music and a cash bar.
Tickets can be purchased in Ajijic at Diana Pearl, Memo's Veterinarian Clinic, or by contacting Dee Mistrik, 387-761-0041 or This email address is being protected from spambots. You need JavaScript enabled to view it..">This email address is being protected from spambots. You need JavaScript enabled to view it..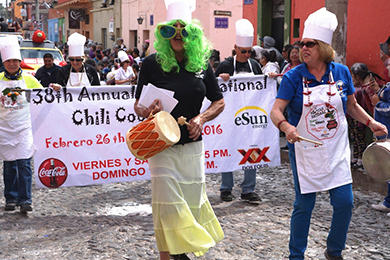 Fundraiser Sold Out
The Cruz Roja has sold out its Paella on the Terraza fundraiser at the Hotel Montecarlo for February 20. No more tickets are available. You'll just have to lick your lips until the next time. The Cruz Roja salutes its Paella Committee: Margy and Ted Kassier, Tinker Lafata, Monica and Chris Brittain, Chick and Hansje Twyman, Marina Benz, Charlie Klestadt, Antoinette Brahm and the Cruz Roja sales team.
Dancing Fundraiser
Niños Incapacitados' annual Diamonds & Denim Ball will be held Thursday, March 10, 5 p.m. at the Hotel Real de Chapala. Tickets for this event are selling fast. Contact Sue Williams at 766-0487 or This email address is being protected from spambots. You need JavaScript enabled to view it. to get yours now. See www.programaninos.com for more information.
American Legion
St. Patrick's Day will be celebrated at American Legion Post Seven on Thursday, March 17 with a dinner menu of corned beef and cabbage, potatoes and carrots and dessert. Noe and the Men in Black will entertain. The social hour begins 1 p.m. and dinner is served at 2 p.m. Post Seven is located at Morelos 116, Chapala. Call 765-2259 for more details. The cost is 150 pesos.