Bar None The Best
Bar None Publishing Group recently released its third anthology of "Last Call, Poems, Stories, and Art From The Costalegre."
Chynna Chilton hosted the book launch at her Backstage Bar in Barra.
The seeds of this group were planted in the winter of 2009-10 when a small group of people, led by Russell Rosander and the late Charles Longstreet, got together to share their love of writing.
Teresa Puente and Mark Butkus are the publishers and editors.
"The three poetry books are a way to give a voice to the community we love," says Puente. "It's not about one person, but about all of us."
Puente and Butkus, like Chilton and Rosander, also contributed written content. Fifty individuals have been introduced over the course of three volumes.
The writers' group Dharma Bums, some of whose members are published in "Last Call," continue to meet and read at Backstage Bar, Sundays, 3 p.m. Facebook Backstage Bar for more information. Also in the pipeline is a cookbook for a cooking club. Read Dharma Bum This email address is being protected from spambots. You need JavaScript enabled to view it..">This email address is being protected from spambots. You need JavaScript enabled to view it..
Michael Linklater, another contributor to "Last Call," also makes it his business to support the community by administering his very popular Facebook page Group Melaque/Barra de Navidad Amigos. Any news and views are welcome: This email address is being protected from spambots. You need JavaScript enabled to view it..">This email address is being protected from spambots. You need JavaScript enabled to view it..
"Last Call" is now available at www.barnonegroup.com.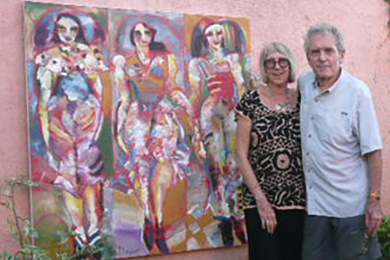 Ed Gilliam
Meet Ed Gilliam of the Gilliam Art Studio in Villa Obregon.
His artistic development was influenced by UC Berkeley's Hans Hofmann, described as the most important art teacher of modern times regarding interpretable space.
Says Gilliam: "I also studied at Universidad Nacional Autonoma de Mexico in 1965, living in Mexico City with 35 other students. Being treated like a brother there gave me the confidence to go on with my art and eventually to make Mexico my home."
Three university degrees later granted Gilliam the James Phelan Fellowship in Art.
"After shedding many limiting ideas about art, I began to realize I had my own personal statement and could paint it."
International patrons now seek out Gilliam's murals, abstract expressionism and representational images.
"My wife of 19 years, Roxane David, has been my muse and ally," he adds.
His gallery is at Esmeralda 129, Villa Obregon. For more information, see This email address is being protected from spambots. You need JavaScript enabled to view it. or call 315-355-6772.
Cheryl Wrangle
Cheryl Wrangle started drawing when she was in Africa in the 1970's, doing illustrations for literacy materials. After returning to the United States, she received her BFA, practiced in wood sculpture and painting while teaching art in public schools.
Barra Galeria de Arte, Mazatlan 75, is hosting a show featuring Wrangle's acrylics on canvas. Opening night is Saturday, January 23, 6-9 pm. Appetizers and wine will be available. The exhibit continues through February 13. Local subjects are in this show's collection.
For more about this artist, see www.cherylwrangle.com.
Costalegre Rotary News
Barra resident Margarita Gamiz Rivas has thanked Rotary and Disaster Aid Canada for obtaining funds for 120 new roofs, 16 mattresses and food stuffs in the wake of Hurricane Patricia.
Michelle Broughton, president of the Rotary Club of Haney, British Columbia, donated 12,000 pesos to the club for hurricane relief.
Cheryl Skjele located a brand new defibrillator at very low cost and presented it on behalf of the club to Dr. David Avila at the Melaque Centro de Salud.
Bike-a-Thon
Sunday, January 17 is Saint Anthony's Day honoring the protector of animals. It's also the ideal day to hold the third annual Pro- Animal Melaque Bike-a-Thon fundraiser in the Melaque Jardin.
You can pre-register or register on the day of the event. A t-shirt is included in the registration fee of 200 pesos. Tickets for the raffle of a new mountain bike cost 50 pesos each.
Gallery Walk
The Gallery Walk on Sunday, January 17, 3-6 p.m. starts at the Gilliam Art Studio, Esmeralda 129, in Villa Obregon. It continues to Casa Camera, La Taza Negra and La Paloma Art Center. Follow the specially arranged footsteps.
Call 315-355-5497 or email jeanne@artof photography.com for details.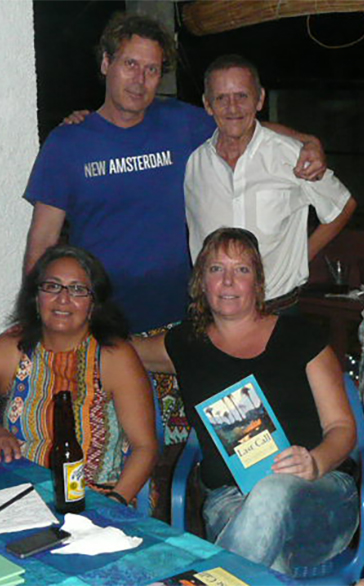 Musical Engagements
Freedom Restaurant, now named Freedom Pedro, reopens in its new location, Jalisco 8, beside Besame Mucho Restaurant, on Wednesday, January 20. Pedro's son, David Weber (Mexican Elvis) sings on opening night.
Tequila Taxi, with singer Bonnie Gibson, Marco on guitar, Danny on piano and bongo player Rafa, will be playing two engagements at Sea Master Restaurant in Barra on Wednesday, January 27 and Wednesday, February 4, 7-9 p.m.