The Only Tours
Ray Calhoun discovered the Costa Alegre in the late 1980s. His seasonal work at a British Columbia marina allowed him time to head south in winter.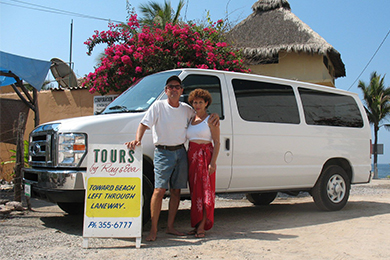 He explored Mexico and in 1986, when his Buick went "as far as it could" in Melaque, he decided to stay awhile.
In the following years Calhoun returned frequently to Mexico – and Melaque and its beaches in particular – in a pickup truck better suited to the Mexican terrain.
Eventually, with his acquired knowledge of the area and its culture, he became the go-to guide for vacationers and The Only Tours got its start.
Calhoun married Melaque native Eva Soltero Garcia in 1997. They built a house and a business, traded the pickup for a modern van and The Only Tours quickly became the adventure of choice for many visitors.
Located at their home in Melaque, the business continues to grow thanks to Calhoun's enthusiasm for discovering new trails and sights. There are ATV tours (from three hours to three days), sightseeing day trips to the Colima/Comala area, as well as popular beach days to Tenacatita, Boca de Iguana and La Manzanilla, for snorkelling, boogie boarding and more. Calhoun personally guides all the outings, as he has been doing since 1997.
Visit www.theonlytours.com or email This email address is being protected from spambots. You need JavaScript enabled to view it. for more details.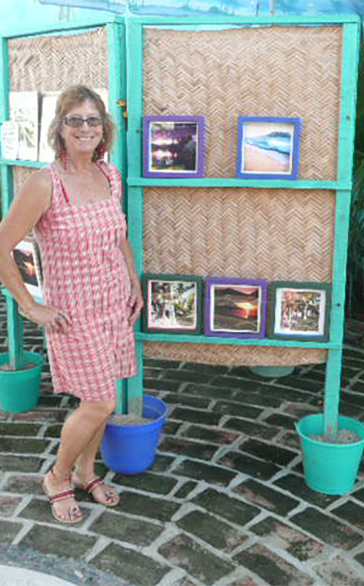 Jeanne McGee
Jeanne McGee started doing art shows locally with the original Dirty Dozen artists in Barra about ten years ago. Three years ago, others dropped away and she started hosting art shows at her house, Casa Camera. Originally from Washington State, McGee began doing gallery walks there.
"I love the opportunity to show my work, plus there are so many other artists in the area who love a chance to show their work," she says. "Some artists who vacation here will work on their art. I give them an opportunity to show with us as well. It keeps it fresh."
Last year, McGee invited other venues to host artists and the Melaque Art Walks were born. "With the large turnouts we've been having, I think the people living and visiting love to have art events to go to!" Email This email address is being protected from spambots. You need JavaScript enabled to view it. for more information.
Specialty Events
A Leap Year Art Walk in Barra de Navidad starts at La Bruja Café on Veracruz, then to Barra Galeria de Arte Mazatlan 75, continuing to Loco Loco Tree House Restaurant, ending with the old photos of Barra at the exhibit in Barra de mi Corazon, located on the beach promenade. Monday, February 29, 3-6 p.m. Art will be displayed at each venue. Contact: This email address is being protected from spambots. You need JavaScript enabled to view it.
The second annual "Get Together Dancing for Barra," hosted again by United for Barra, will include four bands, lots of food and beverages to purchase. Funds raised go to improving Barra's downtown core. David Weber, Mexico's "Elvis," is donating time, and "Tina Turner" songster-alike may show up again. Friday, March 4. Contact: Linda Ruiz Bello at 355-8405.
A gala concert sponsored by Casa Misifus and Hotel Chantli Mare in Boca de Iguanas will feature symphonic organ master Aldo Delgadillo, with soprano Martha Lilia Hernandez. Saturday, March 12. 5:30 p.m. The cost of 500 pesos includes tapas and a glass of wine. Tickets from Barra's Misifus Boutique, Melaque's Café Calypso (315-100-7095), and Chantli Mare (315-107-9957). Transportation is available from Melaque and Barra to Chantli Mare for a small additional cost, returning 8:30 p.m.
CAM Cihuatlan, (Special Needs School) hosts a fundraiser on Monday, February 29, 7 p.m. at El Manglitos 250P. Includes dinner and entertainment.
The Buena Onda Yoga Benefit for Hurricane Patricia repairs is on Monday, February 29, 7:30-9:30 p.m. Live music, door prizes. BYOB. Appetizers for sale. Tickets 100 pesos, RSVP to Calle Morelos 26 in Barra to reserve a chair. Contact: This email address is being protected from spambots. You need JavaScript enabled to view it..">This email address is being protected from spambots. You need JavaScript enabled to view it..
Newsletter
Jill Ledden's newsletter, Melaque-Barra Alternative, has been around since March 2014. To post your event in it or to receive it, contact her at This email address is being protected from spambots. You need JavaScript enabled to view it..">This email address is being protected from spambots. You need JavaScript enabled to view it..
Nine Months in Office
Some residents of Barra and Melaque are feeling optimistic about the next three years. Elected in June last year, Cihuatlan Mayor (Presidente Municipal) Fernando Martinez Guerrero already has an impressive list of accomplishments to his name.
At least four police patrol trucks have been added to the local fleet, making six in total. A police motorcycle has been repaired. Martinez Guerrero has done some "ride-alongs" with the police to assess needs. He has been promised 13 million pesos from the federal government, three times more than the previous administration. Two unused sewage pumps in Barra have been repaired.
The mayor has requested his municipal directors and councillors (regidores) to physically help with street-cleaning campaigns. The highway entering Cihuatlan was recently cleaned and curbs were painted. About half of the 50 people participating were municipal officials. They cleaned Barra's "andador" walkway and spiffed up the big fish statue. Melaque is soon due to get the same treatment.
During the high season, Martinez Guerrero has spent hours walking through Melaque and on the malecon in Barra, greeting tourists and getting feedback about the towns' services, and tourist satisfaction.
Maybe we shouldn't be so surprised. Martinez Guerrero has been showing an enterprising side to his character for a long time: he started his first business at the age of 17!