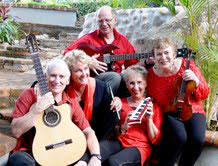 Organizers are inviting one and all to enjoy "six days of music, singing, art, dancing and creativity" at the first Chacala Village Music Festival from March 24-30.
Located on the Pacific Coast eight kilometers from Las Varas, Nayarit, Chacala is a popular getaway for sun and sand seekers who want to chill out in a friendly beach town without the commercial excesses of a large resort. The population consists of approximately 300 full-time residents, but can swell to over 1,000 during popular vacation periods such as Semana Santa and Christmas.
Please login or subscribe to view the complete article.