A warm welcome to all snowbirds from the north as they flock back to the coastal towns of Barra de Navidad and Melaque. November marks the traditional beginning of the high tourist season on the coast.
Malecon renovation
The malecon and beach area in Barra de Navidad are looking good following recent renovations that include the addition of a new walkway overlooking the beach and oceanside. A lawn area has also been added and new lighting will follow shortly.
With two more phases pending, the renovation project suffered a minor setback in September when heavy storms displaced many tons of sand from the newly transformed beach.
Chief engineer Francisco Alvarez will speak at the weekly meeting of the Asociacion Unidos Por Barra de Navidad regarding upcoming plans for the project. The meeting will be held at the Casa Ejidal building on Wednesday, November 12, 9 a.m. All future meetings are held at the Sunset Bar every Wednesday at 9 a.m.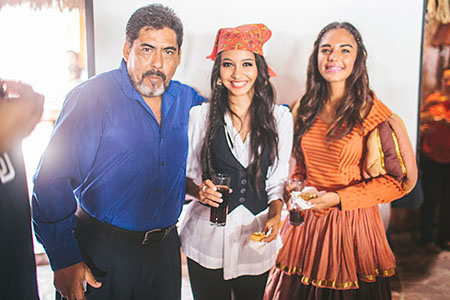 Festival Historico
The State of Jalisco and other sponsors are presenting the three-day Festival Historico de la Amistad on the Barra de Navidad malecon from Friday, November 21 to Sunday, November 23 to celebrate the 450th anniversary of the start of the Mexico-Philippines expedition led by Miguel López de Legazpi and Andrés de Urdaneta.
This event will feature the pirate ship Marigalante, brought down from the Puerto Vallarta area. The ship will offer three-hour tour packages around the bay of Barra de Navidad, including a free bar, dinner and fireworks. Reservations and ticket sales at 315-108-5384 or 315-355-6575.
This event will include a historical exposition, conferences, music, food, civic celebrations and other activities. For more information check out puertodelanavidad.mx.
Vainilla Pimienta
Vainilla Pimienta Restaurant, a Barra de Navidad favorite for fine dining and known for its fantastic food and great music overlooking the water at the Bogavante hotel, has decided to relocate to Melaque. They will be located where the old Maya Restaurant used to be. The address is Las Cabanas 13E, Melaque.
Coffee anyone?
Melaque's La Taza Negra Cafe has a family charm to it that features micro-roasting on site. It is owned by Ben and Alexa Boyt, who settled in Melaque to start a family and open their cafe in 2011.
"Freshness is our standard," says Ben. "We offer the best of Mexican coffee roasted to its optimal levels." A few fan favorites are the cartado and the double ristretto cappuccino. They also have a great selection of books to read as you sip your coffee and a cool balcony that sometimes doubles as a music venue. The cafe is located at Vicente Guerrero 112, Villa Obregon. Open from Tuesday to Saturday, 8 a.m. to 1 p.m. Website: latazanegra.com.
La Bruja Cafe
This funky little cafe is on the main street as you first drive into Barra de Navidad. It offers La Taza Negra roasted coffee and a nice selection of pastries and is owned by Alison Ochoa, a native of Phoenix, Arizona, lover of the arts and avid surfer. Check out this cool little place that sometimes features a sign on the door that reads, "Gone Surfing" – and they really mean it. This season the cafe has added a surf shop in the back area where there used to be a gallery. The cafe is located on Av. Veracruz (right as you pass the bus stop on the left). They open for the season in one week. Website: labrujacoffeebar.com.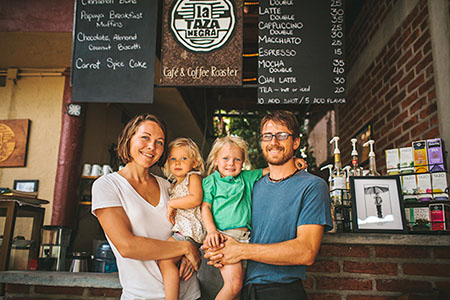 Buena Vida Cafe
This is a new cafe set to open soon in Barra de Navidad and owned by Estela Rodriguez of Salt Spring Island, Canada, and Gilbert Grijalba, who is native to Barra de Navidad. An experienced traveler, Estela says she "always gets drawn to the places that have a menu with some fresh juices and a couple of good salads."
The couple are excited to be serving a full cafe drink menu featuring local roasted coffee from La Taza Negra roaster in Melaque, cold pressed fresh juices and smoothies, fresh salads with in-house dressings, gourmet grilled sandwiches, curries, as well as delicious soups, including a cafe special smoked marlin coconut chowder.
The cafe will also be offering stand up paddle board and surfboard rentals and Gilberto will share his knowledge on locating those hidden surf spots or other sights in the area.
Rodriguez and Grijalba are looking forward to their new adventure and both feel strongly that Barra and the Costa Alegre area have many amazing things to offer visitors.
Buena Vida Cafe is located at A. Miguel de Legazpi 154 and will be open in a few weeks.
Barra Foto Galeria
The Barra Foto Galeria in Barra de Navidad is relocating after two years at its present location. The gallery is moving into a larger location with a garden area, large patio and two spaces to view exhibitions. Owner Rosy Cortez is excited about the new space, which she believes will be a perfect artistic environment for the public to embrace and enjoy. The gallery will feature contemporary fine art photos as well as historical photos. A grand opening is planned in a few weeks and Barra Foto will post more information on its website: barrafotogaleria.com. The new address for the gallery is Av. Mazatlan 75 in Barra de Navidad.
Day of Dead
The first Dia de los Muertos festival in Barra de Navidad turned into a stroll down the main street with fine dining, music, dancing, circus style acts and traditional altars. The Asociacion Unidos Por Barra de Navidad said it hoped to make the festival an annual event. Residents of Melaque also commemorated Day of the Dead by building traditional altars in memory of departed loved ones.
Share your news
If you have any news to share about an upcoming event, charity, or art happening that takes place in or around the Melaque or Barra de Navidad area, please send us an email: This email address is being protected from spambots. You need JavaScript enabled to view it..">This email address is being protected from spambots. You need JavaScript enabled to view it..