Oh tejas tree, oh tejas tree
The Trash to Treasure Tree, made from broken tejas (roof tiles left in the wake of Hurricane Patricia, not only won the Best in Show competition, but also accumulated the highest number of bids at last Friday's ninth Annual Christmas Tree Fiesta.
A crowd of more than 80 people strolled leisurely through the dining rooms of Magnolia's, admiring all the 38 donated trees and bidding on their favorites. As always, the artists of the arboles delighted and amazed the patrons with their creative diversity and talent. From plastic spoons to the delicate lace fans, each tree glistened in its own uniqueness. But it wasn't just a delight for the eyes, but also for the palette! Once again Magnolia's chefs Alex Mayberry and Leia Bowers, surpassed expectations with their variety of hors d'oeuvres and desserts. Personal favorite here, the pumpkin cheesecake.
All 38 trees were sold during the event, raising 11,859 pesos, but the generosity didn't stop there. The owners of Magnolia's donated another 2,000 pesos. Activos Gym was the recipient of this year's event. The proceeds will go a long way in helping to repair the damage caused by Hurricane Patricia. Activos will be able to continue offering low cost membership to La Manzanilla's full-time residents, running a weekly physical education class at the primary school and foster healthy eating habits through classes and seminars.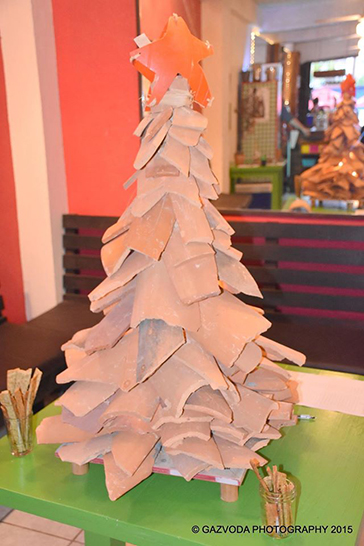 Puro historia
Each Friday, tourists and locals alike head off to the town square. It's Market Day. With pesos and shopping bags in hand, they peruse the offerings of the many vendors in search of everything from the perfect souvenir to kitchen wares and more. The air is filled with tantalizing scents of fresh fruit, coconut oil and roasted nuts. But last Friday there was a different aroma, deep and rich, new to the market, yet all too familiar. Tobacco Leaves! Turning a corner, I quickly found the source. There spread across a table were full, cured tobacco leaves. I watched in amazement as the young man seated at the table deftly rolled six leaves into a perfectly shaped cigar, banded and ready for sale. It was done in under five minutes. When asked where he had learned his skill, he told me his father taught him, as his grandfather had taught his father and uncle.
The young man's name is Hector Ulloa Pena. He was more than happy to enlighten me to the fact that with cigar making traditions older than those in the Dominican Republic, Honduras, Nicaragua, and yes, even Cuba, Mexico is no new-comer to the world of fine tobacco and quality cigars. According to Ulloa, it is widely believed that tobacco plants probably originated in Mexico's Yucatan Peninsula and probably first smoked by the earliest of the continent's native inhabitants. His family has been in the cigar making business for over four generations. Their plantation is located in Veracruz, and it is there in the rich volcanic soil that Mexico's entire cigar industry is located. The family grows three different kinds of tobacco; Negro San Andres, a dark spicy leaf, Sumatra, a buff colored leaf whose origins are Dutch, and Habno, a Cuban strain, newly imported into Mexico. All three kinds are used in the production of one cigar. While not as large as some of the neighboring plantations, Hector spoke with pride about their operation being totally organic, and the harvesting still done by hand. (Having worked a summer on a tobacco farm as a teenager, I know what a back-breaking job that is). The leaves are then sorted, sewn into small bundles and attached to the drying racks which are hung in new climate- controlled barns. The stalks of the plant are cut into pieces and burned very slowly to "smoke" the leaves as they cure, similar to smoking meat. This added step adds to the distinct flavor of the family brand. After curing for at least six months, the leaves are then aged in wooden barrels for up to five years. They roll their Mexican puros entirely from their own farm's tobacco, focusing on small production with only eight rollers, but each is a master of the art, with at least 20 years of experience. Their operation also has five additional rollers, including Ulloa, that roll on site at markets such as ours in La Manzanilla, as well as in some of the major hotels in Puerto Vallarta and the Mayan Riviera. The company also builds their own humidors as well. I was so impressed with the detailed work that goes into the making of a cigar, I had to buy one. It will make a great gift for my son's godfather, and we all know it is a good thing to keep a godfather happy!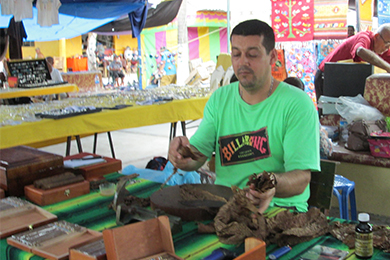 Coming Events
-Drum Circle, every Saturday night starting at 8 p.m. at Artis Gallery and Bar — all welcome!
-Tango Lessons, every Wednesday evening from 7:30 to 8:30 p.m. at Activos Gym
-Zumba Classes, every Monday and Wednesday morning from 8 to 9 a.m.
-Junior Baseball Games, every Friday evening from 5 to 6 p.m. at the Sports Field
Family Fun Run – January 17, sponsored by Activos Gym
-La Manzanilla Art Walk 2016 – January 31, 10 a.m. to 3 p.m.
-There's always something to see and do in La Manz, come and join the fun!
Whatever Your Reason
Christmas or Hanukkah, Solstice or Yule, Kwanza or Nada, whatever the reason for your season, be happy, be well, and pass on a gift of love, hope and peace.