A Conversation
During the high season of 2013, a casual conversation occurred at The Helping Hands Bookstore in La Manzanilla, between its proprietress Stephanie Wunner and winter-resident Roberta Rich, visiting from nearby Colima.
As you can imagine, the bulk of their conversation pertained to books, and a best seller, "The Midwife of Venice," was mentioned. When Rich was asked if she'd heard of it, a modest smile played on her lips as she answered, "Yes, I have ... you see, I'm the author." Wunner and Rich had several more conversations throughout her stay in La Manzanilla. A friendship and mutual admiration for each other's work evolved. While Wunner admired the gift of writing that Rich possesses, Rich, in turn, appreciated that Helping Hands, is a non-profit organization, completely staffed by volunteers, with its proceeds funding student scholarships, here in the pueblo. Subsequently, the idea of "A Conversation with Roberta Rich" was conceived.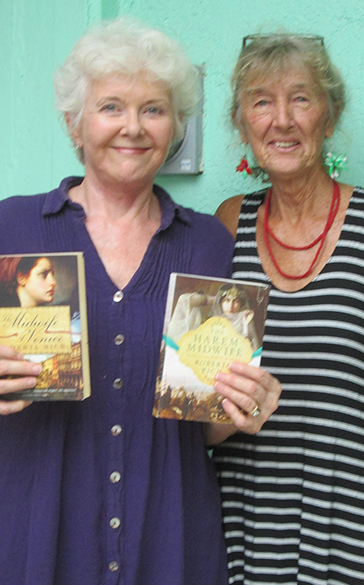 At that particular time, however, Rich was deep in the process of writing a sequel, "The Harem Midwife," but promised to return as soon as that book was complete. True to her word, Rich contacted Wunner soon after Hurricane Patricia had cut a swathe through our town, with the suggestion of turning the speaking engagement into a fund raiser. The ticket price to attend was set at 200 pesos, with all proceeds being generously donated back to the book store, by Rich. Each of the 40 bookworms attending received a complimentary, autographed copy of Rich's "The Harem Midwife," along with refreshments, and the opportunity to discover how this former Vancouver divorce lawyer had become an international best-selling author.
Rich is a delightful story teller. She had her audience immediately captivated when she began her tale, with a twinkle in her eye, and the words, "two silver soup ladles." She then went on to explain that while on a trip to Venice in 2007, she had seen these vintage ladles in a museum, and the first thought that popped into her mind was how they reminded her of modern-day forceps. Laughing the thought off, she and her husband Ken proceeded out to enjoy the splendors of the city. While on their walking tour, they veered off the beaten path and found themselves in the narrow, dark streets of the Jewish ghetto of Venice. The ghetto dates back to the 16th century, and Rich pondered on the difficulties of living in such an era. The silver soup ladles again infiltrated her thoughts. What could childbirth have been like, and what was the role of the midwives of the times? She began to envision Hannah, who became her heroine in "The Midwife of Venice" and the first seed of an intriguing saga germinated. It would take months of research, inventiveness and long hours of writing, re-writing, and still further revision, to create the historically accurate work of fiction that became this published best seller. But even as this first novel was flying off the shelves in 14 countries, Rich knew that she could not yet say goodbye to Hannah and her husband Isaac. They had developed into a family to her, and Rich knew that there would be many more adventures in store for them. Thus, "The Harem Midwife," set in Constantinople, during the Ottoman Empire, came to life. Rich said that she had a great deal of fun researching the historical facts for this sequel. Many of the colorful characters in this follow-on are based on actual historical figures, laws, and beliefs of the time. One such belief, circulating through the Sultan's palace, was that his wife had put a curse on him, so that he was totally devoted to her and never enticed by any of the hundreds of alluring concubines in his harem. Rich said that the trick to writing historical novels is to use just enough history to give your readers an indication of what life was like at the time. People are reading novels, not history books, so you don't want to over whelm them. But, she laughingly stated that during the Ottoman Empire, many times the truth was vastly more outlandish than any fiction possible. When asked what the tone of relationships between Jews and Muslims were in that era, she said that research had shown that during that time period there was a mutually respectful attitude between the two faiths. Jews were not only welcomed in Constantinople, but were pretty much self-governing; much different than the political oppression of Venice at that time.
Please login or subscribe to view the complete article.