Da Doo Run Run
The streets of La Manzanilla were filled with the sound of hundreds of footsteps this past Sunday morning. Both large and small, each one signified another step into fun and fitness.
La Manz's 3rd annual Family Fun Run was underway! Co-ordinated by Activos Gym and sponsored by 40 local businesses, more than 180 participants, adults, children, and even two of our four-legged amigos joined in on this event.
Each were given a T-shirt and member's number. There were no categories assigned, nor would prizes be awarded to 1st, 2nd, or 3rd place. This event was not a race or competition. It was solely devoted to fun, family, health and fitness in our community. Prizes would be awarded by raffle tickets received at each kilometer marker along the route.
This format meant that everyone, adult or child, runner or walker, would receive an equal chance at a prize. Each person could also choose to complete two kilometers or the complete 5-km course. Water stations were set up at each of these markers of the long course. Volunteers manning these stations handed out water and a raffle ticket to each participant along the way. The person's number was recorded as well.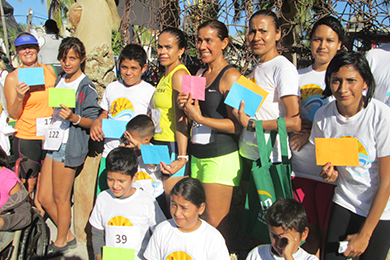 All participants gathered in the town's Jardin and the raffle was held. Ten prizes of 100 pesos, five of 200 pesos, and two of 500 pesos were awarded to the lucky ticket holders. Congratulations to those winners, as well to Nancy Wyeth of Activos Gym and all the volunteers who made this day happen. Everyone I spoke with commented on what well organized, super fun event it was, and that just by partaking in it made them all winners. All are looking forward to doing it again next year.
Fashion fund-raiser
Come enjoy once again a beach afternoon full of entertainment at Fashion by the Bay on Sunday, January 23, presented in the palatial patio garden of Chantil Mare Boutique Hotel & Restaurant in Boca de Iguanas.
This glamourous fund-raiser show premiers one-of-a-kind fashions from two of La Manzanilla's trendiest garment boutiques – Zingara and Bonnie's.
Along with the fashion show, the afternoon will also include a full gourmet buffet prepared by Chef Gregory of Chantil Mare, live music, and classic ballet performances. Door prizes and raffles will add to the fun of this event.
Proceeds from this gala will help fund the La Catalina Foundation, a non-profit founded in La Manzanilla in 2003. This foundation offers free English classes to youth and adults, as well as scholarships for the students of La Manzanilla to continue their education, and many other community projects.
Well-known Mexican artist/author Dr. Gabriela de la Vega, one of the founding members of La Catalina, will be on hand to greet guests. Dress is party attire, with hats encouraged this year.
Ticket price is 400 pesos. Time: 3-6:30 p.m.
Annual Art Walk
Preparations are well underway for the Annual La Manzanilla Art Walk on Sunday, January 31.
Now in its 8th year, the cultural event promises to be bigger and better than ever. Thirty-two local artists will be displaying their works in 18 venues throughout the town. Extra buses will be delivering folks from as far south as Manzanillo. Students from the La Catalina Foundation, and from the various art classes given here in town, will be acting as Art Walk "ambassadors." They will meet and greet the arriving guests, with a brochure, map, and friendly smile, assisting in any way they can. You will recognize the ambassadors immediately as they will be wearing official Art Walk T-Shirts.
From 10 a.m. to 3 p.m., you can stroll leisurely through the displays of paintings, sculptures, jewelry and artisan creations. Student artwork will be displayed in the Ejido building in the center of town. Donation containers will be set up at the venues, with proceeds supporting the Children's Art Programs of La Manzanilla.
And while in town, stop in at one of the many fine restaurants for a cooling drink, or satisfying meal.
Calling Animal Lovers
Help bring a spay and neuter clinic to La Manzanilla in February by attending the Fiesta at Figaro's on Monday, February 1, 6:30 p.m. Live music is by Mike & Simone.
Ticket price is 200 pesos. Beer and wine will be available to purchase. You can bring an appetizer to share.
The goal is to raise 20,000 pesos to cover the cost of spaying/neutering 100 dogs and cats. This will help control the unwanted birth of hundreds of puppies and kittens, who will live their very short lives in tragic circumstances.
Tickets are available at Helping Hands Bookstore, Café Risa, Café du Calcetin, and, of course Figaro's Restaurant.