Art Walk 2016
Always a favorite affair here in La Manz and surrounding area, this year's Art Walk drew one of the largest crowd ever this past Sunday.
No actual count is available, but the masses filled the streets as well as the 18 display locations, where they perused items from original paintings and hand-made jewelry, to some very creative décor items made from what some folks would call "beach scrap."
The most striking display was a remarkable street banner which spelled out La Manzanilla in a collage of photographs. Alberto Martinez, a lifelong resident of the town, worked with students of the La Catalina Foundation's Digital Arts Program. He had the children each make one letter based on a characteristic of the town — flowers, beach, tourists, etcetera. Each child learned the computer skills necessary to transfer these photos. It was beautiful, and the focal point of many conversations during the day.
Many in the crowd were first-time visitors to La Manzanilla, who immediately became enthralled with our little jewel by the sea. Comments were made on the diversity of shops and restaurants located in our pueblo, and these were also filled to capacity with enthusiastic consumers. When all was said and done, everyone agreed that it was a wonderful day.
Fabulous fashions
The Fabulous Fashions by the bay gala, sponsored by the La Catalina Foundation and held at the beautiful Chantil Mare Hotel in nearby Boca de Iguanas, was an undisputed smashing success.
Approximately 100 guests were treated to a full afternoon of food, fashion and entertainment. During the buffet luncheon, the assemblage enjoyed the soft seductive music of saxophone artist Catarin. As soon as the last plate of pomegranate cheesecake (a slice of heaven on a plate) was served, the fashion show was underway. Twelve models, six students from the La Catalina Foundation and six expats, individually sashayed down the catwalk as a chorus of "oooohs" and "aaaahs" announced each of the 24 amazing items of apparel. But the highlights of the afternoon were the three dance recitals executed by students from Enerhia Extrema Dance Academy in Chihautlan.
These young artistes thrilled the crowd with their gracefulness, exuberance and litheness. Their love of the dance was reflected in their performances, each one ending in a standing ovation from the audience. This fundraiser raised over 13,000 pesos to help cover the printing cost of a new English-language textbook.
Co-created by Julie Catton-Amezcua of the La Catalina Foundation, and innovative phycologist Dr. Linda Sona, the textbook contains not only English-language studies, but also includes meditation and mindfulness exercises to help students concentrate better and retain information more easily. Not only will each student in the Primary School in La Manzanilla receive the textbook free, but students in 12 other villages along the Costa Alegre will as well.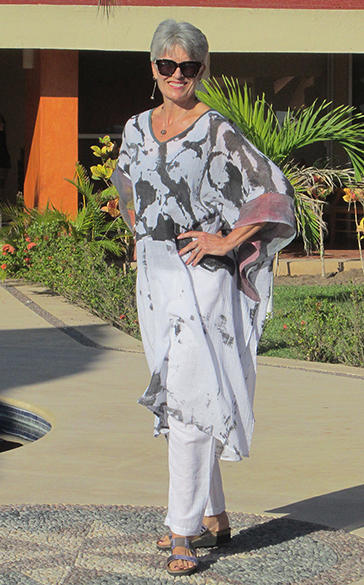 Howling Success
As anyone who has visited Mexico knows that there is a huge stray animal population. Hundreds of unwanted puppies and kittens are born each year, destined either to be killed at birth, or abandoned on the streets. This occurs not because the Mexican people are cruel or heartless, but because so many families struggle to earn enough money to sustain themselves. There is no money to have their pets spayed or neutered. For over a dozen years the human population of La Manz have held fund raisers to enable not only pet owners to have their dogs and cats neutered or spayed for free, but also many of the homeless ones as well.
The recent Fiesta at Figaro's was another "howling success." Through the efforts of a dedicated group of volunteers, animal lovers from far and wide gathered together for an evening of good food, great music and comradery. All of the attendees shared the common bond of wanting to help these creatures who we share this little blue planet with.
Although unfortunate circumstances prevent holding an actual clinic here in town this year, arrangements have been made with two of the area's veterinarians to perform the operations in their facilities. Again, the generosity of the community shines through with dozens of offers to help transport the animals to and from their surgeries.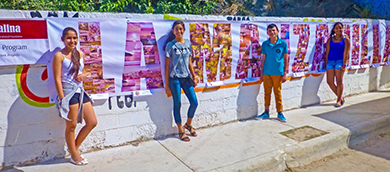 Rodeo
Saddle your pony; here we go, off to La Manzanilla's rodeo. From Saturday, February 5 to Tuesday, February 8, come enjoy this timeless Mexican tradition. Watch as vaqueros from different areas of Jalisco come to test their skills and courage in the bull riding events. Stay to see our own Gypsy, the dancing Pinto, rival the talents of any Lipizzaner stallion. Follow the flaming farolas down the street to the casino where a night of dancing and merriment awaits.
Polo
Polo Tournament: In honor of the Chinese New Year, the Careyes Polo Club is hosting a tournament – Friday, February 4 to Sunday, February 7. Players from Mexico, Spain, Argentina and California will be represented. Watch for the "Polo" sign located between markers at kilometer 49 and 50 on Highway 220. Match times are 4:30 p.m. on Thursday and Friday, 4 p.m. on Saturday and Sunday, with trophy presentation following the last chukker. Field side beverages will be available on Saturday and Sunday. Guests are encouraged to dress casual elegant and wear hats.
Fiesta de Amistad
Fiesta de Amistad: After a romantic dinner with your partner, you are invited to the Jardin for a night of free music, and free spirit on February 14, 8:30 p.m. Let's come together as a community and dance like nobody is watching. Together we can chase away the last lingering negative energy left behind by Hurricane Patricia.