What is mariachi?
If you were to ask that question to persons in the United States or Canada, more than half would answer thus: "A group of men in tight black outfits playing 'La Cucaracha' on their guitars and trumpets."
I'm ashamed to admit that I would have answered in much the same way, even after living here in Mexico for five years.
My limited knowledge on this tradition was greatly, and gratefully, expanded this past Saturday at a mariachi concert, courtesy of the Fiesta Mexicana Restaurant in La Manzanilla. I was totally caught off guard by the number of musicians, and by the fact that the majority were women.
This was no small troupe. This was an orchestra! Newly formed, it consisted of 20 young men and women, recent graduates from various music schools in Cocula. The town of Cocula is often referred to as "La Cuna del Mariachi" (The Cradle of Mariachi), as it is widely believed that mariachi music originated there in the 19th century. There are several theories as to the origin of the name, all of which are staunchly believed, dependent on who you ask. The truth is that no one really knows where or how the name originated, but it is one which is associated with a great deal of prestige, not only here in Mexico, but around the world. The concert was a benefit performance, organized by the owners of Fiesta Mexicana restaurant, Poncho and his wife Consuela. Not only did they make the arrangements to bring these performers to town, (many of whom had never before seen the ocean), but also offered their venue, and all proceeds from food, beverages, raffles, etcetera to help fund the ongoing maintenance of the band. For almost three hours these troubadours, dressed in the traditional silver studded charro suits, presented their music to the crowd with pride and passion. Their songs of love, hope, revolutionary heroes and caballeros had the concert-goers cheering and dancing among the tables.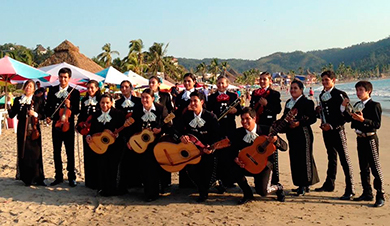 Mariachi music is now played around the world and celebrated each September with an international festival headquartered in Guadalajara. Mariachi goes beyond music. It is the sum of a cultural revolution, developed over a century, which encompasses the essence of Mexico and its people. It is something cultural, spiritual and traditional that is unique to this country. It is an experience not to be missed!
Day of Friendship
We all know that February 14 is Valentine's Day, the day reserved for love. But over the years, it, like everything else, has evolved. While love of sweethearts is still at the top of the list, the day is now shared by love of family, love of pets, love of one's self and so on. But here in La Manzanilla, we added another dimension to the day. Love of friendships, love of community, love of life, and so the first Fiesta de Amistad was born. This brain child of one long-time resident of La Manzanilla, resulted in an evening of song and dance, centered in the heart of town, its Jardin. The event was free, and all were invited to share in the festivities, and comradery, to help eradicate the last, lingering effects of Hurricane Patricia. Beginning at 8:30 p.m., a poem written by Ron Stock was read to the crowd, both in English and Spanish. It was comprised of a collection of thoughts and feelings experienced by the people as they huddled together through Patricia's wrath. The last line of the poem was, to me, the most poignant: "For a few hours, we were all the same."
I watched as the people gathered in the square nodded in agreement, and hugged one another, as once again, we were all the same. The music then started up, and the merriment began. The first act was a hip-hop dance, performed by some very energetic ten to twelve year olds. The only thing brighter than their costumes were the smiles on their faces. As various musicians from town took turns performing onstage, the slightly silver-haired, but young at heart in the crowd stepped on to the dance floor to join in on the fun. A band from Chihuatlan came in as well to perform and eventually closed the show. Some of us were a little stiffer than usual on Monday morning, but all who attended agreed it was a great party!
Stay Tuned
Saturday, February 20. The 12th Annual Night Under the Stars Silent Auction and Party, from 6 to 9:30 p.m. in the Jardin. Tickets are 100 pesos. They include a Mexican dinner buffet, drink, show and bidding ticket. Expect live jazz and dance performances from La Huerta's Cultural Program and Blue Bay Resort. There will be lots of great items to bid on. All proceeds from this event go to the Student Scholarship Program at the La Catalina Foundation in La Manzanilla.
Saturday, February 20 and Sunday, February 21. First Coffee Festival in Cuzalapa, Jalisco. Sponsored by "Color de la Tierra," an organization of mainly indigenous women, founded in 2001, who process and market the coffee. Demonstrations and guided tours will be available on both days, along with participation of local artists and merchants selling products typical of the area. Located approximately 100 kilometers inland from La Manzanilla, this would be a very interesting day trip.
Sunday February 21 and Monday, February 22. Bare Bones Theatre Productions presents "The Joy of Six." Directed by Arleen Pace, this two-part performance will include six different playlets. Performances begin at 7 p.m. at Los Cabañas Restaurant. Ticket price 100 pesos.