Night Under the Stars
La Catalina Foundation's 12th annual fundraiser was once again an enjoyable success. The entertainment committee outdid themselves this year with song and dance. The town square was filled with supporters who were treated to not only to performances of local talent, but also to a professional troupe of dancers from the nearby Los Locos Resort.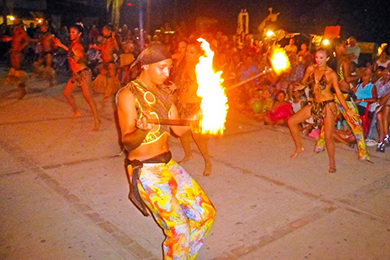 These young dancers performed a spectacular version of a pre-Hispanic fire ceremony. Amid a steady rhythm of drums, they leaped and twirled among the flames, while wide-eyed spectators held their breath in apprehension. Their efforts were rewarded by the cheers and applause of a standing ovation.
In addition to the great entertainment on stage, there was also a good-natured rivalry occurring between bidders at the silent auction. The diversity of items donated this year was such that everyone attending was enticed to bid on something.
Funds from this event will be divided between the three public schools in La Manzanilla, the free educational programs offered at the La Catalina school, and the further development of the La Catalina Foundation Center.
The 'Break-In'
Last Sunday, I inadvertently set off a series of events that turned my little neighborhood into a buzzing hive of speculation, assumption and rumor. For weeks I had been procrastinating on the daunting task of cleaning out my bodega. But Sunday was the day that a burst of ambition came over me and by golly it was getting cleaned out once and for all! I was a woman on a mission, right up to the point of opening the door and then, once again, I just wanted to turn tail and run away screaming. You see, most of what was in there were my late husband's tools and trinkets. He had been a licensed welder, as well as an all-around "Mr. Fix It," and, well, no other way to put it – a "Hoarder". He could never bear to throw away anything that might be useful, from string to sheets of metal, and if having one set of socket wrenches was good to have, well then having five would be better.
I really didn't want to have another yard sale, but didn't know how or where to dispose of all these leftovers. After a few minutes of pondering the situation, I had, what seemed to be a scathingly brilliant idea at the time. As I live on the main highway into the town, I would simply put all these treasures out on the roadside in front of my house for anyone to take. After a couple of hours of non-stop tugging and lugging, there was quite a pyramid of objects just waiting to be re-homed. It wasn't long before a young Mexican gentleman, named Sergio, was calling through my gate. He asked me if the items were for sale, and I said "No, they are free for the taking". His eyes widened in shock, and he stammered out "I'll be right back," and off he ran. Moments later he returned with a wheelbarrow. I watched in amazement as he carefully loaded every piece into it. He thanked me profusely, then struggling to push it, went on his way. Problem solved! Oh silly, silly me! Not more than half an hour later, there was a very loud conversation, all in rapid Spanish, going on at the hotel right next door. I could hear the words, "Policia" and "Delegado" repeated over and over. Next, I heard someone calling at my gate.
As I went outside, I saw that it was young Sergio, looking very panicked stricken. He explained that he had gone to the motel to ask the owners, who are his friends, to borrow the wheelbarrow, but they were not home. Not wanting to miss out on the "free stuff," he took it and then returned it loaded, and put it in their yard for safe keeping, while he went in search for a truck to borrow. In the meantime, the owners returned and were at a loss to comprehend how and why it was there. Obviously, they had to be stolen items, and they wanted no part of it. So they called the police and the Delegado, all of whom came to "investigate." They talked among themselves and all agreed that these definitely had to have been stolen. It would be confiscated, and held as evidence at the police station until this crime was solved. Sergio returned to find that not only was the wheelbarrow empty, but he was the "prime suspect" in a robbery. He asked me to accompany him to the police station to clarify the situation.
Once there, I assured the officers that I had indeed given the tools to Sergio. One of the officers laughed and told me that I was either an angel or just loco. Then he said he was sorry, but he couldn't release the tools without a sworn declaration signed by myself and the Delegado. Sergio and I were at the office bright and early Monday morning which was in itself a mistake as the Delagado didn't arrive until around 11 a.m. But all went well and Sergio finally had the items back in his possession with his honor restored, and my neighbours could relax in the knowledge that all is still "good in the hood."
Happenings
Although the season has begun to wind down, and many of our friends are returning to their "other" homes, there is still plenty of activity going on in town.
Scottie Turner still serenades us every Wednesday night at Palapa Joe's Restaurant, beginning at 7 p.m.
Mangrove birding tour at dusk – Sunday, March 6, from 5:15 to 6:45 p.m. 350 pesos. Binoculars and bird list included. Register at Costalegre EcoAdventure.
La Manzanilla Baseball – every Friday night at the sports field, from 5-6 p.m.