Dinner/theater
Amigos de La Cruz Players are holding open auditions for the murder/mystery, dinner/theater presentation of "Girls Night Out" on February 23, 24 and 28, and tentatively March 1.
There are seven adult roles: one male, four females, one drag queen and one non-speaking on-stage hand (male or female). The script and characters will be tweaked to reflect the local area.
Auditions will be held Monday, December 14 and Tuesday, December 15, 3 pm. at Philo's in La Cruz. Arrive on time and be prepared to stay for the full audition.
If you have any questions or do not arrive in the north shore until after December 15, contact director Becky Grewer at This email address is being protected from spambots. You need JavaScript enabled to view it. or 322-168-5369 (cell).
This is a fun way to help the community as funds raised go to support Amigos de La Cruz projects.
Even if you are not interested in being on stage, there are many ways to be involved behind the scenes.
Come to the auditions and find out how you can help and join in the fun!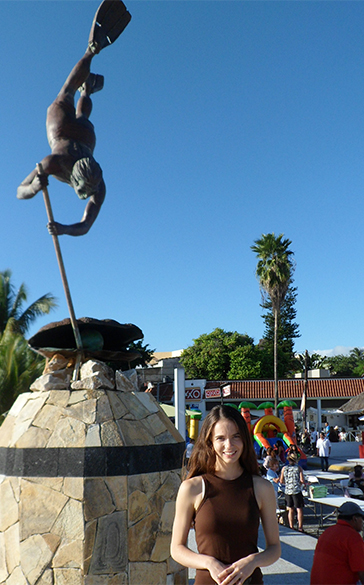 Election
Amigos de Bucerias will hold their annual general meeting on Saturday, January 2 at Ixta Restaurant.
The general meeting includes the election of officers and takes place after the regular monthly meeting. Breakfast is served at 9:15 a.m. and the meeting begins at 10 a.m.
The cost of the buffet breakfast is 100 pesos. Reservations must be made to This email address is being protected from spambots. You need JavaScript enabled to view it..">This email address is being protected from spambots. You need JavaScript enabled to view it..
None of the current officers are running for re-election. Nominees for 2016 are Rick Kranefuss, president; Wayne Elliott and Kimberly Hall, vice president; Gwen Baer, treasurer and Jacqueline Topete, secretary.
The organization's bylaws say that nominations can also be made from the floor. To be an officer or to cast a vote, one must be a paid-up member of Amigos.
The 2016 membership fee is 250 pesos per person and can be paid at the meeting.
Meetings are open to anyone who wishes to attend, and purchase of breakfast is optional.
Christmas story
At Christmas time 23 years ago, Bucerias residents Ron and Arlene Tackett felt homesick for Alaska, so they decided to bring Christmas to the streets of the town.
With the help of a small power generator, they decorated a friend's open-top Jeep with lights, played Christmas music and drove around town,
On Christmas Eve, they bought a few large bags of candy and went to the poorest neighborhood to toss candy to the children.
"It was so much fun that the next year we brought down 50 toys purchased at a dollar store," Arlene Tackett says. "That proved so popular that the following year we purchased a trailer and filled it with lots of toys bought at yard sales.
"After three or four years, it was apparent that it was dangerous to drive up and down the roads as the kids became so excited we were afraid we would run them over."
Their beach vendor friend Alex arranged for them to give out toys in front of a neighborhood church.
Over the years, the number of children has increased greatly and they now give toys to around 1,200 kids.
"We also give out bags filled with soaps and shampoos and body lotions to all the moms and grand moms. Last year we gave out 225 of them," says Arlene. "A friend and bar owner from our home town of Ketchikan, Alaska saves these bags for us every year. Lots of people bring the soaps and shampoos down from Canada and the States. We always buy extra toys to be sure we have enough and we usually have around 100 left over. So on Christmas Day we find a different village every year to go and give out any extra toys."
Three years ago, after two decades of organizing this Christmas event, the Tackets retired as Mr. and Mrs. Santa Claus and passed on the outfits to another north shore couple, Jan and Jennie Roden.
Says Jennie Roden, "This year, our annual fundraising event raised enough money to purchase Christmas toys, gift wrap, candy and other amenities with a surplus.
"Unfortunately, costs for toys and wrapping paper have gone up by at least 20 percent, so this year we're closing in on 60,000 pesos for expenses."
Gift wrapping will take place on Wednesday, December 23 at Yo Yo Mo's Pizza in Bucerias Centro, beginning at 10 a.m. and continuing until the group of volunteers finishes. This usually takes about three hours for 15 people to accomplish.
The actual gift give-away takes place at the Guadalupe Catholic Church next to the arroyo on the north side of Highway 200 on Thursday, December 24, around 2 p.m.
"Everyone is welcome to witness this wonderful event and to volunteer to help out," says Jennie.
For more information about Bucerias Christmas Children's program, go to http://xmasinbucerias.com.
Trees on display
The upcoming annual Bucerias Recycled Bottle Christmas Tree exhibit begins Saturday, December 19.
This is the third year for the exhibition, which runs until January 2.
Last year, Bucerias Centro challenged the Bucerias art district south of the arroyo to see which side of town would have the best participation and imagination.
"The prize is knowing you have participated to boost the area's image, as well as raising money for charity and awareness," says organizer Floydilou Kerr. "It's no longer a contest but an exhibit."
The Christmas trees can be seen throughout the city at various businesses and locations.
At each tree you will find a donation box for the charity chosen by the tree creators to benefit from the "voting by pesos."
The event also helps boost the local tourism trade by encouraging surrounding towns to come and see how much Bucerias has evolved, Kerr says.
The exhibit also raises awareness of the importance of the three "Rs" – Reduce, Reuse, Recycle.
"Although we encourage many creative ways to make a recycled Christmas tree, we like to focus on using plastic bottles in some form," says Kerr. "We've seen trees with beer bottles, cans, egg cartons, bottle caps, corks and even hockey sticks.
"The first year we had 16 trees on exhibit. Last year we had 19."
Kerr's only gripe is that many participants leave it to the last minute to plan their trees.
"This year, I haven't really heard from anybody. A few people will probably recycle their old trees. It will be a last minute thing again. It was last year too.
"I start to approach them in September but I only hear, 'we don't have time.'
"It just takes two or three people to start talking about it, then others start to latch on. Every year it's the same thing."
For more information, go to This email address is being protected from spambots. You need JavaScript enabled to view it. or buceriasart.com/recycled-bottle-christmas-tree.
Extra holiday cash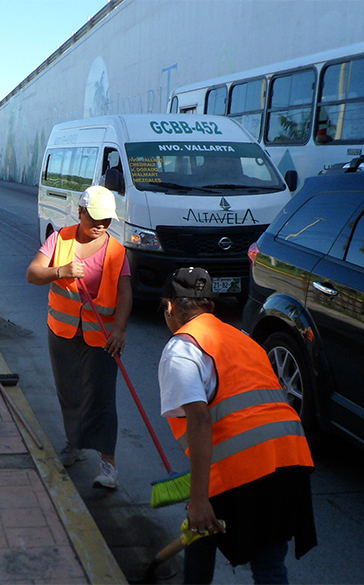 Two members of a 35-person cleaning crew sweep up litter on Highway 200 in Nuevo Vallarta this week. The temporary workers, most of them advanced in age, are given the chance to earn some holiday money by cleaning up the highway and cutting brush between La Cruz and the Jalisco state line.