Welcome to 2016
The Riviera Nayarit Convention and Visitors Bureau is hard at work, kicking off the New Year by promoting a range of exciting events in and around the Northshore area. Here's a look at what's coming up in January. Mark your calendars.
Patron Saint Festivities for Our Lady of Peace (January 16-24). Our Lady of Peace is the patron saint of fishermen and this religious festivity in her honor takes place in Bucerias. It includes a nine-day street and plaza festival in the center of town. Cultural activities include the Blessing of the Fleet, a maritime pilgrimage from La Cruz de Huanacaxtle to the beach in Bucerias, with dozens of decorated boats escorting the Peace Torch in hopes of a good year for fishermen.
International Migratory Bird Festival (January 26 to February 2). One of the most important bird watching and conservation festivals on the continent is held in San Blas. This is one of the best-known areas for endemic, resident and migratory birds. There are over 500 species, different observation routes and a cultural festival at the Nayarit port.
Sayulita Festival (January 27-31). Laid back and luscious, the Pueblo Mágico of Sayulita offers movies, music, drinks and surfing. The last weekend of the month features a full-on party with some stellar concerts. Possible acts include Kinky, Le Butcherettes, Golden Ganga, La Hora de La Hora, Insoul and Mexican Juligans.
Vallarta Cup Race Series (January 2, 9, 16, 23 and 30). Saturdays in January are given over to this series of nautical competitions that ply the waters off Nuevo Vallarta. Every weekend there's a friendly race with a corresponding theme.
More Fundraiser Success
The Vallarta Yacht Club sponsored the 3rd Annual Taste of Nuevo and the 15th Annual Great Chili Cookoff on Saturday, December 5 at the Nuevo Vallarta Malecon.
The combined event netted more than 81,000 pesos, shared equally by Families of the Dump and the Navy League's "Toys for Tots" program.
This year's event involved 22 participating vendors, consisting of local restaurants, organizations and individuals.
The winner in the restaurant category was Dona Tere, and the winner of the "Best Chili" was Dana Doncaster from Paddlelit.
Many of the restaurants participated in both the Taste of Nuevo and the Chili Cookoff.
Honorable mention went to a group of ladies from the local Nuevo Vallarta condos who provided homemade baked goods for sale. They contributed 8,900 pesos to the total.
The Vallarta Yacht Club thanks all the participants who made this event possible.
Party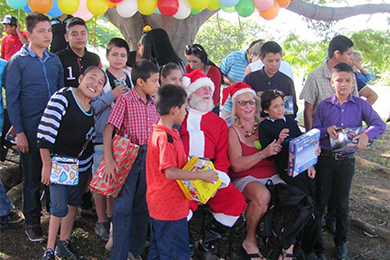 The north shore chapter of service sorority Beta Sigma Phi sponsored the annual Christmas party for the CAM 12 special needs school in Bucerias. Sorority sisters purchased presents for each child with money raised at the Christmas boutique held in December. The children enjoyed getting a visit from Mr and Mrs Santa Claus, Russ and Charlene Bartels of Alaska.
Recycled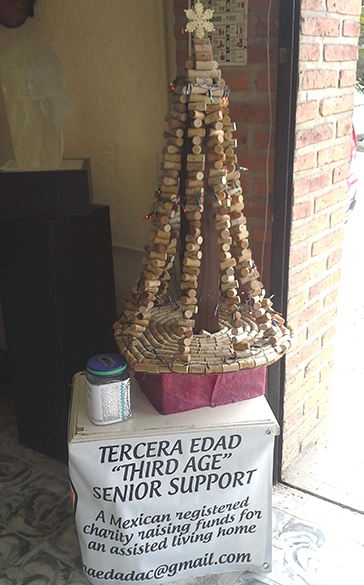 This "recycled Christmas tree" made from corks can be seen until early January at The Winged Iguana in Bucerias. Trees made from recycled materials, such as plastic bottles and aluminum cans, are on display at Bucerias businesses. A donation jar at each tree allows people to "vote" with cash for their favorite tree to benefit a charity chosen by the tree's builders and the business owner. This one was created by the owners of My Mexican Kitchen, Edgar Garcia Cordova and Travis Dietz, assisted by Shirley Evans.
Heroes Needed
The Riviera Nayarit Convention and Visitors Bureau, together with the Banderas Bay Hotel and Motel Association, have launched a new communications and donations campaign inspired by the Paralelo 28 initiative.
The campaign, dubbed "Se Buscan Héroes" ("Looking for Heroes"), seeks to preserve five Natural Protected Areas in the northeastern Mexican Pacific, including the Islas Marietas, a popular tour destination for vacationers.
"This initiative is very important for us because the Islas Marietas are our icon," says Marc Murphy, managing director of the Riviera Nayarit Convention and Visitors Bureau. "We're working with the state government and local tourism businesses and hotels to preserve the islands and the income they generate for the region."
Tour operator Vallarta Adventures made the first donation of 300,000 pesos during a December 17 press conference held at the Grand Velas Riviera Nayarit.
In order to drive conservation, surveillance and sustainable use of the oceans and their natural resources, businesses, fishermen, service providers, tourists and citizens-at-large, are encouraged to lend a hand by donating at the website, www.sebuscanheroes.com.
As well as the Islas Marietas, protected areas that will benefit from the campaign are Loreto; the Cabo Pulmo National Park and Paz Bay in Baja California Sur; and the Bay of Angels in Baja California.
The campaign includes marketing on social media sites such as Facebook and Twitter, as well as initiatives such as selling stuffed toys in the shape of endangered species, stamp books, donation containers, auctions, and airline, restaurant and hotel advertising.
Containers for donations will be featured at more than 70 events over the coming months.
Hotels that have joined the promotional campaign include Grand Velas, Villa Group, Vallarta Gardens, Paradise Village and Four Seasons. More hotels and tourism service companies are expected to join.
Donations can be made at www.sebuscanheroes.com.
Spay/Neuter Clinic
Just as in many Mexican cities, Bucerias suffers from a number of unwanted and abandoned cats and dogs who wander the streets searching for food and shelter.
There simply are not enough loving homes to take them in.
An upcoming public spay/neuter clinic will help begin to reduce the population of unwanted animals.
Sue Foroff, Harold Sokolove, Joanne Walsh, Rachel Meza and Valiene Heckert have teamed up with PEACE Animals Puerto Vallarta to sponsor the free clinic on January 13, 14, 15 and 16.
The clinic will be held at the former Bucerias Bilingual Community Center, Calle 16 de Septiembre.
Anyone in the north shore community can bring their dog or cat to be spayed/neutered at no cost.
Animals will also be treated for parasites, fleas and ticks, and any additional health problems addressed when possible.
Around 100 animals are sterilized during a typical four-day clinic. The cost to operate the clinic is US$1,800.
A Bucerias Spay and Neuter Clinic GoFundMe page has been established for donations.
For more information, contact Fornoff at (329) 298-2053 or 322-151-1233 or by email at This email address is being protected from spambots. You need JavaScript enabled to view it..">This email address is being protected from spambots. You need JavaScript enabled to view it..
Day Tours
The non-profit organization Human Connections invites Northshore visitors and residents to discover and give back to the less explored neighborhoods of Bucerias that are off the beaten tourist track.
"Through translated conversations with local artisans, food vendors and tradespeople, you will experience their lives and homes, learn about their crafts and even get to try your own hand at cooking or making art, side-by-side with the experts," says Human Connections Executive Director Ellie Rohrer.
"You'll make real and profound connections with the entrepreneurs you meet and the tour will finish up with a traditional Mexican meal guaranteed to satisfy."
Rohrer says the tours are great for groups and families who want to experience rich local culture in their travels and add a fun learning experience to their vacations. "This is a cultural experience that you can feel good about, as the people you visit are paid fairly for their time and 80 percent of your tour fee is channeled directly back into Bucerias."
Regular tours are on Thursdays from 9:30 a.m. to 12:30 p.m. Upon request, they can also arrange custom tours at other times.
The meeting location is the Human Connections office at Av. Hidalgo 13 (3rd floor) in Bucerias. Enter around the corner from Yo Yo Mo's sports bar.
For more information go to http://humanconnections.org/discover/bucerias-day-tours.