Free Spay/Neuter Clinic
A free spay and neuter clinic is set for La Cruz from Thursday, February 18 to Sunday, February 21, sponsored by Amigos de La Cruz.
The PEACE animals/Pets for Life veterinarian team will be performing surgeries on Wednesday, Thursday, Friday from 9 a.m. to 2 p.m., and Saturday from 9 a.m. to noon.
Dogs and cats must be eight weeks or older, in good health and cannot have food or drink after midnight the night before surgery.
Based on the popularity of past clinics, owners should arrive early in the morning with their pets to get registered and not wait for the last day of the clinic.
Check the Amigos de La Cruz website, amigoslacruz.org, for details and the location.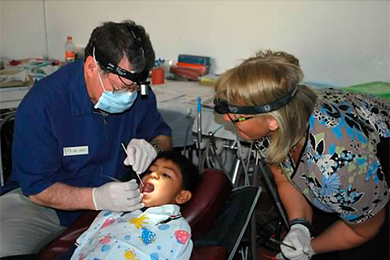 Archery
In Higuera Blanca, just north of Punta Mita, there's a new attraction for residents and visitors: an archery range called Archery Experience Mexico.
The open-air range is located on a mountaintop and ideal for those who have already practiced archery or are looking to try something new.
This sport is a new addition to the wide range of recreational options already available in the northshore area.
Archery can be practiced solo, with family, a partner or with friends. It requires no previous knowledge of the sport.
Archery Experience Mexico offers two ways to enjoy it: Archery Tag®, "gotcha" style, or Traditional Style, meaning it can be just for fun or as preparation for serious training.
The Riviera Nayarit is one of the few places where Archery Tag® can be enjoyed, with sponge-tipped arrows so there's no pain and no bruising.
The archery range also offers an alternative venue for special events with a twist, including weddings, birthday parties, business meetings and family gatherings.
For more information, see archeryexperiencemexico.com.
Girls' Night Out
A murder-mystery dinner/theater charity production benefitting Amigos de La Cruz community improvement programs will be performed at Philo's Bar in La Cruz on Tuesday, February 23, 6 p.m.; Wednesday, February 24, 6 p.m.; Sunday, February 28, noon and Tuesday, March 1, 6 p.m. Doors open one hour before show times.
Front row reserved seats are 400 pesos and include one beer/wine. General seating is 300 pesos. All tickets include a three-course Italian dinner
Front row tickets are sold only in La Cruz at Gloria's Place. General seating tickets are available at Philo's Bar, Amigos table at the Sunday Market, Gloria's Place, and from David Hibbard or Patricia Spencer and Amigos board members.
Bad New Artwalk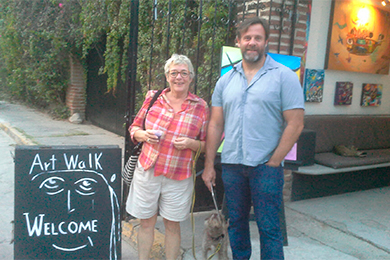 Floydilou Kerr, organizer of the Bucerias Art District (BAD), is adding a few special events to each Thursday night's Bucerias Artwalk.
Every week, a block along Lazaro Cardenas will be featured for one or more special events. A guided tour of businesses, raffles and music, guest artists, wine and canapés will be offered to showcase the block.
"The first tour took place three weeks ago, starting at the southern end of the Bucerias Art District at the Luis Bourson gallery. Local businessman Christian Calvento led a group of residents and tourists to visit shops, galleries and other businesses throughout the BAD," Kerr says.
Keep an eye on the Bucerias Arts District Facebook page to see what activities will be featured each week.
Home-cooked Meals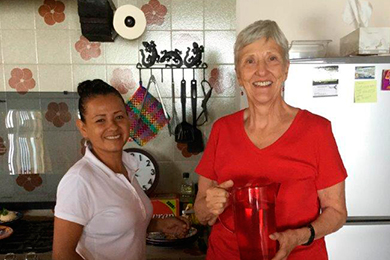 Part-time Bucerias resident Vicki Sharp recently celebrated her birthday with family and friends by sharing a home-cooked Mexican meal, all prepared by an expert in her home.
The cook, Norma Angelica Ortega Navarro, arrived mid-morning to start her prep and make her own sauces.
The lunch was "huaraches with shrimp," which wowed everyone at the table, says Sharpe.
"Our first experience with Ortega's cooking was at the house of a friend," Sharp says. "We have enjoyed three lunches that Norma cooked there – chille rellenos, enchiladas, fried quesadillas – and each meal was fantastic.
"Ortega provides a shopping list and we do the shopping and all the ingredients are easily available.
She does all of the cleanup at the end of the meal as well.
"Ortega has studied cooking at a college here and in the past has had her own restaurant," says Sharpe.
If you would be interested in having Ortega cook for you, contact her at 322-154-3715 or This email address is being protected from spambots. You need JavaScript enabled to view it..">This email address is being protected from spambots. You need JavaScript enabled to view it..
Ortega speaks English well and is a delight to have in the kitchen, says Sharp.
There's a bonus, adds Sharp. "If you hang around in the kitchen to watch, you get a cooking lesson as well."
Rhythm 'N Ribs
Plans are well underway for the 12th annual Rhythm 'N Ribs fundraiser for the Manos de Amor children's shelter in Bucerias.
The event takes place February 20, starting 6 p.m., on Av. Las Palmas, just up the hill from the Royal Decameron hotel resort in Bucerias.
Participating restaurants will be selling ribs, as well as many other food choices. Attendees should come early for the best food.
There will also be beer, wine, soft drinks for sale, all benefitting Manos de Amor.
The always popular silent auction again features excursions, restaurant certificates, hotel stays, artwork, home decor and jewelry.
Raffle tickets for great prizes and 50/50 drawings will be sold throughout the evening.
Returning this year by popular demand is Luna Rumba, performing their mix of gypsy, Latin, Celtic, flamenco, Middle Eastern and rock, all spiced up with hot Cuban rhythms.
After burning off some calories on the dance floor, there's dessert. Rhythm 'N Ribs will also be featuring the popular homemade baked goods table.
You can help ahead of time by donating any of the following items: pecans, walnuts, refined sugar, raisins, brownie mix from Costco, canola oil, Carnation milk, vanilla extract, peanut butter, oatmeal, cinnamon, baking soda, baking powder. Perishable items needed are butter, bananas, margarine and carrots.
Please deliver items to Manos de Amor or call Karen McKenzie at 322-227-8349.
New Golf Course
The first nine holes of the new Greg Norman designed golf course at Vidanta Nuevo Vallarta (formerly the Mayan Palace Resort complex) are open for play to visitors and residents of the Riviera Nayarit.
Construction on the nine remaining holes is expected to finish in the summer.
The new golf course is located just across the Ameca River inside the Vidanta complex, which also boasts the Jack Nicklaus Design Golf Course.
The courses are available from 3 p.m. with different promotional packages. The green fee for the Jack Nicklaus course is US$79. A round on the new Greg Norman Course costs US$125. This promotion includes golf club rentals.