Got talent?
Here's the chance you've been waiting for to show off your hidden talents, beyond singing along with the karaoke machine in your favorite vacation hangout.
The Luna Lounge in Bucerias is sponsoring the first-ever Bucerias Got Talent show on Saturday, March 5, starting 7 p.m.
The talent show is limited to 100 guests and 15 participants. The winning entry will receive a prize valued at around 3,000 pesos.
A panel of judges will determine the winner. It will include part-time Bucerias resident and popular singer Brittany Kingery, who will perform during the intermission.
The admission price of 100 pesos will give each attendee three tickets to vote for their favorite performer, with the opportunity to purchase more tickets.
There will also be 50/50 tickets for sale and a cash bar.
The proceeds go to the Food Bank and Humanitarian Aid of Bucerias, specifically for the village of Tecuani, located outside Mascota, along the Rio Mascota.
"Tecuani was devastated by Hurricane Patricia flood waters last fall," says Sandi Nystrom of the Food Bank. "We would like to continue to help this village."
Tickets for the talent show are available at Ixta, La Postal, Mr & Mrs Fish, as well as Luna Lounge, which is on Avenida Mexico.
Participants should call Dave or Maureen at 322-174-2359 for further information.
Golf Cart Bridge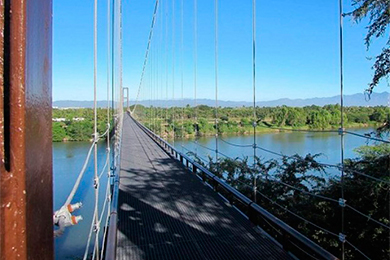 The Vidanta Golf Course (formerly Mayan Palace) in Nuevo Vallarta has what they claim is the longest golf cart bridge in the world. The bridge spans 402 meters and connects two 18-hole courses designed by Greg Norman and Jack Nicklaus, one on each side of the Ameca River, which separates the states of Jalisco and Nayarit..
Winter Is Over
Senior citizen civic group Tercera Edad A.C. is sponsoring a pool party at Los Arroyos Verde on March 7, from 1-6 p.m., to raise money for their community service project
The group is trying to raise 2.5 million pesos to build the first assisted living home in the state of Nayarit.
The home is intended to serve needy Mexican seniors living in Bucerias and La Cruz.
Tickets are 300 pesos and include BBQ, wine or beer, music, dancing and a silent auction.
Shuttle transportation from the OXXO store at Highway 200 and Av. Las Palmas in Bucerias will be available for groups of seven to 10 persons.
Tickets can be purchased at Los Arroyos Verdes, from Marilyn and Jim Moxin, This email address is being protected from spambots. You need JavaScript enabled to view it. or by calling 322-100-7544. To ask questions, visit This email address is being protected from spambots. You need JavaScript enabled to view it..">This email address is being protected from spambots. You need JavaScript enabled to view it..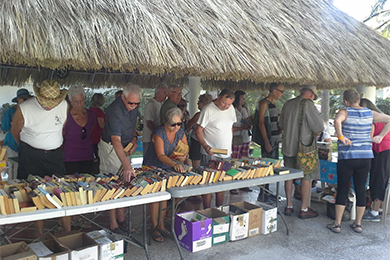 Dinner/theater
Have you ever thought about committing a murder? What would be the tipping point for you? How would you do it? Could you do it?
Well, it is happening at Philo's this month. Four women, one man … and someone gets murdered right after a discussion about murder.
They all have a motive, they all have opportunity, but it is hard to figure out who really did it. All in all, this is a great little play, with dinner included.
Don't miss the fun and food and all the proceeds go to Amigos de la Cruz to support their community projects.
Shows are Sunday, February 28 and Tuesday, March 1.
Tickets are 300 pesos and a three-course meal is included.
Tickets are available at Philos, Gloria's, La Cruz Sunday market or from Amigos board members David Hibbard and Patricia Spencer.
Women On The Move
The Hard Rock Hotel Vallarta will host the the first #Roxyfitness Run+SUP+Yoga, an innovative sporting event that is not about competition but the fun of 1,000 women gathering together in one of Mexico's top luxury destinations.
The event, scheduled March 26, is organized by Roxy Fitness and sponsored by Liverpool stores, the Riviera Nayarit Convention (CVB) and Visitors Bureau, with the support of the Nayarit state government and the Bahia de Banderas municipal government.
"We picked Riviera Nayarit because they made things easy for us and we believe it's the best place in Mexico to hold the event," says Eduardo Araiza, manager of the production company Quicksilver Mexico. "One of the things we spoke about with the CVB is how they've been setting Riviera Nayarit apart by hosting events that are a little out of the norm and are related to wellness, as opposed to other destinations where it's all about the party."
Starting February 5, women who buy a Roxy product retailing over 1,699 pesos in Liverpool stores will receive a commemorative T-shirt.
They can register online with the details on their receipt as well as other information at www.roxyfitnessmexico.com.
Space is limited to 1,000 women and the first 100 to register will have the opportunity to participate in the SUP 3K Race. The other 900 are welcome to participate in the 5K Race and a massive 50-minute group yoga class.
Another Busy Month
March is going to be a month of fun in the Riviera Nayarit, as it plays host to all kinds of artistic and sporting events.
There's martial arts, sailing, stand up paddle, yoga, circus arts, music, hot-air balloon flights and – as if all that wasn't enough – the traditional Easter vacation, with its hordes of visitors.
XXIV International Banderas Bay Regatta (March 9-12) The Nuevo Vallarta Yacht Club will have sailboats from North America competing in one of the best destinations for sailing in the Mexican Pacific, and also enjoying parties, savoring excellent cuisine and more. See www.banderasbayregatta.com.
3rd Puerto de Chacala Music Festival (March 10-13) This is a huge musical celebration, with four days of dancing and singing in the streets of Chacala. The community offers yummy beachfront cuisine and will host big international and domestic artists. See www.chacalamusicfestival.com.
Children's Circus (March 16-19) The kids and teens of San Pancho annually show off what they learned from Gilles Ste-Croix, co-founder of the Cirque Du Soleil and the group of professionals who have encouraged this unique artistic project in Mexico. See http://circodelosninosdesanpancho.mx.
The Riviera Nayarit Hot Air Balloon Festival (March 18-20) Nuevo Vallarta hosts its first-ever festival, where visitors can take to the skies in a hot-air balloon or simply enjoy the view of the colorful balloons against the gorgeous scenery. See www.facebook.com/events/1528114934149568.
The "Titans of the Pacific" Martial Arts Open (March 19)
The Paradise Village Convention Center in Nuevo Vallarta hosts the Qualifying Martial Arts Championship presented by the Nayarit World Association of Kickboxing Organization (WAKO). More than 400 competitors of all ages will be participating. See www.facebook.com/WAKONAYARIT.