Sweet Strumming
Catch the smooth guitar sounds of acoustic covers, originals and Spanish songs at a performance by Rebecca Stoelinga, a.k.a. Stolie. She is a singer and musician from Chicago, Illinois and has been performing live music around Chicagoland for over 15 years.
Her personal style falls in the pop-rock category with nuances of jazz, folk and Latin. Stolie has been writing original songs since she first picked up the guitar more than 20 years ago. She has played gigs at Navy Pier, Millennium Park, Chicago Botanical Gardens, plus dozens of rock clubs and restaurants.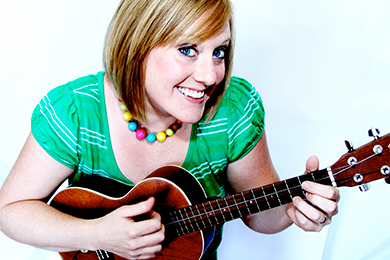 You can enjoy her performances every Thursday and Saturday from 7:30 to 10:30 p.m. at Que?Pasa, Aquiles Serdán 625 in Old Town.
Stolie is available for private events and parties. For more information, visit stolie.com or contact her at This email address is being protected from spambots. You need JavaScript enabled to view it..">This email address is being protected from spambots. You need JavaScript enabled to view it..
Festive Floats
The 8th Annual Mardi Gras Parade offers fun and excitement for all ages. The colorful procession will be held on Tuesday, February 9 and starts in front of the Sheraton Hotel, Francisco Medina Ascencio 999, in the Hotel Zone at 8 p.m.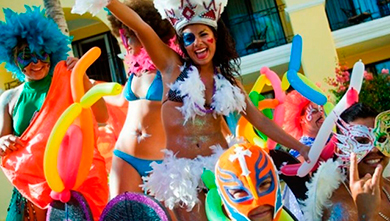 Get your beads ready. There will be dozens of floats, decorated cars and hundreds of people sauntering up the Malecón to Puerto Vallarta's Old Town in a dazzling array of sequins, feathers, leathers and speedos to celebrate the pride and diversity of this special season.
Expat Ongoing Events
Since 2009 the informal group ExPats in Vallarta has been organizing activities to get people out and about. This is a great way to make new friends and get loads of information about life in Banderas Bay.
Join them for a special dinner January 26, 6:30-8:30 p.m. at Buenos Aires Argentinian Restaurant, Paseo de La Marina Sur 245, in Marina Vallarta between the light house and the Route 66 Diner. The staff at Buenos Aires is excited about having ExPats group for an evening. There are three delicious items on a special menu.
Drinks will be two for 95 pesos on domestic beverages and cocktails with house liquor such as margaritas, mojitos, pina coladas, etcetera. This offer does not include wine.
The three entrée choices are:
n Arrachera grilled over a wood fire with traditional Argentinian house salad and baked potato for 199 pesos.
nGrilled Fish with a touch of garlic served with traditional Argentinian house salad, white rice and vegetables for 210 pesos.
nOne-Half of a Boneless Chicken grilled with mushroom sauce on top, served with traditional Argentinian house salad and baked potato for 170 pesos.
The prices include food, tax and tip, while drinks and drink tips are extra. To make reservations, email the ExPat organizer at This email address is being protected from spambots. You need JavaScript enabled to view it..">This email address is being protected from spambots. You need JavaScript enabled to view it.. Do not be disappointed, make your reservations today. No tickets sold at the door.
Members of the ExPat group also have events at people's homes. There is a Wine & Appetizer happy hour in the Punta Negra area on January 29, from 6:30 to 8:30 p.m.
They ask that you bring a bottle of wine or your favorite beverage and an appetizer to share with approximately 40 people. This is a less formal setting and provides an enjoyable, relaxing evening with fellow expats. Since these events are held in private homes, seating is limited and advance reservations are necessary.
To make reservations email This email address is being protected from spambots. You need JavaScript enabled to view it..">This email address is being protected from spambots. You need JavaScript enabled to view it.. These evenings fill up very quickly, so make your reservation soon. Sara will then provide you with the address.
Worship
Christ Church by the Sea, Iglesia Cristo Del Mar, is part of the Anglican Church in Mexico and the worldwide Anglican Communion. Sunday services are held in English year-round at 10 a.m. They are the only English-speaking Anglican Church on Mexico's west coast.
The church is located across from the airport, next to Thrifty Car Rental Agency. Look for the big palapa two blocks south of the pedestrian bridge at the airport.