In recent years, Petco and +Kota have successfully cornered the lucrative Mexican pet market. The former is a US chain offering bright and airy superstores on edge-of-town retail parks, while the latter follows a convenience store model, offering a vast proliferation of branches in locations across the country, with 20 in metropolitan Guadalajara alone.
The specialist store Exotic Planet in downtown Guadalajara sets itself apart from the mainstream before customers have even stepped across the threshold. A huge orange-and-black tarantula is painted on the building's facade, while a ten-foot long python springs out from behind a second storey window, its teeth bared for attack. At the entrance, a black-beaked owl keeps tireless guard, wide eyed, impassive and inscrutable.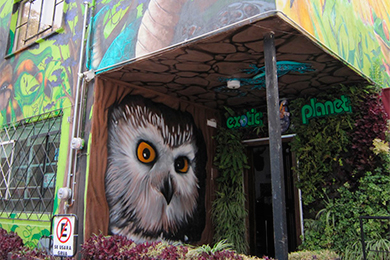 Inside, customers are greeted by the sort of wild menagerie you would normally find at a zoo. A Burmese Python in a glass tank is coiled around a branch and will set you back 6,000 pesos (US$330). A red-kneed tarantula costs 1,500 pesos (US$80), while a black crow is on offer for 25,000 (US$1,400).
Customers who find these pets too pedestrian can arrange for special deliveries.
"We have brought in everything from lemurs to lions," a store assistant says. "They cost 75,000 pesos (US$4,150) each." The animals are mostly imported from the United States, where they are bred in special facilities.
Please login or subscribe to view the complete article.