As demand for seafood soars with the arrival of Lent, one's thoughts may turn seaward. Many people realize the health benefits attributed to seafood, yet may be disappointed by the quality in markets and worried about contamination.
I was happy to find that a tiny Guadalajara supermarket specializing in organic and high quality food, boasts a new line of frozen, vacuum packed, Pacific salmon, tuna, swordfish and smoked marlin.
I have sampled this line — MercaMar — sold at Ecotienda on Morelos near Centro Magno a few blocks west of Américas, and found it tasty and satisfactory. Prices are not cheap and range from 205 pesos/kilo for smoked marlin (marlín ahumado) to 366 pesos per kilo for salmon. (The store also sells naturally raised meat, none of it in large quantities.)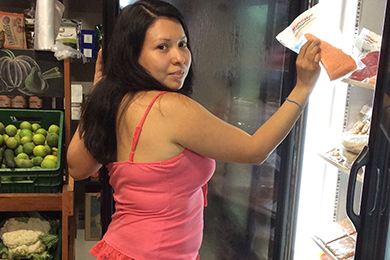 However, until this week I was very unsure as to what distinguished MercaMar products from others. Recently, store manager Kenya Leyva told me Ecotienda has been selling Mercamar products since November and assured me that the Mazatlán products are not cheap, but the packer and distributor gives unusual attention to quality.
"We used to have another supplier of farmed fish, but MercaMar fish is not farmed," she said. Mercamar products don't necessarily come from Mexican waters, she added, using tuna (atún) and salmon, which is Chilean, as examples.
Leyva likewise reassured me, as does MercaMar's Web page, that the company has certification from the U.S. FDA, follows its HACCP (Hazard Analysis Critical Control Point) regulations and complies with European Union food standards as well. She said that the HACCP system even includes attention to mercury contamination, which, according to some health specialists such as mercola.com, is of such concern that only small fish such as sardines and anchovies are safe to consume.
However, in contrast to MercaMar, fish that is sold in several popular mercados del mar doesn't have any certification.
"Some of it is good quality," she said, "but we don't really know anything about its origin, its transport, or if the fishing practices are environmentally sound and protect the fish's breeding. It doesn't pass any certification processes. There are a lot of risks."
Leyva said she likes the fact that a MercaMar representative Agustín Sánchez personally flies to Guadalajara every week to deliver the frozen seafood. She added that she learned about MercaMar from one or two local chefs who recommended the line. Sánchez confirmed that MercaMar's products are all wild caught along the Pacific coast by the company's own fishing fleet. (The Chilean salmon may be somewhat of an exception, but Sánchez says the Chilean businesses use good quality standards.) The MercaMar fish is then frozen on board in forced-air chambers and vacuum packed to avoid contact with oxygen, thus avoiding decomposition.
Without delving further into all these matters, it is necessary to rely on trustworthy individuals, one of whom is the discerning French-born restaurateur, scuba diver and longtime seafood aficionado Laurent Houdebine, owner of Entre Dos restaurant, a few blocks from Ecotienda.
"I know Ecotienda is very ethical," he said. "So I think that line could be a good option for a housewife. I know that freezing fatty fish like tuna and salmon is okay. Of course, ordinary household freezers don't do it fast enough — you need special, expensive equipment.
"I don't buy huge quantities for the restaurant," he added, "but for years I went every morning at 6 a.m. to the Mercado del Mar in Zapopan. There you have people who work well and people who don't. Soon I identified three or four who are good and eventually I settled on one who is trustworthy. The name is Farallón.
"Now they deliver to me, so I don't have to go to the market. But I always see the whole fish before I buy. You have to be able to see the eyes, to see if the skin is shiny because it's fresh or because water has been sprayed on it. I never buy it frozen and I never buy filets. It's a national sport here to tell people it's one type of fish when it's really another."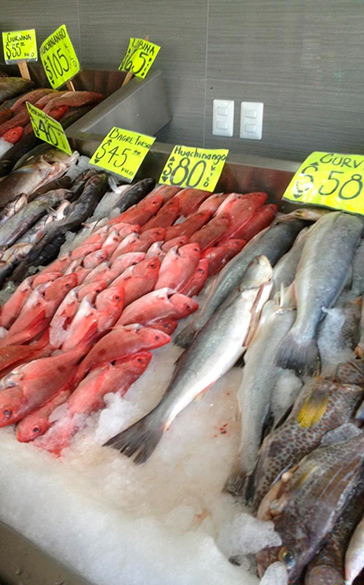 The Mercado del Mar Zapopan, about 1/2 mile north of the arch near the Basilica of the Virgin of Zapopan, is in a bustling commercial area not known for its tranquility. A visit will not prove leisurely, as the market can be very busy, especially during Lent, but that is testimony to the market's popularity and quality.
"In the past, you could find the market by its smell," said Houdebine. "But now they've cleaned it up.
"All the best pescaderias," he pointed out, "for some reason are on the right, just after you enter. I don't know why they're all are in one place, whether it's coincidence or because the shoppers all gravitate toward that side."
Visitors will probably find customers lined up several deep at popular sellers.
Fish are sold whole and as filets; prices at Farallón on the day I inquired were 115 pesos/kilo for smoked tuna (atún ahumado) and 160 pesos/kilo for Chilean salmon — roughly half the price of the MercaMar fish. Shellfish such as shrimp (camarones), clams (almejas), squid (pulpo), lobsters (langosta), snails (caracoles) and oysters (ostiones) are usually in plentiful supply at Mercado del Mar Zapopan.
The web page www.mercadodelmar.com, under Productos, gives good descriptions of individual fish and shellfish from Mexico and nearby areas, including their season and the locale of capture. The Mercado del Mar Zapopan tends to stock seafood from Mexican and nearby waters.
Ecotienda, Morelos 2178, Guadalajara, (33) 3616 8304, Monday–Saturday 10 a.m.–7:30 p.m., Sunday 10 a.m.–3 p.m.
Entre Dos restaurant, Calderón de la Barca 119, Guadalajara, (33) 3630 6335, Monday–Saturday 1:30–11:30 p.m., Sunday 2–8 p.m.
Mercado del Mar Zapopan, Del Estribo 4A, El Vigía, Zapopan. Pescaderia El Farallon, Del Pial 37, near the eastern entrance to the Mercado del Mar Zapopan, (33) 3633 9271.