In offering tours of substance to Lakeside residents, the husband-and-wife team of Rosie Cepeda and Carlos Alfaro bring some uncommon experience.
With her background as a high-school chemistry teacher in northern Mexico, Cepeda's interest in natural sciences and education shows.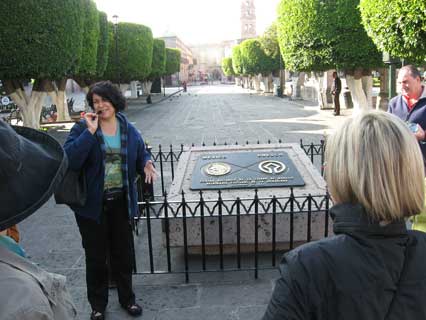 "Chemistry is a subject students don't generally like," she explains with a lilting laugh that makes you suspect that her students actually enjoyed it. In running the Ajijic/Guadalajara company called Charter Club Tours, her proclivity for teaching substantial subjects has blossomed into an encyclopedic yet engaging technique of guiding, a profession for which she and Alfaro are both certified by the federal government.
"We don't just package tours, like some travel agencies," said Cepeda, who is fully bilingual. "We focus on walking around and explaining Mexico and its history to foreigners who have chosen to live here at least part of the time and who want to understand and enjoy it."
Cepeda married into a Guadalajara family that had owned Charter Club since 1993.
"My mother used to be the principal guide," said Alfaro, explaining how his wife eventually took the reins.
The sum of their experience has meant that the couple is busy virutally every day of the week running feet-on-the-ground tours that range from the local — "Around the Lake" and "Sundays in Guadalajara" — to the exotic — "Monarch Butterfly Expeditions" and "Copper Canyon Tours." (Their offerings include a tour of Tlalpujahua, mentioned on this page.)
"I don't work on New Year's," quips Cepeda. "That day is sacred. I get up late and relax in my pajamas."
Alfaro's friendliness and tact are unfaltering and Cepeda's staggering knowledge is never overbearing. And, although both speak English very well, they are not adverse to encouraging their foreign clients try out their Spanish — and they help them by tailoring their Spanish to be understandable.
See www.charterclubtours.com.mx, Chapala: (376) 766-1777, Guadalajara: (33) 1411-8397.