The first Gran Turismo hotel has opened in the town of Tequila and has set an initial promotional rate of US$160 to entice guests.
Owned by tequila producer Jose Cuervo and operated by Grupo JB, the Hotel Solar de las Animas sits on the town's main square and boasts views of the Tequila Volcano.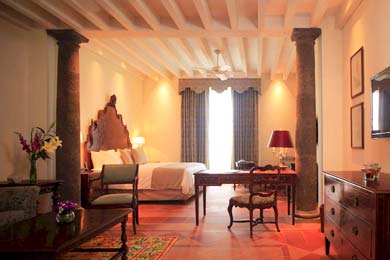 Lavishly decorated in colonial style, the hotel contains 93 rooms. It forms part of Cuervo's commitment to the regeneration of Tequila – now designated as one of Mexico's "Magical Towns" (Pueblos Magicos). The hotel ties in with the company's Guadalajara-Tequila tourist train, the Cuervo Express, as well as visits to Mundo Cuervo, its on-site attraction that shows the history of tequila production and the company since its founding in 1800s.
With an investment of 60 million pesos, the Hotel Solar de las Animas is expected to create around 250 jobs when operating at full capacity.
Opened at the same time as the hotel is the Hacienda Camachines Centro de Convenciones, another Cuervo facility that will be able to host events for up to 250 people.
For more information call (33) 3134 3379 or go to http://hotelsolardelasanimas.com.
For information on vista to Mudo Cuervo or rides on the Cuervo Express go to www.mundocuervo.com.