Every Christmas, Seattle-based filmmaker Len Davis visits his wife Analia's family in Guadalajara. They live near Santa Tere, a barrio Davis has gotten to know well. "I go solo daily for my favorite Agua de Versace green juice at Tita's in the market as an escape from my Mexican family," he says. "It's been my annual routine going on 15 years."
Tita's, Davis notes, has been in Santa Tere for 63 years and three generations of women owners work there every day. "I also like to eat the chile rellenos from Elena's, and I usually pick up beans and bulk spices for mi suegra (mother-in-law) Genoveva," he adds.
This past January, Davis spent an afternoon in the covered market capturing on his iphone many of the authentically Mexican culinary pleasures to be found there. With some slick editing and a live sound track courtesy of two on-hand musicians, the resulting 3.5-minute film is fabulous – one might think it was created with top-of-the-range equipment. Whether you are an authority on Mexican cuisine or just love its flavors and colors, this short film capturing the essence of a Mexican food market will surely delight you.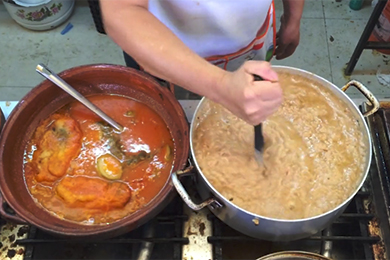 Click on image to see the video.
Davis' own channel, http://www.youtube.com/LenDavis, has 12 million views on 500-plus similar types of videos from around the world.