A few thousand people armed with protest banners, sky-blue and pink balloons and Mexican and Jalisco flags made a bee line for Guadalajara's Plaza de la Liberation last Saturday to vent their opposition to same-sex marriage in the state.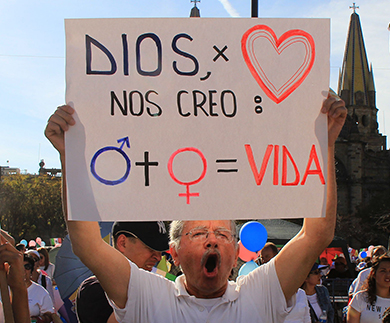 Between 3,500 and 5,000 demonstrators (far fewer than the 60,000-100,000 organizers were hoping for) chanted "Here No" as their response to the recent decision of the Mexican Supreme Court to strike down language in Jalisco's Civil Code, effectively legitimizing gay marriage.
The protestors demanded that state legislators ignore the court ruling and maintain local laws that currently determine marriage permissible only between a man and a woman.
No date has yet been set for the State Congress to begin debating changes to the Civil Code. The majority of legislators have indicated they favor changing the law to reflect the Supreme Court ruling.
State Congressman Augusto Valencia of the Citizens Movement and Federal Deputy Edith Martinez of the Partido Encuentro Social were the only legislators from either chamber to participate in the demonstration.
Daniel Gallegos, one of the founders of Uno por los Niños, the organizers of the protest, said legislators who support their movement would find themselves "favored" by the public in future elections.
Please login or subscribe to view the complete article.