A computer and ink cartridge supply shop located on Ajijic's Calle Ocampo, along with the adjacent second-story living quarters of proprietor Martin Leal and his family, went up in smoke and flames Monday, February 15.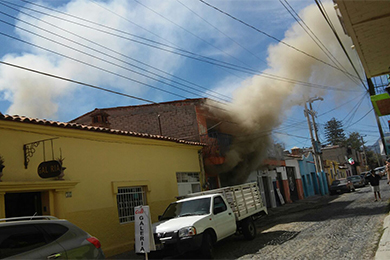 Although local bomberos promptly arrived on the scene to extinguish the blaze, the property was almost entirely gutted and most of its contents destroyed.
No one was injured in the incident, which appears to have been caused by a short circuit in a back storage room. Members of the family happened to be absent when the fire started because they had gone off to bury their dog after it was run over by a bus earlier in the day.
Friends, clients and Good Samaritans are rallying to support the Leals in their time of need. Donations to help them rebuild are being collected through the online crowd-funding webpage www.gofundme.com/mqp28xpq.
In addition, contributions of household furnishings, appliances, clothing and cash may be channeled through Cantantes del Lago director Timothy Welch, at This email address is being protected from spambots. You need JavaScript enabled to view it..">This email address is being protected from spambots. You need JavaScript enabled to view it.. He is a devoted friend who become close to three of the family's teenage children as a music instructor and mentor.