Erratic trash collection is becoming a nightmare and potential public health hazard for Chapala area residents.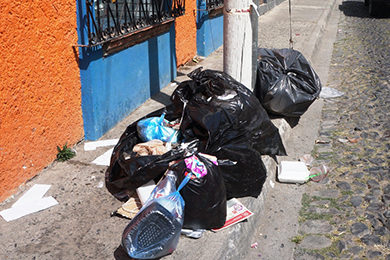 While Chapala's main avenue is being kept spick and span by workers assigned to the municipal Sanitation Department (Aseo Público), garbage bags and loose refuse steadily piles up along the side streets of the municipal seat and in many neighborhoods of its satellite towns, including Ajijic.
Householders accustomed to daily trash pickup in many areas complain that service has been increasingly sporadic since the change of government last October. On many routes adherence to regular days and hours for garbage collections have gone out the window.
Aseo Publico Director Juan Cuevas told the Reporter that the problems stem from the rundown garbage trucks at his disposal. "We have just 12 trucks to handle trash collection for the entire municipality. We have four vehicles in for repair at the mechanic's shop. One needs a new motor. Others have broken clutches and different mechanical failures."
Chapala Mayor Javier Degollado and City Treasurer Roberto Molina blame the previous administration for leaving behind a junk fleet. The mayor's proposal to purchase four new garbage trucks was sent to committee for review at the February 25 city council meeting.
Later the same day, Ajijic Administrator Rafael Escamilla was lined up for a meeting with concerned citizens to discuss ways the community can collaborate to ameliorate the situation. Suggestions arising from the encounter will be explained in the Reporter's next edition.