The shadow of the Maya snake god Kukulkan will be seen descending the face of the pyramid temple at Chichen Itza under the brilliant afternoon of this month's spring equinox. Meanwhile, the Aztec counterpart deity Quetzalcoatl creeps down a giant staircase as a permanent fixture in the heart of Chapala.
The image of great plumed serpent is a splashy decorative touch added to a newly completed urban renewal project at the intersection of Avenida Madero and Calle Degollado. The reconstruction of the long stairway linking the downtown area to the San Miguel barrio began last December.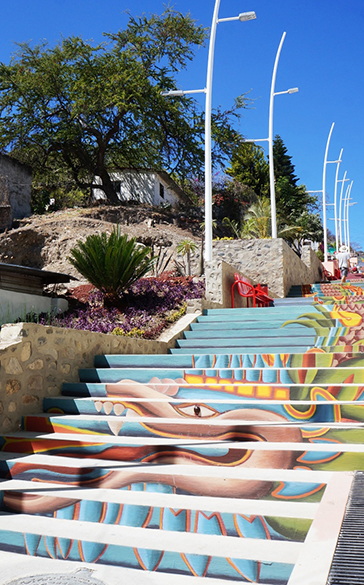 The principal aims of the project were to facilitate pedestrian traffic, beautify the main thoroughfare and promote greater community pride among people who live in one of the city's most rundown neighborhoods.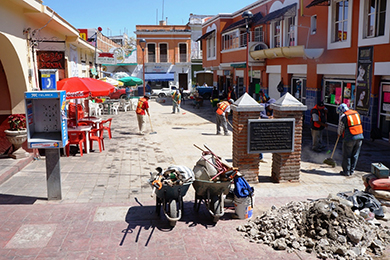 As work was coming to an end last month, Public Works Department Project Manager Marco Zaragoza recruited tattoo artist Alan Pantoja to design and sketch out the colorful Quetzalcoatl figure as an added detail. Three other young artists and city work crews lent a hand in the final paint job.
Originally lined up by the previous city administration, the improvement project was executed under the incumbents using local labor and a budget of 3,097,000 pesos allotted from federal and state programs.
As the Chapala government continues making headway in giving the city center a full facelift, a work crew was dispatched early this week to fix up the Paseo de los Hijos Ausentes, a pedestrian walkway running off the central plaza on the south side of the municipal market.
So far, work has primarily involved the removal of a line of ficus trees with spreading roots that were found to be lifting up the paving and damaging underground pipelines. The rest will include end-to-end resurfacing, installation of an overhead dome to provide shade and potted trees brought in to replace the lost greenery.
Shopkeepers and restaurateurs doing business in the immediate area report they were neither consulted nor notified in advance that the work was commencing. However, most are in favor of the project, saying it will make the area appear tidier and more attractive to customers.