It's not often that a kitten gets the best of an adult dog, but that was the unfortunate outcome of the close encounter between a baby jaguar and a pet Chihuahua reported Saturday, February 27 on Paseo del Lago in lower La Floresta.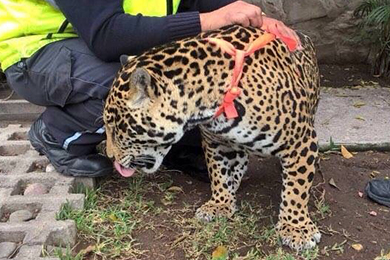 The incident occurred after the six-month-old wild cat somehow escaped its cage and sauntered out of an open gate at a nearby residence around 10 a.m. Free to explore the neighborhood, the jaguar spotted the tiny dog and pounced as it was being walked on a leash by its owner. Despite the elderly woman's attempt to rescue her pet from the jaws of the cat, the consequences for the canine were fatal.
La Floresta security guards cordoned off the streets while calling for assistance from local authorities. Civil protection, municipal police, traffic department units and Lakeside Wildlife Rescue rushed to the scene to provide back up and aid in the jaguar's recapture.
According to Civil Protection and Fire Department chief Enrique Perales, the animal appeared to be "healthy, docile and completely domesticated," although it growled menacingly as his men tried to pick it up. Once subdued, it was led home and locked back in its cage by the property's grounds keepers.
Officials from Chapala's ecology department arrived later in the day to question the legal status of the cat, listed among Mexico's endangered species. In the absence of the home owners, the caretakers presented an official permit for the animal's transport from Michoacan to Jalisco. They indicated the cat was born and being raised in captivity for breeding to help preserve the species.
Ecology office chief Rafael Aguilar told the Reporter that the case has been put in the hands of the Secretariat of the Environment and Natural Resources to investigate matters of proper care and ownership and determine the jaguar's future destiny.