Jay Shuffle
Popular lakeside singer and harmonica player Jay Shuffle died peacefully in his sleep on Valentine's Day morning, at the age of 66.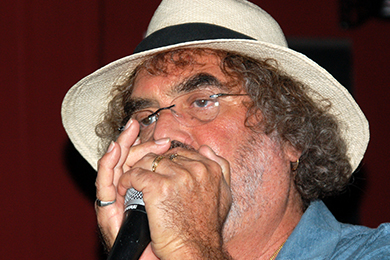 Shuffle served in the U.S. Air Force in the 1970s and reached the rank of sergeant. His former sister-in-law Eileen Syrop taught him to play the guitar while he was a young man. Shuffle then progressed to the harmonica, the instrument that allowed to make a living throughout most of his adult life.
From Medford, Oregon, Shuffle moved to Mabank, Texas, where he lived in a lovely home on a tranquil lake. However, it was in Ajijic that he really found happiness as an outstanding and talented musician, encountering great musical collaborations and friendships.
In his nine years at Lakeside, Shuffle performed at most of the area's restaurants and clubs, along with an assortment of North American and Mexican musicians. An adaptable player, he could perform rhythm and blues, rock, old standards, Mexican music and more, always with his unique and soulful styling.
Shuffle was kind to everyone and especially loved animals. During his life he owned several Boxers who became his family members.
Shuffle leaves behind his brothers, Leroy Syrop of Florida and Glenn Syrop of California, cousin Lorraine, and four nephews, Jeff, Tim and Nick Syrop, and George Oldham.
Shuffle will be dearly missed by all who loved him in the United States and by his many friends and fans in Ajijic. A celebration of his life was held at La Bodega Restaurant in Ajijic on February 23, with many friends and fellow musicians attending.
Gladys Eleanor Kilpatrick Cundey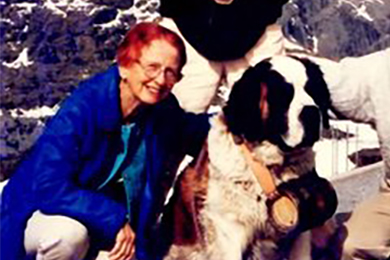 Gladys Eleanor Kilpatrick Cundey died on January 28 at the age of 94 in the loving environment of Ohana Assisted Living in San Juan Cosala.
The daughter of James and Mabel (Cox) Kilpatrick, she was born on November 19, 1921, and raised in Winnepeg, Manitoba, Canada.
After finishing high school, Kilpatrick attended a technical school to gain secretarial skills such as typing and shorthand, landing a job at Dun and Bradstreet in Winnepeg, where she worked for 12 years. She lived with her parents until they retired, then transferred to the Los Angeles office of Dun and Bradstreet until her own retirement in 1969.
In 1968 Kilpatrick married Raymond Cundey and became the loving stepmother of Dean Raymond Cundey and Gail Cundey Muldowney. She traveled worldwide for pleasure until Ray's death in 1983, when she continued to travel with neighbors and friends. Upon moving to Lakeside in 1991, she focused much of her travel in Mexico, accompanied by her stepdaughter Gail and Gail's husband, Patrick Muldowney. Ultimately, Kilpatrick could proudly say she had visited everywhere in the world except Australia and New Zealand. She remained a Los Angeles Dodgers fan until her death.
Kilpatrick was a member of The Little Chapel in San Antonio Tlayacapan, where she sang in the choir for 15 years. A lively, red-haired, fun-loving woman, she brought great richness to the lives of her stepchildren Dean and Gail, Gail's late husband Pat, her stepniece Michelle (Chris) Morgan, two great granddaughters and a grandson.
The family wishes to thank Alonzo and Ana Garcia of Ohana Assisted Living for the loving care they have given Gladys in her last several years. No service or memorial is planned.